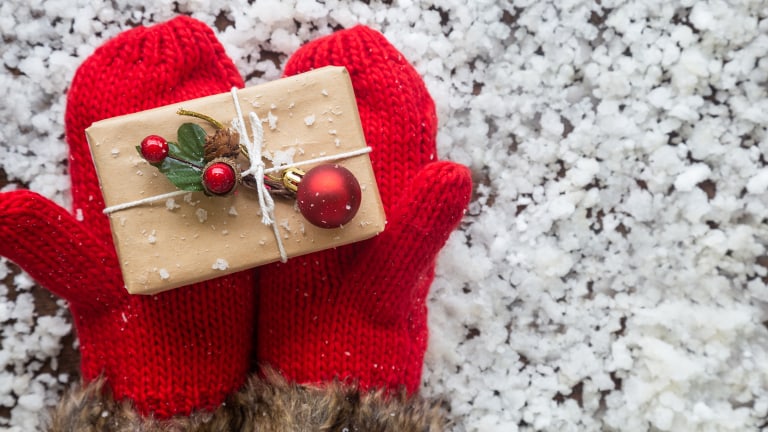 Printable Christmas Gift Certificate Template
Christmas is only a few days away!
If you're still scratching your head and trying to find that perfect gift for a special someone, we have a solution—a Printable Christmas Gift Certificate.
Perfect for giving the gift of time…"Date Night"…"Mom and Son Ski Day"…"Dad and Daughter Movie & Lunch Date".
Or the gift of hard labor…"No Laundry Duty for a Month"…"One Car Wash"… "New Bathroom Tile".
Or to give the picky fashionista in your life something fabulous…"One New Handbag"…"One New Pair of Boots"…."Two Pairs of New Jeans". (I did the boot thing for my husband two years ago. It was a hit!)
Download the full-size file here.
Editable PDF Instructions:
Click on the text in the "To/From" area of the envelope to edit "Daddy/Lucy" to your desired names. Click the text in the gift field (currently reads "one car wash") to add your own gift text. Print out on cardstock and follow cut and fold directions. Giving a gift card or a gift certificate can be a fantastic way to simplify the holidays or even give a creative, experience-based gift. More ideas on these concepts in our popular holiday post: The 3 Things I Tell Myself Every Year After Christmas.
Can I Print A Gift Card Online?
If you're thinking of the traditional hard plastic card that you'd buy at the store, no. But you can print a certificate that the gift recipient can use in the exact same way as a gift card. Many merchants will give you a variety of options for receiving a gift card or gift certificate that you purchase. Options include; having a card mailed to you so you can wrap it, emailing you a copy of the certificate, or even emailing it directly to the gift recipient. Some retailers are even including text options.
If you choose to print your certificate at home, simply follow that merchant's directions for how to download and save the PDF file. Pro Tip: Save the electronic copy and send it to the person you're giving it to after you've officially "presented" the gift so they have a copy. That way if that piece of paper goes missing, they have a backup.
LEARN MORE: Designer Christmas Tree versus Sentimental Tree
How Do I Present A Gift Certificate?
Gift certificates and gift cards can EASILY get lost in the holiday shuffle and if you've got kiddos around on Christmas morning, you know that the volume of gift wrap, packaging, and trash is EPIC. So to avoid any lost or misplaced gift cards, I have a few suggestions:

Place/attach the printable Christmas gift certificate on a piece of heavy cardboard so it's less likely to get crumpled up along with discarded wrapping paper. Decorate the cardboard with washi tape or markers so it feels substantial.
Tie the gift card to something larger and sturdy such as a bottle of wine, a large bag of gummy bears, or another favorite treat. You don't have to spend a lot, just attach it to something that won't get lost.
READ MORE: 6 Christmas Traditions You Can Start Now
What Is A Fun Way To Wrap A Gift Card?
You can do so many fun things to wrap a printable Christmas gift card or certificate. Here are some ideas:
Wrap the gift card in a giant plastic-wrap ball. As you wrap the ball, place small, inexpensive items in the plastic so as the recipient unwraps it, they get small treats. Bonus points if the small items are "clues" about the gift card.
You can also add a personal touch by presenting the gift card with a creative Christmas ornament that you made yourself. Or you could present the gift card with an antique ornament. 
You can take some inspiration from the gift card itself…
A gift card or pass to an amusement park? Place the gift card in a plastic bag and shove it into a huge wad of cotton candy. 
Movie theater gift card? Hide it in a giant bag of popcorn. 
Gift card to a favorite Mexican restaurant? Tie the certificate to a bag of tortilla chips. 
Cups and reusable bottles are a great way to wrap a gift card. 
Place the gift card in a mason jar full of candy. 
You can make cute "pillow boxes" out of empty toilet paper rolls. 
Are Gift Cards And Gift Certificates the Same Thing?
Essentially, yes—you are giving a person a card or paper that represents a dollar amount that they can apply to the store or place of business. However, there are some nuances…
A gift card functions like a pre-loaded credit card. The recipient will be able to present the card for a specified dollar amount, and in some cases even add more money to the card if they so choose. (Example: a Starbucks gift card.)

A gift certificate is a piece of paper, often a heavy card stock that is redeemable for a specified dollar amount or specific service. (A certificate for a pedicure.)
They typically spend the same and are not redeemable for cash.