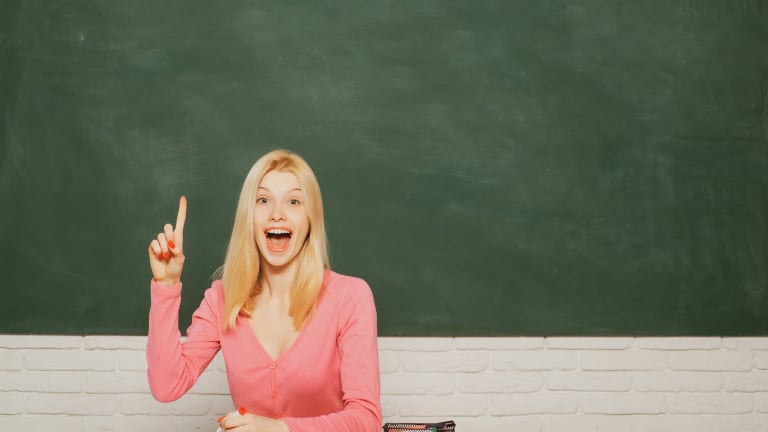 Best Teacher Gifts – According to The Experts (Teachers!)
Who is the hardest person on your Christmas list to buy for?
Your spouse?  Your children?  Your mother-in-law?  On my list, it's my children's teachers.  (OK, maybe my mom-in-law does top it, but teachers are right up there.)  There are so many options to think about.  Do you contribute to a class gift or not?  How much to spend?  You want to give something special, something they will use, but how do you know what that is?
Well, as a part of MomsOutLoud.com, we decided to ask some of our teacher friends their own expert opinion.  Thank you to all of the teachers who shared their Favorite (and least favorite) Teacher Gifts with us.  We have compiled them into our list of the Best Teacher Gifts … and for grins, included their experiences on the Worst Teacher Gifts, as well.  Before you buy, read on to get some ideas to show teachers how much you appreciate them. 
First off, though, we should say that EVERY teacher we talked to started off her feedback with something like:  "Please mention how thankful we are to receive anything.  We know you don't have to do it and we don't take it for granted.  Many of my friends teach in areas where the kids can't even afford books, let alone their parents affording to buy teacher gifts.  And one school district a friend of mine moved to limit their gifts to $50 worth of gifts per year, per CLASS, not even per student.  So, every gift we get is totally appreciated."
That said, we do know that some gifts are appreciated more than others…speaking if only from personal experience.  To make sure you don't repeat any gift-giving mistakes, we'll start with some of the WORST gifts (some of these we can relate to, even though we're not teachers!).  Here are tips for What Not to Give Your Teachers, based on actual presents received.
If you do anything monogrammed, please double check the spelling of your child's teacher's name.
If you regift something, don't forget to scratch off where it was written on from the person who gave it to you!
"Although we like hot chocolate and premade mixes can be yummy, please don't give us ones that were given to you in previous years that you forgot to use.  The expiration date is there for a reason, and discoloration as well as turning into a solid does occur over the years. 🙂  Same goes for gift soaps and lotions; many do have dates on the bottom of them.  We collect quite a few and can add your leftovers you never used to our closet that contains the same ones from several years before!"
One teacher said:  "Adding water into the handsoap from Bath and Body is a great idea!  I do it at home since it is so thick and my kid's little hands don't need that much, but we can tell the difference between a watered down version and the real thing. :-)"
"One time I got a giftcard containing $3.56.  So please, if you just remembered you've had it for a while, check the balance before passing it on."  
If your teacher doesn't wear "teacher" jewelry, it's probably NOT because she doesn't already have any.  "Honestly, I don't need any more apple pins or pendants or mugs or anything that reminds me I'm a teacher."
So, with the list of what not to give out of the way, what should you give your teachers as an end-of-year Thank You? Here are some teacher-approved ideas for Teacher Gifts they will Appreciate**.**
Handmade items: Universally, these top the list of wants.  A little effort from you can go a long way to making a teacher know how much you appreciate them.
"A sweet handmade card even on scratch paper written with a pencil is more special than any of the things listed above.  The simple card makes you feel more appreciated than leftovers."
"One Mom gave me a little photo album of pictures of the class at different times throughout the year, which I absolutely loved!"
"A mom gave me and my assistant teacher both a scrapbook with pictures of each of the kids in class, and a little profile each of them filled out (with their parent's help, given their ages), with questions like their favorite color, food, thing to do, etc.  I LOVE my scrapbook.  I show it to everyone who comes to my apartment."
A gift relating to his/her hobbies and interests: Also top on the list are gifts that let the teacher know you care about them as a person, by showing them that you've learned a little bit about them during your child's time in their class.
"A fellow teacher went on a missions trip over the summer, so the class pulled together items for her to take to the place she was going as well as the things she would need for herself.  That was special."
"When parents get to know us and give personal things.  That is the best." 
"One of my teacher colleagues loves to entertain at her house, so a few parents gave her items to help her entertain that you might not buy yourself (a party tub for putting ice and drinks, glass tags, etc)."
"If you know your children's teachers well enough to know what hobbies they are into, go for that.  If I were into scrapbooking, I'd love to get some supplies, for instance.  They are expensive!"
"One of my good friends who's also a teacher had a new baby so a few parents got together and gave her a gift card for mommy and me classes at My Gym a couple of years ago.  That was very special to the teacher/new mom."
OK — so personal gifts are best (either handmade by you or handpicked based on the personal interest of the teacher).  But what if you are out of time?  Or maybe that teacher is not the easiest to get to know (or you're on the shy side yourself)?  What other options are there?
In two words:  GiftCards
This is high on every teacher's list (at full value, of course, not ones that have been used like in our 'worst' area).  One teacher told us, "Teachers don't make a lot of money, and it is so nice to have the cards."  Favorites are places where you know those teacher's shop….or if you don't know, select something that is very close to their school and/or home that most people shop at.  Frequently.
"Think Target, Wal-Mart, restaurants.  I seem to get the most gift cards for Starbucks and Borders….but I don't drink coffee and the closest Borders to me is 10 miles away.  Just because it's convenient for the buyer, don't forget about convenience to the recipient!"
"Starbucks cards are nice, but I typically get too many and get burned out on it after a while.  Restaurant gift cards are great, as are cards to my favorite store or Target."
"If the kids want to get me a purchased gift, gift cards are wonderful.  Gift cards to teacher supply stores are great.  I always need something from there."
Mixed responses came in on whether you should do gift cards to mani/pedi places, bath product places, or spas.  Some teachers love them, others put them at the bottom of the list.  One teacher wrote:  "Don't give gc's for manicures unless you are sure they are into that."
Moms, we hope these tips on the Best Teacher Gifts (as told to us by the experts:  teachers!) will come in handy as you are shopping this holiday season.