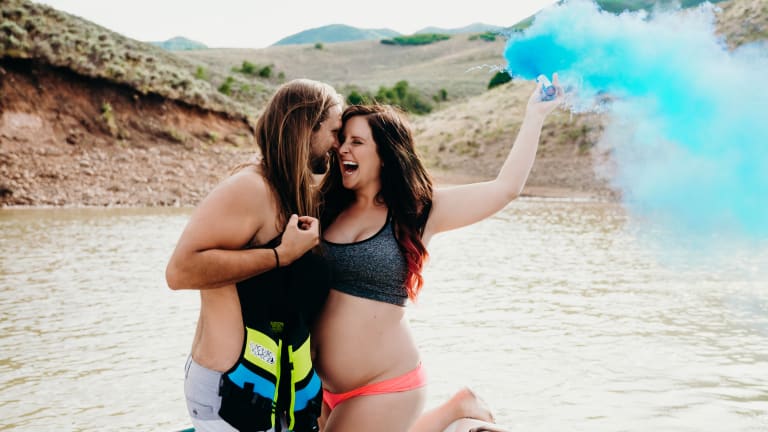 It's a BOY. Summer Smoke Bomb Gender Reveal
A smoke bomb baby gender photoshoot for those looking for fun gender reveal ideas!
A boy.
A tiny man.
A future husband, father, world changer.
We are having a SON, and I now get to have two boyfriends.
So naturally we needed to use pyrotechnics and some summer magic on the boat to celebrate with.
We went in to find out the gender at 16 weeks for an early ultrasound at a fetal studio.
Patience isn't my strongest quality. I'd put it at the bottom of my quality list.
Ultrasound said boy with a question mark.
Rob was NOT upset.
I had a feeling it was always a boy, always a little man inside of my belly, and the second she said it, even with her uncertainty, it felt right.
He was COMING.
Four weeks later at the hospital, the ultrasound tech zoomed all up in his business, and said BOY again. I asked if she was sure. Her exact words as she pointed to his penis: in the ultrasound: "I can't make that up."
We took the weekend to celebrate, and ran away to the lake with some of our best friends. Jena, who is our Associate Photographer at our company, Sugar Rush Photo + Video, took the most magical, BENSON gender reveal photos we could have dreamed of, and I cannot WAIT to show you.
We lit smoke bombs, and made out in the front of our little 1990 Bayliner boat, the boat we bought in cash during our first year married, before we even owned a truck.
The true love shack of the Benson family.
We got lucky that it was around the Fourth of July, and that our Smoke Bomb Gender Reveal would work perfectly for these photos.
Being a full-time photographer and videographer duo, the importance of documenting our life in photos and videos is SO important to us. We just got SO lucky that Jena was willing to come camp out and capture these for us. She even ran away to Disneyland with us a few months later for our Disneyland Maternity Photos.
We are SO lucky.
Rob gets a little buddy to wakeboard with
To teach about how to treat women
I get a little boyfriend.
TWO Benson boyfriends.
To travel the world and run away to Car's Land with.
Poodle gets a little brother, and I'm sure she'll adjust. Or smother him.
It is a BOY.
Compton
Danger
Benson
Due November 11th, 2018