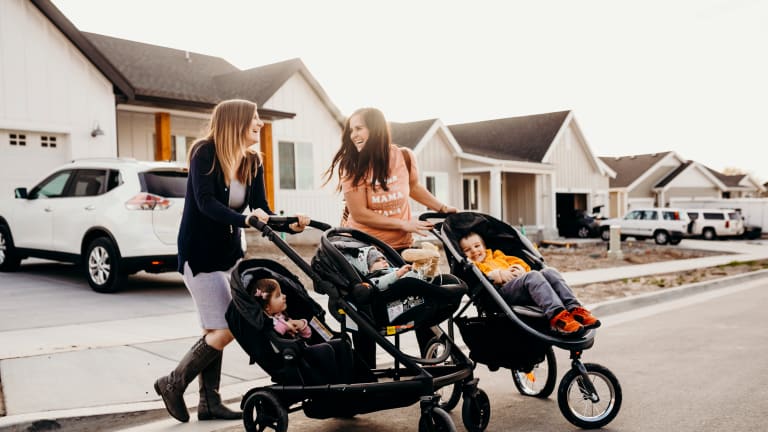 Top Car Essentials for Road Trippin' with your New Baby
Our big list of car essentials for traveling with your babies.
We are on the go. A LOT.
Since our babe was born in November, we've driven from Utah to California twice, gone to Idaho for Christmas, Jackson Hole for a little family getaway, and about a thousand trips into SLC and up to Logan in between. And our little guy is a CHAMP, our little road trip hero. 
Traveling with a baby isn't the easiest. There's lots of stops, turnarounds, poopy diaper explosions, tired tantrum cries, and LOTS of Pharell on iTunes, because sometimes that and dirty gangster rap is all that helps our little lover calm down.
But there are some AMAZING products out there that we knew we needed, to make traveling in the car with our baby easier. So here we go.
Top car essentials you need for your babies. 
And your besties' babies.
Their really, REALLY cute babies.
Graco
Graco is the true champion of easy baby transport. Their fast-click jogger is our go-to for our trail walks at sunset at home, their carseats are SO easy to use and install, and their Uno 2 Duo travel system is our MUST HAVE for Disney trips. Seriously the unicorn minivan of all strollers, once you go Graco you'll never go back. 
So let's break it down:
Uno2Duo Travel System: The life changer.
This stroller BLEW my mind. It has SO many ways to ride, has SO MUCH FREAKING STORAGE, and grows with your family!
UNO2DUO™ expands from a single to a double stroller
Stroller extends 5" with one easy slide
18 ways to ride with one or two kids
Includes Graco SnugRide® SnugLock™ 35 Click Connect™ Infant Car Seat (yaaaas)
Reclining seat converts to cozy infant bassinet or pram
GUYS. THE BASSINET IS THE MOST AMAZING. It is the reason I will recommend this to EVERYONE. Having the option to recline your newborn to lying down is the most amazing thing, and our poodle loves it too. Check out this gallery to see just a few of the EIGHTEEN ways to use this. The Travel System comes with the Stroller, the Infant Car Seat, and the Toddler Seat, and once your babe grows out of the infant seat, you can get an extra toddler seat so it is a double stroller for bigger kids, too! SO TRICKY.
Size: 
45.5 inches (H) x 25.5 inches (W) x 44.5 inches (D) This is a BIG deal. With the new Disneyland stroller rules (no wagons and strollers need to be under a specific size to go in the park), this miracle stroller is small enough to STILL go in the park, as a single or double stroller! HUGE deal! And again, SO MUCH STORAGE. The Disney DREAM.
Fast Action Fold Jogger Click Connect Travel System
Highlights:
INCLUDES the amazing Graco SnugRide Click Connect 35 Infant Car Seat, for babies 4-35 lbs and up to 32"
One-second, one-hand fold with automatic storage lock, self-standing when folded. SERIOUSLY the easiest to set up and the easiest to store.
Air-filled rubber tires offer suspension; locking front swivel wheel provides an easy transition from strolling to jogging; reflectors for added low-light visibility
Multi-position reclining seat; extra-large, expandable canopy with peek-a-boo window; child's tray with cup holder pivots or removes, and the convertible 3- or 5-point harness grows with your child
Deluxe parent's tray features a unique smartphone cradle for smaller phones or MP3 players, 2 deeeeeep cup holders and a covered storage compartment; Extra-large storage basket to hold all your essentials and chubby poodles.
This stroller is the ultimate crossover stroller, fits our little babe cozy and safe, while being perfect for off-roading and running.  The one-hand FastAction fold makes it a one-second set up, and the Click Connect technology lets us click in his infant seat in a heartbeat! SO EASY. And the carseat it comes with is BOMB, too.
4Ever Extend2Fit Platinum 4 in 1 Car Seat
The COOLEST thing about this carseat is that it grows with your baby. SOOOO you can put your little newborn in and go from rear-facing infant seat (4-11 lbs) to forward-facing 5-point harness seat (22–65 lbs) to high-back belt-positioning booster (30–100 lbs) to backless belt-positioning booster (40–120 lbs). 
SERIOUSLY you will need
for ten years. Saves you SO much money.
-Six-position recline adjusts to fit your growing babe; it's comfy for them and 
SO so easy to do, saving your buns on long trips. --Connects to your car tether system like a dream, and is just SO simple to hook up.
-The Simply Safe Adjust Harness System is safe & simple, usable with one-hand, and has a 10-position headrest to use with all the growth spurts. 
Could not recommend it more!!! 
I dreamed of the day I had a baby and could get a Fawn design bag! My sister is a mama of twins, and she has always RAVED about how much she loves hers, so when we found out we were expecting our babe, we had to order some! We got the Original bag in black and brown, and it has so much room to fit EVERYTHING. We take this with us everywhere, pack it with sunscreen and swimsuits for the beach, mickey hoodies and disney pins for the parks, and all our other essentials for every day use, and we are in LOVE! It can fit laptops, diapers and wipes, and sometimes even a change of clothes for me and my baby spit-up schedule! The Original bag features: 
6 premium faux leather exterior pockets
6 premium faux leather interior pockets
Half-round zipper top that opens wide for easy access
Backpack straps
Messenger interchangeable straps.
This bag is hearty, SO well made, and cute for both Rob and I to wear! I love that it can be a shoulder bag or a backpack, and seriously am now a customer for life! Go check out their site to shop around, for Diaper Bags, Weekender bags, Fawny Packs, and even little bags for your Minis!
GUYSSSS. These slings. Saved me. Having my newborn go from the sleep-all-the-time stage to the please-hold-me-all-the-time stage took productivity to an all time low when I started going back to work. He wanted to be held and loved, and we needed to pay the bills, and the Wild Bird Slings saved the day. I could snuggle him into me and he'd sleep for hours while I worked. We take it with us on trips so I can be hands-free in Disney, and since I can wear him forward and facing in, he spent SO much time cozy and safe in the sling! Here's the top features, besides being the CUTEST.
QUICK & EASY. 
The fastest, easiest thing to hook up.
VERSATILE. Nursing cover, baby sling, and folds compact. You'll swear out loud any time you forget to pack it with you. Keep one at home, and one in the car. Trust me.
FUNCTIONAL. Supports your babe from the day they are born, up until they're 35 pounds, and wear on your front, hip, or back. SO easy. and SO natural.
MADE BY MOMS. The majority of their seamstresses are stay at home, working mamas. HECK yeah.
 We have two of their amazing products, the Solid Linen sling, which is made for Newborn to Toddlers and the most breatheable of the slings, and their Double Layer sling! The double is PERFECT for older babies, and is more of a heavy-duty sling, and both are still soft and SO high quality! This is the game changer for Disney days and airport gate changes, and peeing at home without having to lay your sleeping babe down. The cutest sling for moms AND dads, and the most perfect gift for your next baby shower! They come in a bajillion cute patterns and fabric choices, and I promise once you try it, you'll want EVERYONE to have one!
Binxy Baby Shopping Cart Hammock
The coolest invention! No more having to carry a carseat into the grocery store, with this shopping cart hammock you just take a little tiny rolled up piece of magic in, hook it to the cart, and you are good to go! Safety tested, SUPER compact so it fits like a dream in my Fawn bag, and has safety straps and two layers of awesome fabric! It fits babies 50 pounds and under, and Compton LOVES it! He can see everything around him, the recline is perfect, and it is SO easy to use with just him or with other kids in the cart, too! We got the Tropical Days pattern to match our Tiki Room Nursery, and I am just so in love!!! It even holds the little poodle perfectly, so mini dog mamas REJOICE!
Cobra Pro Wireless Charging Magnet Mount
THIS IS THE COOLEST THING. Magnetmount has made the most amazing, hands-free device that uses a smart sensor to open and close to hold your phone, and CHARGES YOUR PHONE JUST BY HOLDING IT. Of course, you need to have a phone that can be charged wirelessly but this is amazing. ALL the safety of hands-free driving so you can keep your little one safe while you travel the world. They have SO many cool products, and this wireless charger blew our minds. Buy it here.
As a family on-the-go, we are always so grateful for products like these that make our new normal so much easier. We love the EASE and SAFETY it adds to taking care of our little one, so THANK YOU for taking the time to be here and fall in love with it, too!
Happy travels, mama.
xo
Disclosure: TodaysMama.com uses affiliate links on their site (Mama's gotta pay the bills!) 6 products were provided at our request for review. Every product we included in this post is there because we love it and all opinions, editorial and images are our own.