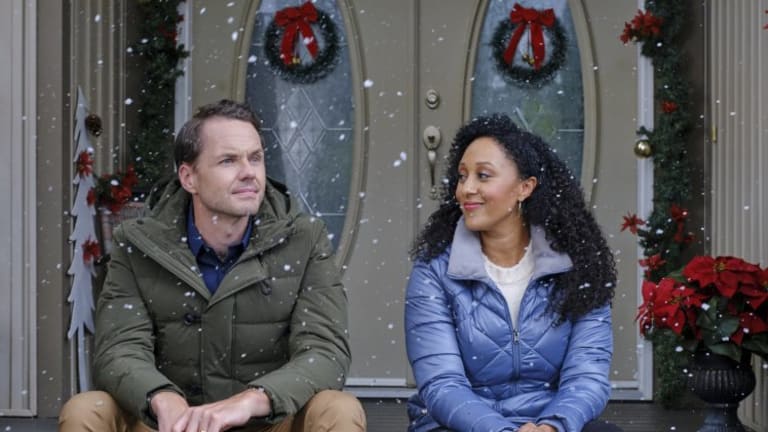 Skip Halloween and Get Right to Hallmark Movies for Christmas
Christmas comes early this year as the Hallmark movies for Christmas are being released earlier than usual. Read on to find out everything we know so far.
The Hallmark Channel wants you to forget about Halloween this year. To encourage this, they're releasing their 2021 Christmas Hallmark movies starting on October 22nd.
I couldn't be more on board. I've spent enough time in the past two years wearing a mask and stuffing my face with treats. I no longer have a use for a national holiday dedicated to those things.
Even Ryan Reynolds is a fan of Hallmark Christmas movies. If you haven't seen the Ryan Reynolds Free Guy/Hallmark crossover promo, you need to give it a watch below.
How To Watch Hallmark Christmas Movies
If you're not a cable subscriber, you can still catch all the Hallmark movies this Christmas. The Hallmark Movies Now app is one option for streaming Hallmark Christmas movies. If you want more than just how to watch Hallmark Christmas movies, you can check out streaming services like Sling TV or FrndlyTV are also good options that include the Hallmark movies in 2021 as well as other channel options too. Of course, if you do subscribe to cable, all of the Hallmark Christmas movies can be found on the Hallmark Channel and the Hallmark Movies & Mysteries Channel.
When Do Hallmark Christmas Movies Start?
The Hallmark Christmas movies in 2021 will begin airing on Friday, October 22 on the Hallmark Channel. New movies will air every Friday, Saturday, and Sunday leading up to Christmas.
On Hallmark Movies & Mysteries channel, the first new Christmas movie airs on Saturday, October 23, 2021. After that, there will be new Hallmark movies airing every Saturday evening from then until Christmas. In all, there will be nine new Hallmark Movies and Mysteries channel.
Hallmark Christmas Movies 2021 Schedule
While the complete Hallmark channel schedule hasn't been released yet, they have given titles and details on a few of the new Christmas movies. In all, the Hallmark Channel will be releasing 30 new Christmas movies this year. Here are the ones we know about:
You, Me & the Christmas Trees
Air Date: Friday, October 22, 8 pm ET
Starring: Danica McKellar, Benjamin Ayres, Jason Hervey
---
Boyfriends of Christmas Past
Air Date: Saturday, October 23, 8 pm ET
Starring: Catherine Haena Kim, Raymond Ablack, and Paul Sun-Hyung Lee
---
The Santa Stakeout
Air Date: Sunday, October 24, 8 pm ET
Starring: Tamera Mowry-Housley, Paul Campbell, Joe Pantoliano
---
Christmas in Harmony
Air Date: Friday, October 29, 8 pm ET
Starring: Ashleigh Murray, Luke James, Loretta Devine, Michelle Williams, Basil Wallace
---
Coyote Creek Christmas
Air Date: Saturday, October 30, 8 pm ET
Starring: Janel Parrish, Ryan Paevey
---
Christmas Sail
Air Date: Sunday, October 31, 8 pm ET
Starring: Katee Sackhoff, Patrick Sabongui, Terry O'Quinn
---
Open by Christmas
Air Date: Friday, November 5, 8 pm ET
Starring: Alison Sweeney, Erica Durance, Brennan Elliott
---
Next Stop, Christmas
Air Date: Saturday, November 6, 8 pm ET
Starring: Lyndsy Fonseca, Chandler Massey, Lea Thompson, Christopher Llyod
---
A Christmas Treasure
Air Date: Sunday, November 7, 8 pm ET
Starring: Jordin Sparks, Michael Xavier
---
Christmas at Castle Hart
Air Date: TBD
Starring: Lacey Chabert, Stuart Townsend
---
The Christmas Contest
Air Date: TBD
Starring: Candace Cameron Bure, John Brotherton, Barbara Niven
---
The Christmas House 2: Deck Those Halls
Air Date: TBD
Starring: Robert Buckley, Ana Ayora, Jonathan Bennett, Sharon Lawrence, Treat Williams, Brad Harder
---
The Nine Kittens of Christmas
Air Date: TBD
Starring: Brandon Routh, Kimberly Sustad, Gregory Harrison
---
Sister Swap: A Hometown Holiday / Sister Swap: Christmas in the City
Air Date: TBD
Starring: Kimberly Williams-Paisley, Ashley Williams, Mark Deklin, Keith Robinson, Susan Yeagley, Kevin Nealon
Hallmark Movies and Mysteries Schedule Christmas 2021
As if 30 new Hallmark Christmas movies wasn't enough, the Hallmark Movies & Mysteries channel is releasing nine of their own. Much like the Hallmark Christmas movie schedule, the Hallmark Movies and Mysteries schedule hasn't been fully released yet for 2021. However, we do know they will air every Saturday until Christmas, beginning Saturday, October 23rd. Here's some more info about the Christmas movie 2021 lineup:
Christmas in My Heart
Air Date: Saturday, October 23, 10 pm ET on Hallmark Movies & Mysteries
Starring: Heather Hemmens, Luke Macfarlane, Sheryl Lee Ralph
---
The Christmas Promise
Air Date: Saturday, October 30, 8 pm ET on Hallmark Movies & Mysteries
Starring: Torrey DeVitto, Dylan Bruce, Greyston Holt, Patrick Duffy
---
Debbie Macomber's A Mrs. Miracle Christmas
Air Date: Saturday, November 6, 10 pm ET on Hallmark Movies & Mysteries
Starring: Kaitlin Doubleday, Steve Lund, Caroline Rhea
---
The Christmas Bond
Air Date: TBD
Starring: Holly Robinson Peete, Lyriq Bent, Nik Sanchez
---
Every Time a Bell Rings
Air Date: TBD
Starring: Erin Cahill, Brittany Ishibashi, Ali Leibert, Wes Brown