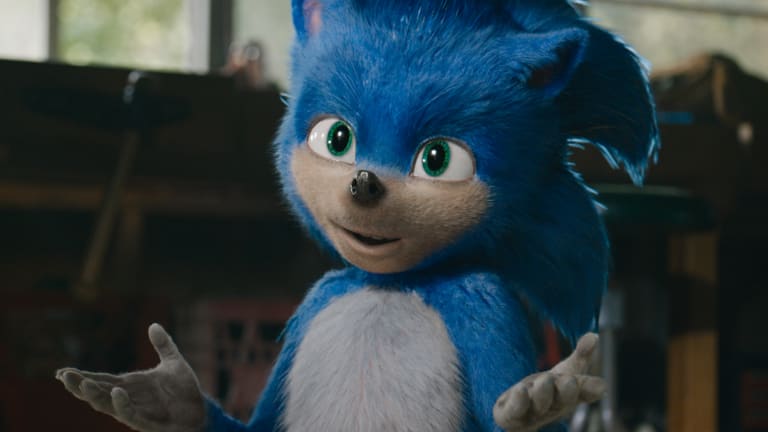 Your Favorite Hedgehog is Zooming Back To Theaters
This movie looks like it's PACKED with laughs and action!
This post is in partnership with Paramount Pictures.
Oh man. If you've got a little gamer in your house, SONIC THE HEDGEHOG is going to be a huge hit!
The trailer is full of mischief, hilarity and so many funny one-liners from Jim Carrey as villainous, Dir. Robotnik, that I can already hear my son repeating.
See for yourself…
Old School gamers (I'm looking at YOU, Mom and Dad) will be familiar with this beloved SEGA character and this live action movie is keeping what you love most about Sonic—his mischievous streak and sarcastic personality—while covering Sonic's backstory, how he came to Earth, and how he learns how to live in a strange world….and hopefully some info on how he affords all of those running shoes he burns through!
This movie looks like it's PACKED with laughs and action.
Which just so happens to be my kid's two favorite things in the whole wide world.
Jim Carrey, James Marsden, and Sonic the Hedgehog come zoooooooming into theaters this November!
SONIC THE HEDGEHOG is a live-action adventure comedy based on the global blockbuster videogame franchise from Sega that centers on the infamously brash bright blue hedgehog. The film follows the (mis)adventures of Sonic as he navigates the complexities of life on Earth with his newfound – human – best friend Tom Wachowski (James Marsden). Sonic and Tom join forces to try and stop the villainous Dr. Robotnik (Jim Carrey) from capturing Sonic and using his immense powers for world domination. The film also stars Tika Sumpter and Ben Schwartz as the voice of Sonic.
SONIC THE HEDGEHOG – IN THEATRES THIS NOVEMBER