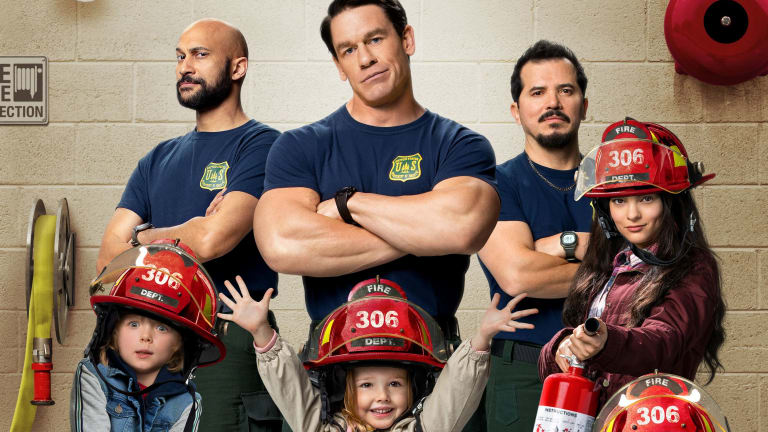 Playing with Fire Movie is Sure to Warm Your Heart
I've never felt better about encouraging kids—and their families—to play with fire.
Mark your calendars for November 8, 2019 and get ready to play with fire alongside John Cena, Judy Greer, and Keegan Michael-Key.
Playing with Fire is the story of a hard-working, hard-shelled fire fighter who leads an elite team of smoke jumpers out of a rough and tough depot in Redding, California. But as intense as his career—and personal history—are, he doesn't meet his match until he and his team rescue three kids from a forest fire and can't find their parents.
Action, adventure, hilarity (hello Keegan-Michael Key and John Leguizamo!) and tenderness ensue. Think a good, clean, family film, a la Three Men and a Baby, as Director Andy Fickman told us.
There's something wild and unpredictable about fire. There's something wild and unpredictable about children. -Andy Fickman, Director 
Several months ago, I was able to visit the movie set in Vancouver, B.C. to watch a little filming and chat with several of the actors, the director, and producer.
And despite the absolute FREEZING cold temperatures even inside the studio, we could immediately feel the warmth of the story being told on camera. (Though the space heaters were more than welcome!)
Before sitting down to watch the magic happen, we were able to explore several of the scenes created specifically for Playing with Fire, including a partly live and HUGE (I mean, we're talking Redwoods, here) forest that plays backdrop to one of the more exciting smoke jumping scenes in the film. We explored the depot where the men bring the kids (Brianna Hildebrand, Christian Convery, and Finley Rose Slater) after rescuing them. We marveled at the massive work truck and equally massive(ly loveable) dog.
We were invited to sit at video village and watch them film one of the more tender scenes in the movie, where John Cena showed colors I'd never seen before. Until we actually sat down to talk with him and found out he is an incredibly kind, humble, and centered guy, who is also learning Mandarin and the piano—a true renaissance man, as his costar Judy Greer put it.
As for the movie itself, expect a hope-filled, lovefest set to the soundtrack of intense fire-fighting and child-like antics.
According to John Cena, "It's a story about a gentleman who is dedicated to his work and thinks there is nothing else in life except work, and then he gets a set of circumstances that change his mind. And that's like exactly where I am in my life right now. So, when you read something, and you get emotionally charged by the words, when movie magic takes over, it's awesome. This is a heartfelt, wholesome movie about the importance of family, friends, and togetherness."
Brianna Hildebrand, who plays the oldest of the three rescued children, says: I think this movie is like a really good feel-good movie, and it reminds you that if you don't have the perfect family—which nobody does—you can always make your own family with whoever you love in your life.
I think part of the message is you can find family anywhere if you open yourself up enough and you're vulnerable enough to just the human experience at large. -Keegan-Michael Key 
Have you gotten the message yet? Playing with Fire is THE movie you and the entire family won't want to want to miss.
PLAYING WITH FIRE OPENS IN THEATRES NOVEMBER 8, 2019
Facebook | Instagram | Twitter | #PlayingWithFireMovie
When straight-laced fire superintendent Jake Carson (John Cena) and his elite team of expert firefighters (Keegan-Michael Key, John Leguizamo and Tyler Mane) come to the rescue of three siblings (Brianna Hildebrand, Christian Convery and Finley Rose Slater) in the path of an encroaching wildfire, they quickly realize that no amount of training could prepare them for their most challenging job yet – babysitters. Unable to locate the children's parents, the firefighters have their lives, jobs and even their fire depot turned upside down and quickly learn that kids – much like fires –are wild and unpredictable.
DIRECTED BY: Andy Fickman
EXECUTIVE PRODUCED BY: Mark Moran
PRODUCED BY: Todd Garner, Sean Robins
STORY BY: Dan Ewen
SCREENPLAY BY: Dan Ewen and Matthew Lieberman
STARRING: John Cena, Keegan-Michael Key, John Leguizamo, Brianna Hildebrand, Dennis Haybert, Judy Greer
This post is in partnership with Paramount Pictures.