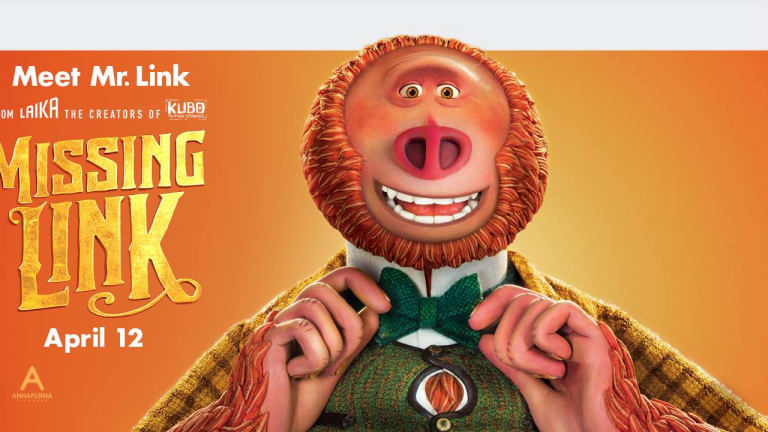 New Movie "Missing Link" Misses NOTHING
Which really means you shouldn't be missing it either.
This post is in partnership with United Artists Releasing.
Lately, I am underwhelmed by movies.
Now, I know a ton of people would say I'm crazy because there have been some major blockbusters in the last few years. But to me, it all feels…old. Same old, same old. Everything being retold and rehashed and rebooted and redone. I am kind of over it.
Then I saw Missing Link and my faith in movies was restored!
Because for a story whose origin is at least bi-centenarian, this movie feels brand-freaking-new.
I was lucky enough to view a private screening of the movie and then meet with some of the cast and crew afterward to learn more about its making. And from the moment the screen lit up, I was straight hooked.
Let's start with Laika Studio's mind-blowing animation, shall we?
You guys, I notoriously hate stop motion. It has some inherent creepy quality that I just can't shake. Except here. It is BEAUTY, from start to finish. I found it deeply impressive the things these animators can do with puppets less than a foot tall. But it's also no wonder that a movie with this much intentional (and clever) detail should take four years to make.
With over 2,000 3D-printed faces for the various characters, each puppet was moved with down-to-the-knuckle level detail for every single shot. And then further manipulated with computer animation and made to fit actor's emphases and personal traits. I mean, Sir Lionel basically IS Hugh Jackman. If Hugh Jackman were kind of a d-bag with lots of learning and growing to do. But dang if he doesn't look just like him. As for Zach Galifianakis he may not look like the "hairy avocado" Mr. Link has been described as, but he sure is unmistakable as Susan—Bigfoot's preferred name, if you didn't know.
As the lovely Ms. Zoe Saldana put it: "I love stop-motion, there's just something that is just aesthetically pleasing. And when you hear that it's time consuming, that means…that there's a level of commitment and passion and devotion and artistry that is invested in this form of art that Laika just refuses to let die."
Exactly.
But the movie isn't just about the ingenious scene changes or elaborate costume design—but believe me, it's got both.
It's a film that moves a purposeful story of intrepid adventure alongside somewhat reluctant growth. All from adult characters. Which I happen to LOVE for a kids' movie, and here's why.
Kids need to see adults who are imperfect, and even failing sometimes, without them being categorized as the "bad guys." And they especially need to see those characters recognize their flaws and subsequently attempt to work on them.
Take Sir Lionel Frost. Described by the movie's writer and director Chris Butler as "kind of an a**hole," Sir Lionel starts out as someone dead-set on obtaining his selfish desires at the cost of anything, or anyone. But, bit by bit, as he engages in more genuine connection with the other characters, he grows just enough for us to believe it's real. There's no fairy dust or extreme turn around. Just a little improvement, day by day. Exactly like the rest of us.
"Sir Lionel has the biggest journey to make in the movie, because he starts out as a very flawed character. And I think he does make certain progressions through the movie. They're small, and he quite often ruins it moments later, but [it's nice] seeing someone who is that selfish trying to make an effort, and eventually he does [learn something]." – Chris Butler
Refreshing, even if (or especially because) he doesn't become the next clichéd superhero!
As for other powerful themes of the movie? You name it, Missing Link's got it.
Family is what you make it? Check.
You choose and create your own identity and purpose? You betcha.
Female empowerment? In spades.
Independence and also belonging? No doubt!
Another thing I love about Missing Link is the "uncivilized" innocence brought to life by Susan. I thought Zach Galifianakis put it best:
"The thing that I really like about Mr. Link—I miss it—is innocence…I think because he's in the woods, he has an innocence and purity to him. Cause when he sees the outside world, what human beings have done, he's like…"
And then proceeded to make a face only Zach Galifianakis can.
But the point is that it's ironically beautiful that Mr. Link, having grown up alone in the forests of the Pacific Northwest, knows best how to be kind and genuine to everyone he's suddenly surrounded by. Something we could all probably take a closer look at in ourselves.
From start to finish, this movie was fantastic. I didn't want to blink for fear of missing something incredible. I know you'll feel the same way.
MISSING LINK – In Theaters April 12
#MissingLink hits theaters everywhere April 12. Get your tickets now! 
Official Website | Facebook | Instagram | Twitter | #MissingLink
This April, meet Mr. Link: 8 feet tall, 630 lbs, and covered in fur, but don't let his appearance fool you… he is funny, sweet, and adorably literal, making him the world's most lovable legend at the heart of Missing Link, the globe-trotting family comedy adventure from LAIKA. Tired of living a solitary life in the Pacific Northwest, Mr. Link recruits fearless explorer Sir Lionel Frost to guide him on a journey to find his long-lost relatives in the fabled valley of Shangri-La. Along with adventurer Adelina Fortnight, our fearless trio of explorers encounter more than their fair share of peril as they travel to the far reaches of the world to help their new friend. Through it all, the three learn that sometimes you can find a family in the places you least expect.
Cast: Hugh Jackman, Zoe Saldana, Zach Galifianakis, Timothy Olyphant, David Walliams, Emma Thompson, Matt Lucas, Ching Valdes-Aran, Stephen Fry, Amrita Acharia
Director: Chris Butler
Writer: Chris Butler