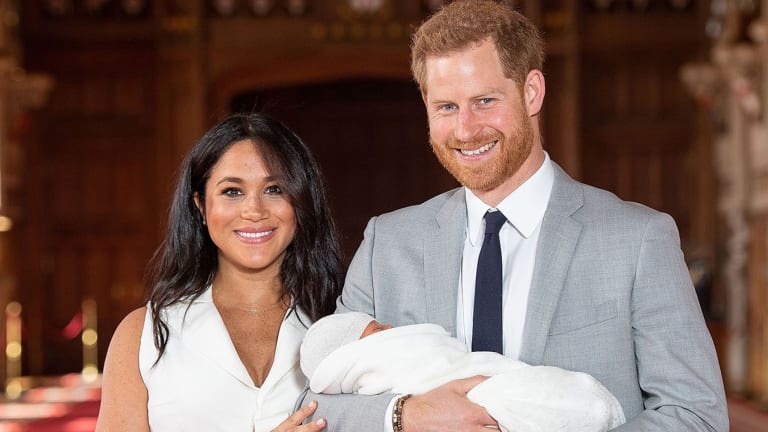 MAGIC: How the Duchess of Sussex Describes Motherhood So Far
Granted, she's only two and a half days in, so...we'll see.
I kid! Those first few days really are "a dream," as Meghan (formally Markle) describes them.
Baby Sussex, whose real name has yet to be announced, was introduced to the press this morning in St. George's Hall at Windsor Castle, just two days after his arrival. A grand setting for the newest royal baby, who—like only newborns and new fathers can—slept through the entire thing.
And, true to his "sweet and calm temperament," Baby Sussex snoozed away as Prince Harry wondered aloud just where he got that sweet temperament from.
As far as I can tell, Harry and Meghan are starting this whole parenting thing off right—with high hopes, and a sense of humor.
Thankfully, they're not alone. Meghan's mother, Doria Ragland, has been with the couple at their Frogmore Cottage home near Windsor Castle. And they were on their way to introduce that sweet baby to the Queen herself at the time of the interview.
Prince William joked that he's gladly welcoming his brother to the "sleep deprivation society" known as parenthood. I have a feeling, they'll have all the help they could possibly want.
When asked who the baby looked like most, the royal parents replied that he was changing every day and it was too soon to tell. But no matter who he looks like, the Duchess swooned: "I have the two best guys in the world, so I'm really happy."
"We're just so thrilled to have our own little bundle of joy," added Prince Harry.
That bundle of joy—born Monday at 5:26 a.m., weighing 7 pounds, 3 ounces (3.26 kilograms)—was sweetly swaddled in white, with a matching knit cap. And though we didn't get a great peek at his face, I'm thinking we can all agree, he's gonna be a looker.
And, hey, a royal hats off to beautiful mama Meghan for rocking her crisp white wrap dress (which we all know is covering a rocking set of mesh undies) and heels just two days postpartum. More power to you, mama!