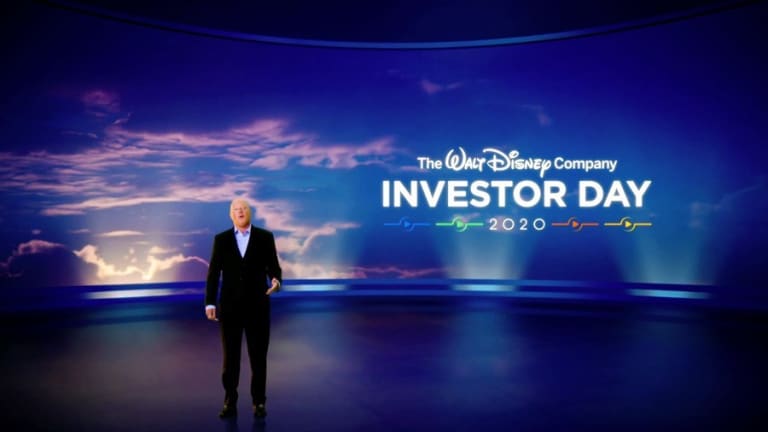 Disney Announces Every New Show & Movie Coming Through 2023
Grab your umbrellas kids (and grownups!) because it's raining Disney for the foreseeable future.
On second thought, leave those umbrellas exactly where they are because this is the kind of storm that might wash the 2020 right off of us once and for all.
I mean, we're talking over 50 brand new Marvel, Disney, Pixar, and National Geographic wonders announced at Disney Investor Day, all scheduled to debut over the course of the next few years.
Seem overwhelming? Maybe, but in the best possible way. And we've got the entire new Disney lineup here for you, along with where and when to find most shows and movies.
#whatcanisayexceptyou'rewelcome
Star Wars/LucasFilms
Star Wars and its LucasFilms creators will be buuuuuuusy over the next few years. With several series and movies on the docket, franchise fans will have plenty to queue up on Disney+ and beyond.
Live Action Series Coming to Disney+
A Rogue One prequel called Star Wars: Andor arriving in 2022
Leslye Headland's series, The Acolyte
Star Wars: Obi-Wan Kenobi, featuring Hayden Christensen
A series featuring Lando Calrissian called Star Wars: Lando
A Mandalorian spinoff called Star Wars: Ahsoka
And another Mandalorian spinoff called Star Wars: Rangers of the New Republic
A Droid Story, which will add a new hero beside R2-D2 and C3PO
Animated Series Coming to Disney+
Star Wars: The Bad Batch all about those bad clones from Clone Wars
An anime anthology project named Star Wars Visions
Movie Releases
December 2023 will bring us Star Wars: Rogue Squadron starring Patty Jenkins
Indiana Jones 5 (the final one featuring Harrison Ford!!) is coming to theaters in 2022
Pixar
Not to be outdone, Pixar has lined up several movies and series of its own!
Movie Releases
To round out more of the Toy Story world we'll get an origin-story prequel in the summer of 2022 for Buzz called Lightyear
Look out for an Italian boy named Luca in a new Pixar movie coming June of 2021
Turning Red is about a 13-year-old girl going through puberty who, you guessed it, turns into a red panda when she gets excited … ?
Series for Disney+
A new SparkShorts episode called Burrow will be released on Christmas Day 2020
January 2021 brings a new shorts series called Pixar Popcorn
Dug from Up gets his own series named Dug Days in the fall 2021
Lightning McQueen and Mater will become Disney+ regulars in 2022 with their own series
Win or Lose is Pixar's first original longform animated series and will follow the excitement of a middle school softball team
Disney
You'd better believe Disney has been working hard to get us everything from our favorite Disney princesses to animated sci-fi to remakes of our most beloved movies from long ago.
Animated Series for Disney+
Moana reprises her role in an animated musical comedy series for 2023
Tiana is getting her own series as well
Iwájú will be Disney's new sci-fi series, made in partnership with Kugali Media
The Mighty Ducks are coming back with their own reprisal series
As are our favorite rescue munks—Chip & Dale
Baymax! is coming in 2020, a series based on Big Hero 6
A Zootopia series will arrive in 2022
Percy Jackson & the Olympians will also get a reboot series
Movies Released to Disney+
The new live-action Pinocchio will star Tom Hanks
Raya and the Last Dragon, an animated film available with Premier Access on March 5, 2021
Encanto, a magical animated film set in Colombia complete with music written by Lin-Manuel Miranda!
A remake of the 1993 cult favorite, Hocus Pocus
Ice Age Adventures of Buck Wilde will feature Simon Pegg as the voice of Buck, coming in 2022
FX
Leaning into their grownup demographic, FX is making sure they're ready with new releases as well.
Series
Bringing horror and action to the screen in the form of an Alien series
Adding 4 more seasons of It's Always Sunny in Philadelphia, which is on its way to becoming the longest running live action sitcom of all time!
National Geographic
Perfect offerings for a world that's felt locked down for way too long...
Series
Welcome to Earth will follow Will Smith as he explores some of the world's most extraordinary and unexplained phenomena
Limitless will test the limits of the human body—specifically Chris Hemsworth's, so...you know, I guess we'll tune in
Marvel
Marvel is rounding out the Disney offerings with plenty of new additions to their ever-growing universe.
Live Action Series Coming to Disney+
The first Disney+ show for Marvel Studios will be WandaVision, arriving in January 2021
Secret Invasion featuring Nick Fury and Talos
Ironheart, starring Dominique Thorne as Riri Williams
Armor Wars, a series dedicated to keeping Tony Stark's armor technology from the bad side
Guardians of the Galaxy Holiday Special coming in 2022
Hailee Steinfeld will appear in Marvel's Hawkeye
Movies Releases
A Fantastic Four movie is on its way, though we're not sure when
Guardians of the Galaxy, Vol. 3 is coming in 2023
I Am Groot, which will actually be a mini movie series
Ant-Man and the Wasp: Quantumania
Captain Marvel 2
Doctor Strange in the Multiverse of Madness
Thor: Love and Thunder, which will be Christian Bale's MU premiere!
Black Panther II, where the late Chadwick Boseman's character T'Challa will not be recast
Marvel Studios has also dropped details on some of the shows we already knew were coming but had previously been in the dark about including The Falcon and the Winter Soldier, Loki, What If…?, and She-Hulk.
What Else Is New With Disney+?
With the addition of more than 50 new films and series, you can bet that Disney will have to make a few changes. Like the jump from a $6.99/month fee to $7.99. Which will probably feel pretty understandable to Disney+'s over 86 million devout subscribers.
Disney also announced their international replacement for Hulu—Star. That'll start spreading around the world in February of 2021.
All in all, Disney+ is looking to secure plenty of hours of screen time for all of us in the coming few years. And all we want to say is—let it rain, Disney. Let. It. Rain.