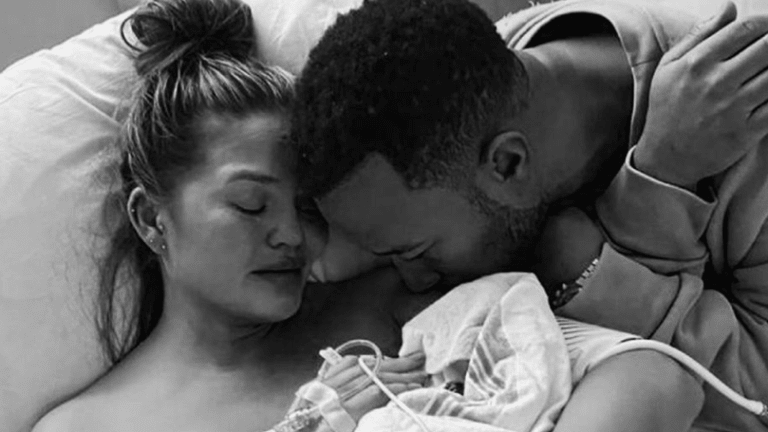 Chrissy Teigen Announces Heartbreaking Loss of Third Child Due to Pregnancy Complications
Something too many of us have had to go through...
Tonight, on the eve of National Pregnancy and Infant Loss Awareness Month, Chrissy Teigen took to Instagram to announce that she and John Legend have lost their sweet baby boy.
They'd been in the hospital due to excessive bleeding for a couple of days, receiving multiple blood transfusions trying to save their son, who they'd named Jack.
A hopeful Chrissy posted two days ago, saying, "hello from hospital. about to have my second blood transfusion which truly truly truly sounds more dramatic than it is. It's an IV, but instead of fluids, the blood of some kind human being out there. Baby and I are completely fine, just missing the little things like walking...cooking...playing with the other buttbutts."
Unfortunately, things did not turn out as any mother would hope.
Despite all they and the doctors had done to save the baby, little Jack passed in the hospital with mom and dad snuggling their tiny love.
Heartbroken and suffering from the loss of their newest family member, Chrissy laments on Twitter:
Our hearts are with the grieving family and we take hope in their courage and love.
We are so grateful for the life we have, for our wonderful babies Luna and Miles, for all the amazing things we've been able to experience. But everyday can't be full of sunshine. On this darkest of days, we will grieve, we will cry our eyes out. But we will hug and love each other harder and get through it.
Here's to a family who keeps it real in the good and bad together! <3
More on TodaysMama.com