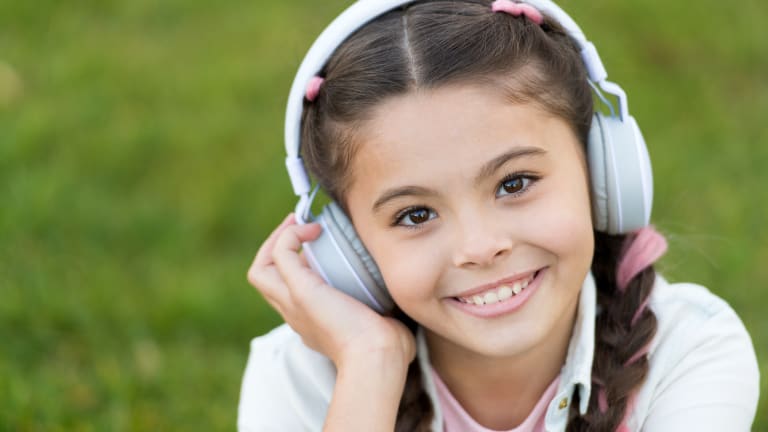 5 Kid's Movie Soundtracks You'll All Want to Listen To
UPDATED! Now with even more awesome music that everyone in the family loves!
Sure, it was adorable when our kids were singing every word from every song on the Frozen movie soundtrack but you have to admit, it got a little old after the 3,769th time.
I'm a big believer in letting (making?) my kids listen to the music I already listen to. After all, it was pretty cute seeing my 2-year old singing "Beautiful Day". But I do love to let my kids listen to songs that they find familiar and fun.
I also love it when I find a soundtrack from a kid's movie that not only my kids love, but I actually would listen to even if they weren't around. Here are 5 of what we consider the best kids movie soundtracks.
​5 Kid's Movie Soundtracks the Entire Family Will Love
The Book of Life
From one of our favorite movies, The Book of Life soundtrack is fun and catchy and will have your kids singing with heart. The covers of "Can't Help Falling in Love with You", Radiohead's "Creep" and Mumford and Son's "I Will Wait" are so good. "No Matter Where You Are" performed by Us the Duo is outstanding. ​​
​
Home
So, I'm not a big Rhianna fan (or really a fan at all). BUT, the Home movie soundtrack is a winner and Rhianna has three songs on the album and I LIKE THEM. Who knew. J Lo's "Feel the Light" is our favorite. It's a catchy soundtrack and perfect for impromptu kid dance parties.​​
​
Wreck-it-Ralph
The Wreck-it-Ralph movie soundtrack is happy and always puts me in a good mood. It kicks off with Owl City's "When Can I See You Again", has a few fast-paced songs and ends with Henry Jackman's score from the movie.
​
Brave
Three original songs kick off the Brave movie soundtrack and they are inspiring and beautiful. The rest of the soundtrack keeps up the pace and is full of heart.
How to Train Your Dragon
I'm sentimentally attached to the score from the movie, How to Train Your Dragon. This movie was one of our favorites and we're also huge fans of John Powell, the composer. The music will put you right back into the movie as if you are soaring on your own dragon.
More of the Best Kids Movie Soundtracks​
OK, we couldn't stop at 5—we had to keep going! Here's a list of even more of the best kids movie soundtracks!
Trolls
The first 10 minutes of this movie were a trip. I remember sitting in the theater thinking, "WHAAAAAAAT is happening?!" but the sweet story and the music won me over. This one has been on repeat in the car for about six months.
Moana
I have a tender spot for this movie. Moana is our new favorite hero and the soundtrack is a wonderful mix of mellow and upbeat. Hello…any soundtrack that includes The Rock, Jermaine Clement, and Lin-Manuel Miranda wins in our book.
Curious George Movie Soundtrack
Sing-a-longs and Lullabies for the film Curious George from Jack Johnson and Friends. Who doesn't love Jack Johnson?
​Toy Story
High School Musical Soundtrack
Listen. I didn't want to post it. I really didn't. But my girls are obsessed and that darn music gets stuck in our heads!
Disney's Zombies Movie
The Sound of Music
Disney's Greatest Hits
Music from the movie soundtracks of all of your favorite Disney movies (and more). There's rarely a need to skip a song
Greatest Showman
If you don't pound your chest when you yell, "This is me!" there may be something wrong...
Hairspray
Newsies
Sing
Harry Potter
Do the Harry Potter soundtracks make anyone else feel all the fall feelings??
Where the Wild Things Are
Lilo and Stitch
Coco
This is a favorite movie for Halloween, though the music is awesome year-round!
What Movie Has the Best-Selling Soundtrack of All Time?
All this movie music sent me on a search to find out what other people were loving, too. And to absolutely no one's surprise, I found that the best selling movie soundtrack of all time is from the movie The Bodyguard. I mean no one, NO ONE, can resist belting "And I Will Always Love You" along with Whitney Houston. It's just a fact of life.
Other best-selling movie soundtracks include the likes of Purple Rain, Forrest Gump, Top Gun, Pure Country, and Grease. Even The Lion King and The Little Mermaid made the list of the top 20 best sellers making them two of the best kids movie soundtracks ever!
What Was the First Disney Movie to Have a Soundtrack?
I think most people know that Snow White was Disney's first full-length animated feature film, but I'm not sure many people realize that it was also their first soundtrack. And what's even cooler is that when the original soundtrack was released they used the actual music from the film instead of re-recorded versions like a typical soundtrack does. Songs from the soundtrack included "Someday Your Prince Will Come," "Whistle While You Work," and "Heigh-Ho," which were all top hits in their day.
And if you ask me, one thing that makes it one of the best kids movie soundtracks of all time is that we're ALL still whistling while we work, nearly 100 years later. Now that's classic.
What are the Most Used Songs in Movies?
There is a reason certain songs are used over and over again in movie soundtracks. It's the same reason we keep playing them again and again once the movie has ended! They're catchy and memorable or emotionally moving or just plain beautiful. Here are the top 10 songs used repeatedly in movies over the years.
We promise you'll be able to pin at least one movie to each almost immediately!
1. Ain't No Mountain High
2. Sweet Home Alabama
3. Bad to the Bone
4. Walking on Sunshine
5. I Feel Good
6. O Fortuna
7. Somebody to Love
8. Jaws Theme
9. Chariots of Fire
10. Stayin' Alive
Where to Find More Kids Music from Movies
We're obviously in an age of digital music and if you haven't purchased any of the best kids movie soundtracks yourself, you'll certainly find them elsewhere.
Spotify and Pandora
If you want to know what's playing at our house every morning before school it's our Disney station on Pandora. It's always a great mix, and a morning sing-along is inevitable (or a morning solo by mom in the kitchen . . .)!
You can follow along with some of our favorite family playlists on Spotify:
Kid's Movie Soundtracks Playlist
Our Favorite Children's Musicians
​Laurie Berkner—the undisputed QUEEN of kindie rock!
Ralph Covert
Justin Roberts
Old School Wiggles
Sesame Street
Leave us a comment! 
We'd love to hear from you! What other songs should we add to our playlists? 
More Kids Music on TodaysMama.com