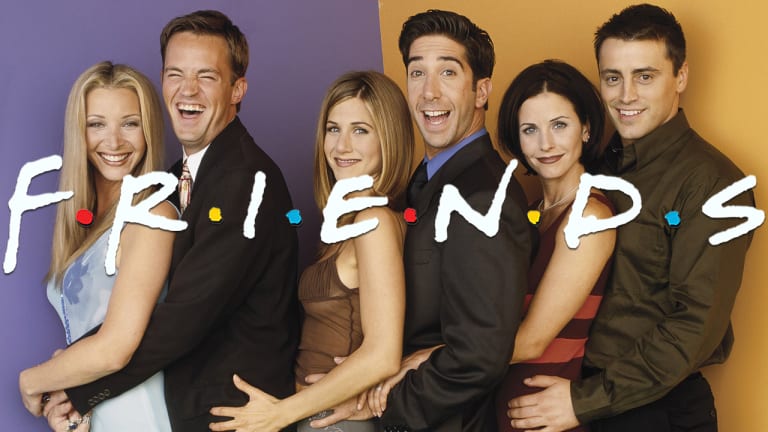 20 Things Only True 'Friends' SUPERFANS Could Tell You
There's a whole different level of Friend-ship that I'm guessing not even YOU have reached.
Chances are, if you clicked on this, you're thinking you've reached Monica-levels of expertise in the show that made every female in the world get the same haircut for half a decade and every male narrow his pick up line menu down to three simple words.
But are you really a true 'Friends' superfan? I mean, everyone knows that Jennifer Aniston hated that haircut and that even a famous soap actor had to work harder than that...usually (Rachel flashbacks notwithstanding).
There's a whole different level of Friend-ship that I'm guessing not even you have reached.
So scroll on—don't worry, it's less than 18 pages FRONT AND BACK—for 20 things only the truest Friends SUPERFAN could tell you off the top of their head.
1. The 11 categories of Monica's towels
Well, at least 8 of them—Everyday Use, Fancy, Guest, Fancy Guest, Old, Beach, Bath, and Kitchen. Only the cast and set crew would be privy to the other three.
2. That Ross is 29 for 3 seasons
…and has several different birthdays (May, October, December), as does Rachel.
3. James Michael Tyler's hair had to be bleached EVERY WEEK for 10 years.
Yep, Gunther's a natural brunette.
4. The name of Phoebe's neighborhood dog as a child.
Uh...Satan.
"Didn't you ever run so fast that you thought your legs were going to fall off?"
5. After 9/11, Friends subtly honored the FDNY.
Characters donned clothing and even drew MagnaDoodles as a nod to national heroes, while still maintaining the lighthearted nature of the show.
6. Ross & Rachel get together 5 times before the 6th one stuck.
7. Joey's arm injury was legit.
It was written into the show because LeBlanc actually hurt it filming the infamous battle-over-the-armchair scene with Chandler in The One Where No One Is Ready.
8. Phoebe's pregnancy was real, too.
Though it wasn't triplets. Kudrow later said it was hard to get into character when her son was on set because she didn't want him to see her as anything but his mother.
9. By the end of the series, the cast were making $1M per episode each.
A far cry from the original $22,500 at the start. And it's thanks to David Schwimmer who helped them pull together to negotiate equal contracts.
10. Lisa Kudrow hated singing in public.
And she actually wanted Phoebe to play the bongos. Her wish came true, kind of, in The One With The Holiday Armadillo.
11. The Central Perk artwork changed every 3 episodes.
12. Joey's pin number.
The most JOEY part of this? It spells Joey on a pinpad.
13. Chandler's foreign address.
15 Yemen Road, Yemen.
14. Rachel was pregnant basically forever.
We all know her and Ross hooked up (time number 5!) a month before Monica and Chandler's wedding (May 15). So, she should give birth somewhere in January/early February, right? Call me crazy, but 100 degrees seems a bit out of the norm for that time of year.
"We should probably ask the doctor if she knows how to delivery a baby that's half human, half pure evil."
15. How many people Joey slept with.
According to one superfan on Reddit, at least 51…and a half? 
16. The triplet's names.
Frank Jr. Jr., Leslie Jr., and Chandler.
17. The threefold reasons Chandler was in a box.
"Joey had reasons." "They were threefold."
18. What L.O.V.E. stands for.
According to Ross, it's a revelatory acronym.
19. Where the best cheesecake comes from.
None other than Mama's Little Bakery, Chicago, IL. Or if you can't make it there—Mrs. Braverman's, downstairs.
20. The unbeatable rock/paper/scissors move.
Joey thinks he's got it made until Phoebe busts out the trump: water balloon, obviously.
And there you have it, my friends junkies. How many did you know without looking them up? Kudos if you knew more than
!