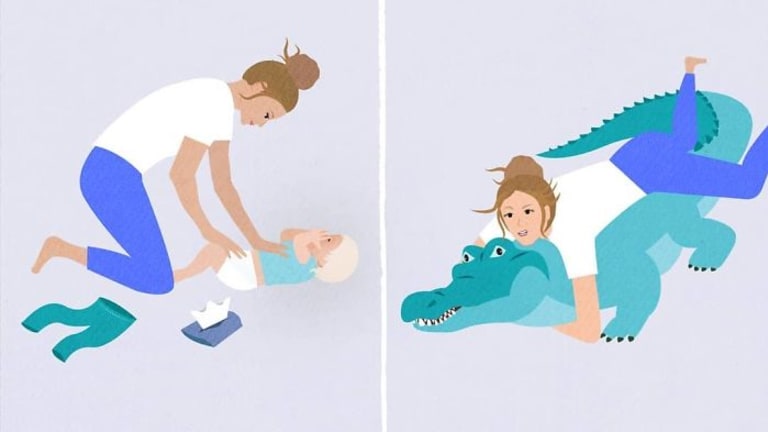 The Reality of Motherhood in All-Too-Relatable Memes
We've all been there. Every last one of us.
Is everyone else also on the hunt to find another mom who can truly relate? Relate to the pain of never-ending (please, heaven, tell me there actually IS an end!!) dinner table battles, to the exposure of never peeing alone, to the pressure of doing everything mom-related perfectly despite its obvious impossibility…
Well, the search is over because, spoiler alert: I think every mom relates.
Even if she pretends she's got every one of her homemade fishy crackers in a row, I guarantee you she can relate to at least half of these spot-on illustrations of motherhood by talented artist Paula Kuka.
When interviewed by Bored Panda, Kuka revealed that she never actually planned to become an artist. "When I finished school, I studied landscape architecture at university and went on to work in that profession for about 10 years. When I went on maternity leave with my first child, I started drawing as a way to keep creative. After I had my second baby a few years later, I started drawing cartoons as a way of documenting our daily lives (because I was useless at writing in their baby books)."
And it comes as no shock that other mothers knew EXACTLY what Kuka was talking about.
"I posted them on Instagram and they very quickly gathered attention from other parents who loved seeing such a relatable view of parenting. I like to talk about some of the challenges of motherhood — the guilt, the frustration, the boredom, as well as the hilarious and heart-warming aspects. It's important to me to talk openly about these things as I know it can help other parents feel less isolated in what they are going through."
Yep, we're all in this together—even when we feel alone in this long (and AMAZING) journey of raising littles. So, sit back and enjoy a little of the solidarity of motherhood in these all-too-relatable illustrations…even if it's on the toilet with three of those littles hanging off of you.