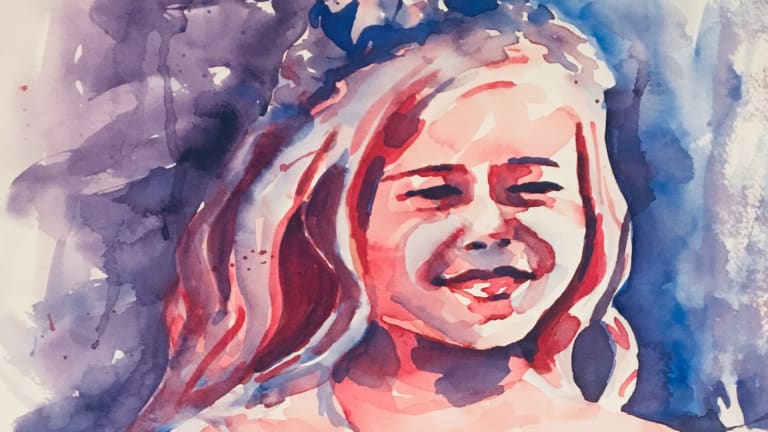 Saying "No" to Being a Mom
As mothers, we often put ourselves last. My health forced me to say "no" to my daughter's bedtime story request. What she said took my breath away.
I'm a watercolor artist who paints children. I recently participated in a local art market for the first time. I was stressed out about it for a month. I expended loads of energy on preparing for the event. I would wake up early to paint, dream about the event and the art I was creating for it, and felt equal parts eager and anxious about it. The night that the show closed, I came home so exhausted. I was completely wrung out. I have MS but don't often feel completely worn out unless I've pushed myself for too hard for too long. This was one of those times. I knew I had asked my body to do too much and now I felt it. When my fatigue gets worse, I can't think of anything else but sleep.
The night the art show closed is when I felt the fatigue the most. After I dragged myself to bed at 10 pm, my youngest daughter curled up beside me in bed. She asked me to read her a story. Snuggling into her I mumbled something about being too tired. I felt like the worst mom but knew I had nothing left to give.
I knew she deserved a clearer explanation for what I was working with so I came up with an analogy. I told her that I'm like a glass of water and each morning when I've had a full night of sleep, I wake up with a full glass of water. Each time I do something like drive kids places, wash dishes, go to work, grocery shop, run errands, make dinner, clean up messes, etc. I pour a little water out of my glass. I told her that my glass had been empty for a few hours and I just didn't have any drops left.
Any mom who has been in the depths of extreme fatigue can attest, there comes a point sometimes when you have to say "no" to being a mom. I don't mean walking away from your children or your family, I mean putting your own health first. We are told when we take an airplane to adjust our own oxygen masks first before we help others with theirs. If only we did that in our day-to-day lives. As a mama with MS, this has been a hard and humbling lesson to learn. Any mom with a chronic disease likely faces much the same as I do or worse. I know I have no room to complain because I'm mostly healthy, most of the time.
The times when MS knocks me down are the hardest on my ego, the I'm-a-good-mom self. And, since he has to pick up where I can't, I'm sure they are the hardest on my husband, too. But, I'm hoping my family still knows that I love them and once my glass is full, I'll give them more of me.
After my explanation to my daughter as we lay in bed that night, she thought about what I had said for a while. Then, in a quiet voice, she said something that took my breath away, "Mommy? Can you save some drops for me tomorrow?"
Whoa.
"Yes, sweetie. I'll save some drops for you."
One of the ways I rebound from that is to create a painting that shows them my love for them. This painting of my daughter, done in her favorite colors expresses that love I can't put into words.