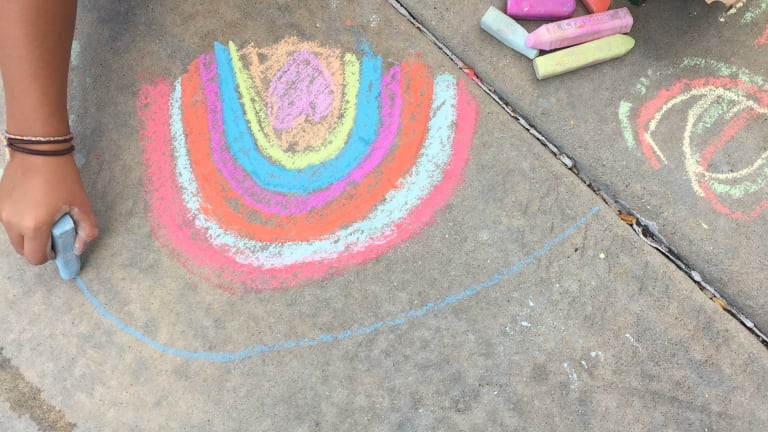 Read This Before You Make Your Summer Bucket List
I love a good list. LOVE. THEM. A few years ago, I covered our kitchen chalkboard in this epic Summer Bucket List.
That was two years ago and it was perfect for the sort of summer I wanted for my kids. They were the perfect age to go DO ALL THE THINGS! No more diaper bags. Everyone could make it through the day without a nap. I had just left a job where I had been working full-time, outside of my house and I felt like I was missing out.
It was time to pack in the fun!
And we did. It was so great and I'm so glad we did it.
But as my kids have gotten just a bit older, I'm ready to shift gears a little bit.
To shift from "Entertainment Director" to "Life Coach."
It sounds so boring, right?
As if I'll be asking my kids to spend the summer grinding their own wheat and beating their clothes on rocks to clean them.
Here me out.
For the last few years, the "Summer Bucket List" or "Holiday Fun List" has been a study in my ability to conduct expert Google searches for entertainment and activities and "must see" events.
But I've noticed that we're tip-toeing into a world where my kids arise from bed every morning wondering what wonderful thing we've prepared for them today. Don't get me wrong, I'm a big fan of wonderful things. BIG. FAN. (Just went to Disneyland, so I'm not trying to pretend I'm not all about the magic.) But I'm also a big believer in boredom as a creativity booster.
Also; there are no Entertainment Directors when you're a grown up. Life is not always a non-stop party and I want my kids to learn these critical skills:
Connecting with people.
Finding the joy in everyday things.
I decided to rethink our Summer Bucket List.
Instead of "what should we do?" I asked "what do I want to get out of this summer?"
Quality time and connection.
Practice skills for a happy life.
Practice being a big kid.
This shift means that instead of a long list of ticketed activities, I've got a summer bucket list that looks something like this:
Teach the kids "slow fun."
Screen-free old school fun; puzzles, board games, cards, reading in the shade. If you don't bust out the board games, how are your kids going to learn the art of trash-talking, or how darn smart their Grandpa is, or how sneaky their Grandma can be. My kids come from a long-line of card players—they need to be properly trained. Those are the moments that connect you to your family and reinforce how to have fun, without a screen.
Spend time with our extended family.
Sunday BBQ's, cook with Grandma, camping and visits with our extended family. Traditions are built one Sunday, and one summer at a time. More people knowing, loving, and enriching the lives of my kids is a good thing.
Connection to the neighborhood.
Knock on doors, use up all the sidewalk chalk, share our popsicles. Those are the things that really belong on a summer bucket list. I'm not setting up "playdates" or texting to make arrangements to play. They need to figure this stuff out.
Appreciation and exposure to the outdoors.
Hike, go to the lake, hit the bike trail, post-dinner walks to the park, dinner picnics in the mountains. We are lucky to live 25 minutes away from straight-up wilderness, we should be taking advantage of it more.
​
Room to be creative with their time!
Protect downtime and provide open access to craft supplies and the blanket fort box. "Boredom" breeds some of the most entertaining creative play I've ever had the privilege to eavesdrop on.
​
Learn a few routines and responsibilities.
Standard chores, help with big projects, work for hire. I've not been consistent with chores and now sometimes my kids simply walk away from their dinner plate and, OH HECK NO, that's not going to work for me. Or for them in the long term.
​
Skills for a happy life.
Cooking nutritious meals, eating outside, watching sunsets, sitting on the porch and enjoying a bowl of ice cream after dinner. Yes, I realize most of those revolve around food. But food is an absolutely GLORIOUS part of life and I want my kids to be able to cook delicious food for themselves one day.
​
To try new things and challenge ourselves.
Try the climbing gym. Try a slack line. Train for the next Taekwondo tournament. My kids are well out of that window where everything is new and hard and takes so much work to master—remember when we were pumped when our kids learned to walk? I want them to have a chance to be a beginner again. Brave is a muscle. You have to use it to keep it.
Do FUN Things with our tribe.
Meet our friends at the food truck park. Take a small army of moms and kids to the lake. Driveway fireworks party with the neighbors. Family is wonderful, but the family you pick? Those people are magic.
Serve others.
Think of ways to help, surprise, and dish up joy to the friends, family, and even strangers in our lives. Learn how good it feels to do something because you know that someone is going to feel special because of your efforts.
So, maybe this isn't the big dazzling summer bucket list you were hoping for when you clicked on this post, but I'm looking forward to a summer of spending less; less money, less time on screens, and less time hustling.
And getting more;
More quality time together.

More feeling like I'm helping raise my kids into wonderful adults.

More memories with the people we love.
There is such a huge benefit for kids when families can focus their energy and finances on experiences over things. (Kalli wrote a fantastic post about this around Christmas time. Go read it.)