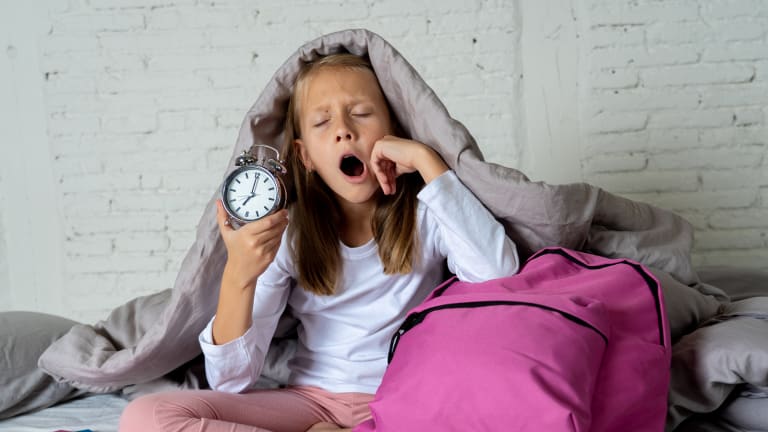 Parents of Kids in School Work a Full Extra Day Every Week
Summer dragging on, parents? You may rethink the excitement for school to begin when you hear this rough news.
Have you entered the part of summer where the kids are soooooo bored and soooooo obnoxious yet?
Well, if you're not there yet, chances are you'll get to that point some time before school is set to begin again and you'll be dreaming of the magical school days when you're kid-free at home or work during the day…
Except for when you hear the unfortunate reminder that, come September, you'll have to start working an extra day per week JUST GETTING YOUR KIDS OUT THE DOOR FOR SCHOOL!
Ugh. Remember?
All the "hurry ups!" and clothes changes and the bribing to sit still during hair-doing…it's no walk in the park! And according to a survey by Nutri-Grain, it literally adds up to an extra full day of work before your regular grind even starts.
The survey reported that most parents complete around 43 tasks before heading out the door to drop off the kids and getting themselves to work.
I'm tired already.
And apparently I'll be hungry and have to figure out how to perfect winged eyeliner in the rearview mirror, too, because many parents report skipping breakfast most days and doing makeup or shaving on their own commute in order to make sure their kids get what they need first.
Some more fun things to look forward to?
• Parents need to remind their kids at least twice in the morning to get dressed, brush their teeth, or put on their shoes.
• By the end of the school year, parents will have asked their kids to hurry up almost 540 times.
• In an average school week, kids spill on their clothes twice while getting ready for the day ahead.
Dr. Becky Spelman, leading psychologist, called on employers to help ease the burden on working parents.
We're all feeling the stresses of modern life with the hassles of always-on culture and parental chores adding to the burden of already frazzled parents. 'As well as ensuring that we all keep our minds and bodies properly nourished and energised, employers offering flexible hours for working parents can be a real help when it comes to managing the work life balance.
Heaven help us all to savor these last weeks of summer, while we've got the time.