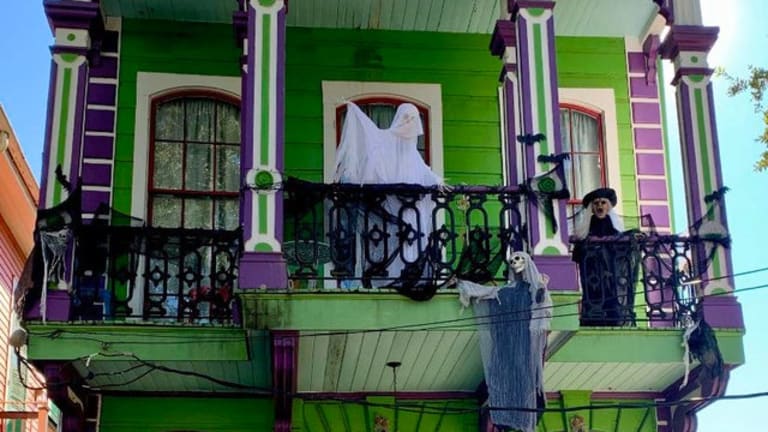 Our Favorite Halloween Homes This Year!
Halloween is the month to eat, drink, and be scary! One of the more recent crazes is the over-zealous urge to amp up your home for this bootiful holiday. We found some of our favorite, trending Halloween homes this year! AND give you some tips in case you're thinking of decorating your home. Happy Haunting!
The first week of October is the busiest week for Halloween decorations. The costumes, the food, the tricks, the treats...they can all wait a little bit. But the first week of this ghoulish month is when you need to get in gear and get your home prepared! Your Halloween Home sets the mood for everything else. Getting your home prepped and ready for one of the best family holidays of the year can be exciting, yet taxing. We wanted to offer some of our tips for Halloween home decor and then show you what's trending on social media! We absolutely love Halloween!
How much do we love Halloween? 
☝️ This much!
Tips For Decorating Your Home For Halloween
Coming up with new Halloween home decoration ideas year after year can be a difficult endeavor. Our neighbors, our communities want more and different every year. And some of us feel pressured to deliver. It feels like society as a whole is constantly raising the stakes for holiday decorations. We break it down into easy-to-follow tips to help you boost the spook levels for your Halloween home!
Tip#1: Work From A Clean Canvas
This means it's time to put away all the other decor. You've had all August and September for cute fall decorations with hay bales and "I love Autumn" signs. Just put them away. Clear everything off your porch and around the front. Work from a clean canvas. And Thanksgiving and Christmas can wait. This is a rookie mistake but we see it all too often. Another important Halloween decoration note: It's okay to start decorating in September.
Tip#2: Stick With One Theme
This does not mean you can't do scary + fun. Totally doable. This means don't do something sinister along with something Disney-innocent. This also includes color. If your colors are all over the place, you won't create a memorable Halloween experience for on-lookers. Stick with the basics: orange, black, green, purple, and white. 
Tip #3: If It Feels Like Too Much...It Probably Is.
There's a popular saying that goes something like this: "Less is more." With any kind of decor, this is also true. We get it, Hobby Lobby, Michaels, and Halloween party stores have some pretty spectacular decorations. This doesn't mean they all deserve a place on your front lawn. If people wanted to go to a Halloween store, they wouldn't come visit your house. Less is more. 
Tip #4: Add Lights And Sounds
This isn't always easy, but it is one of the most effective and entertaining additions for an incredible Halloween home. And we live in a day and age where you don't have to buy Christmas lights and finagle the light sequence to make them look Halloweeny. Halloween lights are actually a thing now! And it's not just string lights either. There are all kinds of fun and spooky light and sound embellishments to find! We're so excited!
Tip #5: Keep It Community Appropriate
This shouldn't have to be said, but it has to be said. Remember, you probably have young eyes walking around your home this October. It's about them. Not you ;) Ask yourself: What experience and impact do you want to create for your neighborhood and community? 
Our Favorite Trending Halloween Home Ideas
Now that we've covered some basic Halloween home decorating tips, let's show you what we are absolutely loving right now for trending Halloween homes. And to help us with that, we spent some time researching the interwebs and social media on what's happening with Halloween.
Halloween Home #1: The Skeleton Show
Right out of the gate, we're going to start with one of our favorites. This is all about the skeletons. We love the extra mile they went by sticking skeletons in that upper window!
Halloween Home #2: Simple and Fun
Easy. Simple. To the point. Very traditional. We love the accent lighting of purple on the porch with the oranges. Once again...sometimes simple is the best way. This proves it.
Halloween Home #3: The Haunting In New Orleans!
This home is located in New Orleans. It's a mid-19th century townhome and quite frankly deserves all praise in the Halloween world for what they've done here. Wouldn't be surprised if the Wicked Witch Of The West lived here ;)
Halloween Home #4: Amp Up The Eerie-ness!
Once again...simplicity. This is a little more spooky than the previous Halloween homes, but this still lands a solid honorable mention for Halloween decor.
Halloween Home #5: Downright Spooky + Creepy
Creepy? Yes. Scary? A tad bit. Memorable? How can it now be!?! There's no doubt this is sure to spook trick and treaters. 
Halloween Home #6: The Mansion Monster
I mean...who wouldn't want to trick or treat here?! Are you kidding? Just another example of how a simple concept which flows really well with your home's architecture can really make a profound effect with Halloween decorations. And with a home like that you know they're going to have some amazing candy.
Halloween Home #7: The Giant Skeleton
It's not an entire home, but sometimes it doesn't matter. We've seen a lot of giant skeletons as of late (they're really popular and becoming traditional) and we just can't get enough of these. 
Halloween Home #8: A Touch Of Classic
There's just something eerie about dry corn stalks blowing in the wind on a crisp October night. We can thank Stephen King partially for that. But again...simple and effective usage of a Halloween classic decor: corn stalks and pumpkins. 
Halloween Home #9: A Tad Bit Freakish
This isn't just about the giant skeleton (we told you we love them!). But do you see what's creepin' in the bottom left corner? Can you imagine all of your focus on this giant skeleton as you walk up to the home only to be greeted by those two freakish, pilgrim-lookin' pumpkin-headed children? 
We hope you've enjoyed the Halloween Homes we've shared and urge to consider those Halloween decoration tips to help you this year. If you have any Halloween homes you'd love to share and would love featured on Today's Mama, let us know! Until then....Happy Halloween!
---
The Mama's Guide to Halloween
Halloween can be busy. Halloween can be fun. Halloween can be extremely stressful. The costumes, the decorations, crafts, activities, school parties, trick or treating, kids safety, food, recipes,...we get it. You're most likely feeling overwhelmed with this spooky holiday. We've been there before too. Halloween is meant to be fun for everyone, not wear you down with all the minutiae of the holiday festivities! We're here to help! Here's what every Mama needs to know about Halloween. The Mama's Guide to Halloween provides Halloween tips, tricks, resources, recipes, activities, costume ideas, and more!