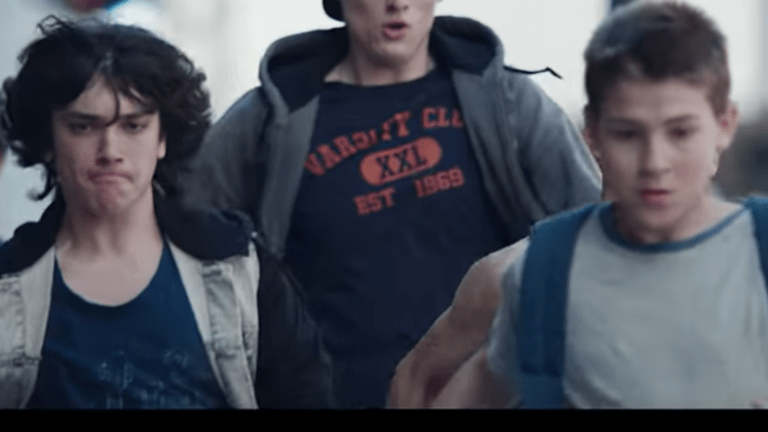 Gillette's New Ad On Toxic Masculinity Is The Stuff We're Looking For
Take note, fellas...this is how it's done.
Fangirling so hard over whatever marketing firm helped Gillette craft their latest campaign. See for yourself! 
"This is an important conversation happening, and as a company that encourages men to be their best, we feel compelled to both address it and take action of our own," Gillette brand director Pankaj Bhalla told the Wall Street Journal. "We are taking a realistic look at what's happening today, and aiming to inspire change by acknowledging that the old saying 'boys will be boys' is not an excuse. We want to hold ourselves to a higher standard, and hope all the men we serve will come along on that journey to find our 'best' together."
HELLS TO THE YES!
Toxic masculinity isn't just a buzzword and it's going to take a dedicated shift in the way we approach raising our sons (and our daughters) matched by raising the bar of expectation for the men already here.
As a mother of three young sons, this hits especially close for me and I can promise you that none of the "boys will be boys" nonsense is tolerated over here. I'll keep holding my boys accountable in their behavior both to me and the girls and other women in their lives. Moms will do what they can but ultimately, it's up to the men. 
Gillette is doing it right and the women of the world are grateful. Take note, fellas, this is how it's done! 
Post Script: 
The blowback on this ad is literally unbelievable to me. I was raised in what could be deemed a categorically traditional home as the youngest of 4 with 2 older brothers and a sister, a father and a mother. My father was/is the very traditional definition of masculine and manly and is now in his late 70's. My two brothers are very much the same, both very bearded, love to shoot guns, play and watch sports and do "manly" things. Hell, one's a cowboy on a farm living in Wyoming and one played for 14 years in the NFL. It doesn't get much more traditionally masculine than that. 
But the thing is, my dad would be the first to tell you that his version of masculinity hasn't always necessarily been healthy. 
On several occasions, my dad has expressed deep regret that he didn't ever really attempt to include my sister and me in the activities and hobbies he shares with my brothers. Hunting and fishing and any outdoor activity form the foundation for the tight-knit male relationships in my family to this day, activities that my sister and I were cut out of this based almost entirely on the fact that we were girls and therefore weren't likely to enjoy ourselves.
It didn't have to be that way and it doesn't have to be that way for my boys. That kind of exclusion based on assumption and gender? That's toxic masculinity. And it sucks. I still love my dad even though I didn't get to do those things with him, and I love that the older he gets the more emotional he becomes, and he often finds himself looking back on the choices he's made as a parent and a father which I assume is a pretty natural thing people do at that point in their life. Expressing love, expressing regret, expressing a desire to change and do things differently: that's healthy, that's the opposite of toxic masculinity. We need more of that, and that's all this ad is saying. 
So I guess if you find that offensive, that's on you. I sure as hell don't understand because there's nothing emasculating about eliminating toxic masculinity.