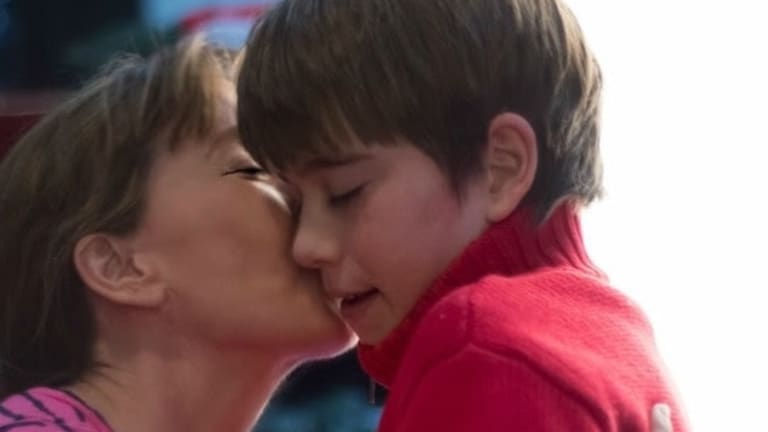 Heartbreak and the Holidays
Nothing is ever going to be the same, and it's all right to accept that.
Losing MacLean swamped me again last night. We were driving aimlessly with our kids Zachie and Zoe, looking for Christmas light displays. Like most parents who have lost children, my life is separated into "Life with MacLean" and "Life without MacLean." As we drove, we kept up our annoying Collard commentary on some familiar sights, and that's when it hit me that my son had been in the back seat laughing and enjoying the displays the last time we'd seen these lights. And that I would never get to see them with him again.
Everything turns into milestones- another Mother's Day without my MacLean. Another un-shared birthday for Zachary. But the holidays are the toughest for most people - where the warmth of the season and the focus on family hone our grief into a razor-sharp point. When you have other children, you don't get to crumble and fall apart. They deserve happiness - and just as important - seeing you happy too. But I cried last night because missing MacLean turned me inside out, and my seven-year-old Zoe sagely remarked, "Oh, you're missing 'Cleanie again. That's all right, Mom." I think you have to show grief as well to the rest of the family - let them know that it's okay to be sad and that yes, it's normal that happy things and experiences can still make you cry.
But you can't cry all the time.
So, Todd and I have developed some coping mechanisms over the last 18 months, some we've discovered, some suggested by smart friends and fellow parents who have lost a little one. And if you're mourning a loved one gone this holiday, maybe they'll help you too.
Create a special place for your child.
I have MacLean's tree, which we placed next to our largest window so he has a beacon when he flies by. I like to think of my son roaring along with the wind - he always loved it. In fact, on the one year anniversary of the day we lost him, a wild 60 mph wind rose out of nowhere. My boy: such a drama queen! But I stood outside in the backyard and laughed, appreciating his little greeting. For you, maybe it's a collection of framed photographs. A tableau of beloved toys and images from some of your best memories. Todd keeps a picture of MacLean on the table at Christmas dinner so he's "sharing" it with us. Whatever you choose to display gives you a focal point and a feeling of peace that your little one isn't gone.
Make a memory video.
I do this on every birthday, having guests share a memory to honor the new milestone for my kiddo's lives. But the holidays tend to be when more of us get together, and last Christmas I asked everyone to remember a favorite moment with MacLean. There was lots of laughter, some crying (I'm from a Scottish family, there's always a lot of laughing and crying, often at the same time, which is quite impressive) and some incredible memories- several that I'd never heard before. Afterward, a couple of my sisters, then a stream of nieces and nephews confided that the ritual brought them a lot of relief- that they weren't sure if they could say that they missed their cousin or if they should even bring up his name. Everyone felt more relaxed and happy after being able to talk about MacLean. (This image is from a big Christmas-themed photoshoot - slash - video. MacLean was so thrilled by it all that he fell asleep. Twice. I'd forgotten until a girlfriend sent this to me. I'll treasure it forever.)
Don't pretend everything is the same.
Nothing is ever going to be the same, and it's all right to accept that. Maybe every tradition at the holidays is centered around the child who is no longer there. It's okay - important, actually - to create new traditions, too. It doesn't mean you have forgotten your child, but some fresh rituals that make you happy are a small, but important sign of moving through the sadness and allowing yourself and your family to experience more simple joys. Zachie and Zoe wanted to start sledding the minute it snowed this year. MacLeanie was never a fan of being cold, so we didn't do it often. This year, I pulled out the sleds and hauled the kids into their snow pants the minute the first flake fell from the sky.
Say his/her name. Please.
Zoe asked me once, "Why doesn't anyone talk about MacLean any more?" People, trying to be kind and not upset you, will often never speak about your lost child, never use his name. MacLean's siblings needed to know that he was real, that he mattered- it helped Zoe to hear about her brother because she was only 5 when he passed away. It gives her and Zachie (and us) peace and security knowing that MacLean is not forgotten. When our extended family reminisces about MacLean- sharing a memory that might have just popped up or sending a video or pictures they've just found- it brings him here to us again. I've had to ask friends to please say his name, share a memory, anything! My girlfriend Debbie breathed a sigh of relief and said "Thank you! I've wanted to tell you about MacLean and this little craft we'd made together, and I just found it, and..." I can't speak for any other parent who's lost a child, but I can say that every parent who's shared their experience with me all wanted the same thing. "Say his/her name. Talk about my child. He didn't disappear."
This is so important:
If you or someone you know is going through the grieving process this holiday and needs help- it is SO important that you ask for it! Here are some resources I want you to use, please. And a huge hug from me and all the love in the Universe.
Grief Source Network has several different numbers from excellent sources here.
Grief Support Directory has a host of resources here.
Compassionate Friends specifically operates support groups nationwide to help parents who have lost children, reach them here.
Please do not be afraid to reach out to friends and family. Remember when they said "Anything I can do..." when you lost your little one? They meant it. And they will be grateful to actually be able to help.
Erin Collard has written for XoJane, Today's Mama, and Villa Leadership. She and her husband host the Todd & Erin Show Daily Stream and live in Salt Lake City with their obstreperous children and emotionally needy Portuguese waterdog.
You can follow Todd and Erin online here: