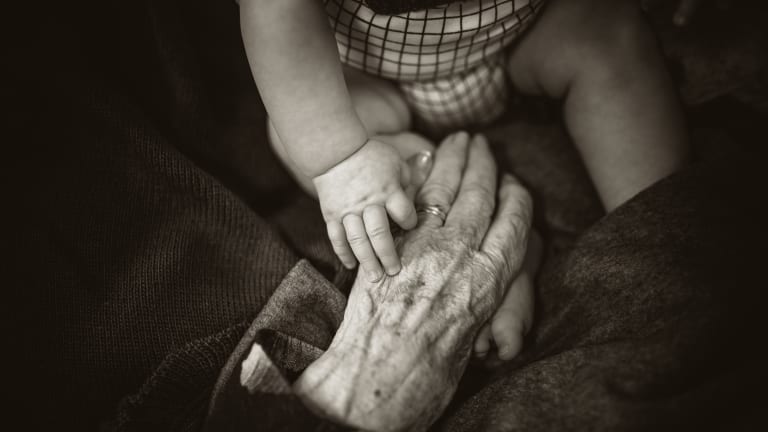 Science Says Growing Up Near Grandparents Can Seriously Affect Your Health
And it's not just because of all the sugar they sneak you when your parents aren't looking.
Running down the street to Grandma's house, ripping through the door, and heading straight for the loaf of homemade bread—which was hastily sliced and put directly into the toaster oven, pulled out piping hot in order to receive a heaping pat of butter and a generous portion of cinnamon + sugar, then devoured faster than Grandma could identify the blur that just burst through her front door.
And down a different street, not too far away, was another set of grandparents waiting for me and my siblings to show up ready to swing, play pool, and explore the treasure trove that they knew as their cellar.
This was childhood for me.
And science says I'm better for it.
According to research done at Oxford University, children who grow up with grandparental involvement have fewer behavioral and emotional problems than those who don't.
Plus, another study reported lower risk of depression in kids whose grandparents participated more during their developmental years.
And yet another study says that having a greater sense of your family and its history as a child will make you more resilient and sure of yourself, even when life outside your family feels out of control.
Much of the research points to the greater familial support system as the reason for these benefits. The added security of more loving adults who accept and care for you lends itself to greater capacity to deal with childhood trauma, combat emotional issues, and generally lead a more stable life.
So, far more than the amazing home-baked goodies and free babysitting they provide, grandparents should be considered an integral part of raising good, healthy kids.
Oh, and the benefits for Grandma and Grandpa don't suck either—research shows that babysitting your grandchildren will actually help you live longer!