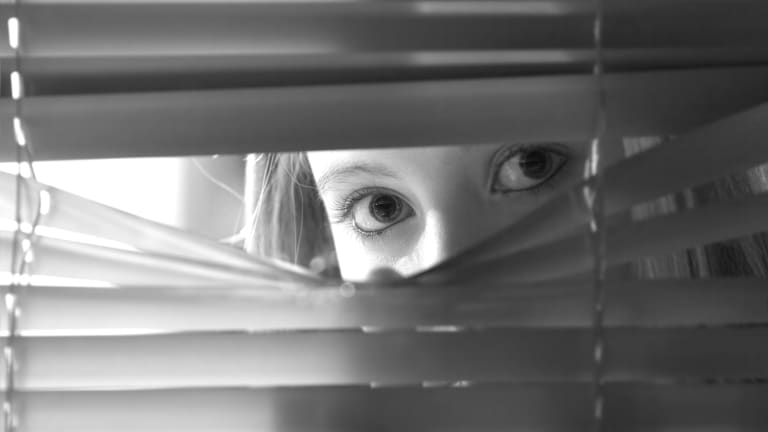 12 Things I Caught on My Doorbell Camera
I love my doorbell camera.
I had it, along with my home security system installed after I got divorced and began living alone 50% of the time. I love my neighborhood and have never felt unsafe, but one night as I returned from a business trip to an empty house, it occurred to me that, oh maybe I could use an assist.
All of the security measures and monitoring are fantastic and give me a lot of peace of mind, but the doorbell camera is my real favorite.
I can't imagine going back to not having one.
It's not that my doorstep has been a frequent source of trouble or theft, but it's a high-traffic area these days with many of our necessities landing on my welcome mat via 2-day shipping.
And I don't want to brag, but I've had more than my fair share of takeout delivered too.
And all of the kids in the neighborhood that have been cooped up for the last few months are out knocking on doors to see if anyone can come out and play.
So we've heard "DING DONG!" ring out through our home and my phone a lot.
I have my doorbell camera set up to notify me if my doorbell detects a visitor, and ring again if they ring the doorbell.
So what was originally purchased out of a desire to feel safer in my home, has also added both ease...and humor to my life.
Have you ever seen a little kid saunter up to your door carrying the hope that a friend is going to come out to play? IT'S THE BEST. So much fun kiddo energy right there on my doorstep.
Here's a list of all of the ways my doorbell camera makes my life easier when I hear DING DONG!
I'm working from home and on a conference call...do I need to excuse myself to answer the door?
I'm away from home and a valuable package has arrived early...ask a neighbor to grab it for me until I get back!
While I was out a neighbor stopped by, left a note...but when I got home, no note. Wind took it. I texted the neighbor to check-in.
While in a meeting I get a notification that shows me that my Mom has arrived at my house to get my kids off the bus.
My pest control person is here! As opposed to a different company selling me pest control…
The kids and I are so sick. Piled in my bed. And it's the week before Christmas. A neighbor stops by with cookies and we do them a favor and stay in bed, keep our germs to ourselves, and I send a text explaining the situation and thanking them for the delicious cookies.
I've used my doorbell camera to figure out who to thank for snow-blowing my driveway at the crack of dawn during a storm.
I've laid in bed late and night, slightly anxious because I can hear something going on outside. I just pulled up the doorbell camera app and saw that it was just my neighbors chatting and laughing outside and that I should probably not watch Stranger Things alone anymore.
I've had a lot of people in and out of my house this year as I've navigated repairing my home after a basement flood. It gives me peace of mind that I've got my own little signal that my home is monitored and secure.
I've "reviewed the tape" to see a harmless tween doorbell ditching me. 
My doorbell camera has been a fantastic source of information and to be honest...hilarity.
I've seen my own funny kids dance on my porch because they know I can see them on my phone. I've seen a hooded figure slink up to my door to ring the bell without revealing their identity, only to catch a glimpse of my neighbor who didn't want to be seen Booing us at Halloween. (We still laugh about the screenshot I took and sent to his wife.)
But the best doorbell camera story is when Rachael left a light-up llama on my doorstep a few years ago.
The llama was only part of why it was so funny. The video of her daughters squabbling on the front porch after the llama's tail falling off is hands-down one of my most cherished videos. The best part is that my kids and I watched the whole thing unfold in real-time from our couch.
I couldn't have expected all of the ways that a doorbell camera would help make me feel safer and make my home seem "smarter" but I'd recommend one to everyone—it's one of the best home improvements I've made in the last few years!
Why Your Home Security Installation Should Be With SafeStreets
There's never been a better time to help protect your home...and to get in on this real entertaining doorbell camera action. We're partnered with SafeStreets to bring you one of the most insane exclusive offers. I couldn't believe it when I read it.
One of the most enticing elements about SafeStreets right now is the amazing bonuses they're exclusively offering through us for any new customer. These just aren't random coupons and cheap giveaways either. SafeStreets has bundled over $1K worth of bonuses! This isn't a contest or raffle you have to enter either. These are the extras that come with this package:
Get $850 in FREE* home security equipment
PLUS a Free* Smart Doorbell Camera
PLUS a $100 Visa Gift Card** from SafeStreets
 The Smart Choice.
Every member of the SafeStreets team is laser-focused on giving every customer a 5-Star Experience. They've even trademarked that guarantee as "5-Star Experience" so you know there's more than just words behind that promise. Whether it's evaluating your customized and specific needs when it comes to home security, installing your systems, or educating you on how simple it is to use, SafeStreets is not satisfied until you are "5-Star" happy.
Your Security Is Our Business
It's so simple to get started on helping protect your home and giving you the peace of home you deserve. Click here to learn more about the simple steps you have to do.
So let's recap briefly on this amazing offer. Those who install today are going to get….
Professionally installed service (Same day or Next-Day Installation)
Professionally installed home security installation by Smart Security Certified Pros
Immediate access to the ADT SoSecure app
Technology and Monitoring by ADT
Home Automation
The ADT 6 Month Money-Back Guarantee
Get $850 in FREE* home security equipment
PLUS a Free* Smart Doorbell Camera
PLUS a $100 Visa Gift Card** from SafeStreets
Okay. It's Your Move.
Consider this, in the last 10 minutes, there were over 11K packages stolen from people's property. Let's be a little candid here for a moment: if you pass on this offer, in a week from today are you going to have that warm, cozy, comfortable feeling of knowing your home is protected head to toe? Probably not. You'll still wonder about your packages when you're away for the day, like I used to.
Face it. Most of what you need is peace of mind and peace of home. You need the solace that comes from security. Get in on this offer from SafeStreets now and have a professionally installed home security system with all the bells and whistles, secure apps, all installed in less than one day. In a lot of areas, it's a same-day installation! Wouldn't you like to be home automation and home protection within a few short days? Act now. Don't wait. Your peace of mind is worth it to you. Click here.
*With $99 installation charge and new monitoring agreement. Early termination fee applies. No cash value.
**Restrictions apply. Visa gift cards issued by MetaBank™, MemberFDIC, pursuant to a license from Visa U.S.A.Inc. Neither MetaBank nor Visa is a sponsor, endorser or participant in this promotion. Monthly inactivity fee of $2.95 after 12 consecutive months of inactivity. Lost/stolen replacement card fee of $5.00. See the cardholder agreement for more details.