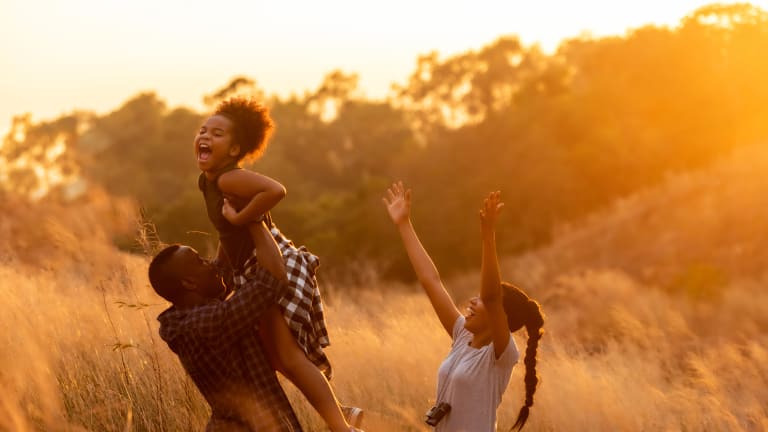 Traditions are the Glue that Holds Your Family Together!
Though we didn't realize it at the time we were shepherding our nine children through their lives with our nuclear family, we now realize that our family traditions have provided invaluable ways to build a feeling of security in our children.
Though we didn't realize it at the time we were shepherding our nine children through their lives with our nuclear family, we now realize that our family traditions have provided invaluable ways to build a feeling of security in our children. I think traditions have made them feel that they belong to something bigger than themselves and that they are part of a living working family organization.
We started with holiday traditions. On Thanksgiving for many years our tradition was just to watch football all day and eat way too much. One year we decided to make Thanksgiving more meaningful with a new tradition. First thing in the morning, we produced a roll of adding machine paper that rolls out for miles. We asked the kids to start writing every single thing they could think of that they were thankful for. As cousins came in the door for the holiday festivities they were enlisted to help with the list as we always wanted to break our record from last year. Everything from thumbs, doorknobs and all their favorite movies, people, places and experiences from the year appeared on the list. By about the third year we hit a thousand items and that long ribbon of paper was hung above our Thanksgiving table like crepe paper to remind everyone of how much we had to be grateful for.
At Christmas we decided to concentrate on the true meaning of Christmas on Christmas Eve. This included everything from having an authentic "Jerusalem Supper" to having the kids do the "giving". They gave their heartfelt and hard-earned, sometimes homemade gifts to each other and to their parents on Christmas Eve before the mayhem of the "receiving" started on Christmas morning. They were also required to sing Christmas Carols on the stairs until their parents woke up before diving into the traditional Christmas Santa Claus gifts.
After several years of just "letting things happen" we took stock of all our holidays and tried to make them more meaningful and memorable with specific love-related traditions. The traditions that our children probably remember most are the traditions on their birthdays. With nine children to make feel special we decided that it was really important to have a tradition for each child's birthday. The crazier the better!
The ones that have created the most memories is the birthday tradition of our third daughter Saydi's on August 12 and our dad's birthday on October 28th. Every August 12th, since we were usually at our second home (which was my first home growing up) Bear Lake, we decided to make a cake, light the candles and then float it on the lake. Every year we concocted a different floating device and each year we wondered whether or not the cake would survive…but so far…it has! Usually the candles blow out and sometimes it gets a bit soggy on the bottom but we have had so much fun floating that cake! One year we were at a "wave pool" and we had quite an audience as we floated it in between wave sessions. To this day (Saydi now has two children with another one on the way) Saydi's siblings get excited about floating that cake. If we aren't together, they call her and announce that they floated a cupcake in the sink for her!
Perhaps the very best traditions was raking up huge piles of leaves on Dad Richard's birthday and burying each other, throwing them at each other, stuffing them down each other's backs and frolicking like crazy…rain or shine. One year suddenly three of our children left at once. Two were in foreign countries and one was away at college. On Richard's first birthday without three of his children he was delighted to see that they remembered him by sending a card. On his special day he sat down at his desk and opened the first envelope from our daughter who had been working at an orphanage in Bulgaria. As he did, a leaf fell out. It was attended by a note that said, "Dad, these orphans thought I was crazy but they helped me to honor your tradition. I love you more than ever and remember…I'm still part of the family." The other two also contained leaves. The second daughter wrote a similar heartwarming note from Romania. The one from our son in college contained no note….just a leaf. Typical of this quiet guy, he figured his dad would know what he meant! Not only did it bring tears to our eyes but it helped us to realize just how important traditions are in a family!
The challenge for this holiday season is to survey your own traditions and make them more meaningful. They don't have to be "big deal' things. It can be something as simple as having dinner together every Sunday but formalize them. Make your kids more aware of them. Have them help you decide on traditions for their birthdays. Write them in a book. You may not realize it now but just those simple things that happen over and over again in a family are truly the glue that holds your family together…forever!
Linda Eyre
Valuesparenting.com