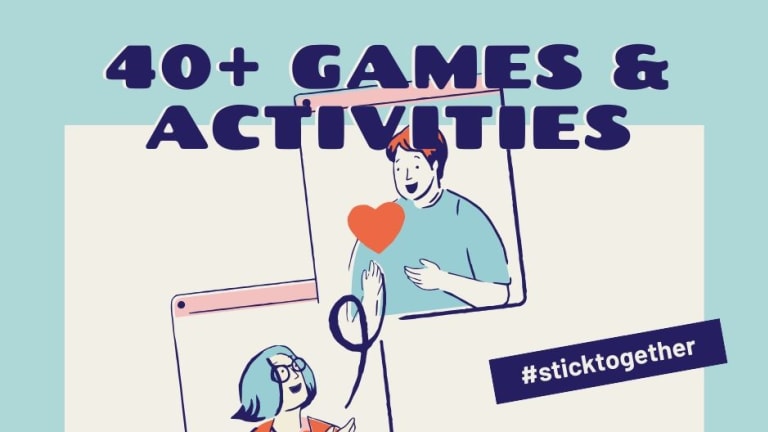 The Ultimate List of Games & Activities for Virtual Socializing
40+ games and activities to keep you connected during Quarantine!
I know I can't be the only one who gets a bad taste in their mouth every time they say the words "social distancing." It sounds so isolating and formidable.
I love the spin on the term though—distant socializing. To me, it still admits we're at a disadvantage of distance, but we're making the most of it! We're using the incredible tools available to us and we're moving forward with hope for connection and even a little fun.
That said, there is no shortage of games and activities you can participate in with family and friends during this distant or virtual socializing phase of our lives.
So, hop online with FaceTime, Skype, Zoom, Google Hangouts…pretty much anywhere—and enjoy a little fun TOGETHER with these 40+ ideas for virtual socializing.
Kid- and Family-Friendly Games & Activities
These are perfect for when cousins and pals want to hang or for when parents need a break and a grandparent is available to virtually step in for a bit.
· Hangman
· 20 Questions
· The Vacation Game (ABC memory game)
· Charades
· Bingo
· Pictionary
· Home-based Scavenger Hunt (Love this for encouraging movement and learning!)
· Guess Who
· Boggle
· Battleship
· TicTacToe
· Scattergories
· Read My Lips (Take turns muting your mics and mouthing famous phrases or song lyrics while the other tries to read your lips!)
· Tenzi, Farkle, or Yahtzee
· Memory Trays (Grandparents have a tray of memorable items visible in front on the screen for a minute or two. Then, away from the camera, remove a couple of items and see if the grandkids can remember what's now missing.)
· I Spy
· Simon Says
· Last Letter (Pick a category such as animals, famous people, or song titles. The first person says an item from the chosen category and the next person has to use the last letter of that word to start their next word in that category. The first person to fail to come up with a new word using that pattern loses.)
· Heads Up
· Minute to Win It (Seriously endless options here and it's GREAT for kids hanging out with kids.)
· Story Time (Switching up the story time leader each day in a group of parents can give everyone a few precious alone minutes each week!)
· Talent Show (Perfect for kids who are missing sports, dance and music recitals, and generally showing off their awesomeness to the world.)
· Fashion Show
Teen & Adult Games
Some of these can also be done with younger kids, but probably lend themselves to a more grown up atmosphere. Great for socializing during nap time or after bed!
· Two Truths & a Lie
· Never Have I Ever
· Online Board Games (Several hubs like BoardGameArena.com will allow you to play hundreds of board games for free and chat with friends while doing it. Learn something new or play a classic!)
· Online Interactive Games (Try out JackBox TV for loads of fun options.)
· What's the Theme? (One person mutes their computer volume while the others decide on a category—such as blue things, things we did in high school, things only moms can understand, etc.—and when the first person unmutes, the players take turns naming one thing at a time while the original person tries to figure out the category those things all belong to.)
· Codenames (This is one of our favorite family games and will take a little prep work but is totally worth it! And you don't even have to have the actually game, really.)
· Cards Against Humanity
· Family Feud/Trivia Games
· Jam Sessions or Music Lessons (Always wanted to learn guitar but never brave enough to ask your friend to teach you the basics? Now's the time!)
· Explore Outdoors (FaceTime during a hike to show off your favorite part of the trail and let others see something they may have never seen before or are missing right now!)
Adult Activities
Some things are just better when only the adults are involved. And there's no need to feel guilty about it!
· Morning Coffee (Just make sure to talk about anything besides the news. Virtually invite a friend to share your front porch swing and just relax.)
· Happy Hour (Invent a new cocktail lately? Share the wealth with friends.)
· Cook Together (Whether it's a virtual episode of Chopped or your mom finally teaching you how to bake bread, this is bound to be fun and probably very educational.)
· Book Club or Bible Study (We all have more time to read right now anyway…right?)
· Paint/Craft Together (You need to get those creative juices flowing, you may as well chat with a friend while doing it.)
· Have a Netflix Party (Or just watch the same DVD at the same time while on FaceTime or Google chatting. It's awesome. And you don't have to share the popcorn.)
· Work out (Honestly, we could all use a sweat buddy/accountability partner right now. Probably because of all the popcorn we're not sharing.)
· Home Tours (Show off a home improvement project or garden progress.)
What has been your favorite part of virtual socializing? Drop a comment and let us know what we've missed!