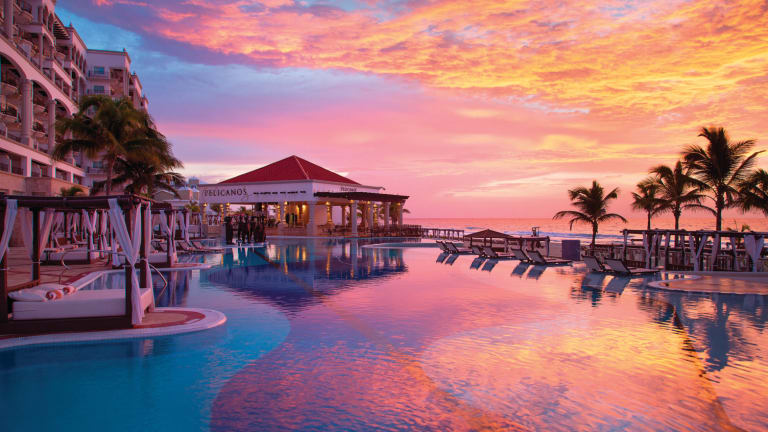 Self Care Looks A Lot Like Cancun To Me...
Taking "Me Time" To The Level You Deserve
A few months ago I packed my carry-on with not a lot more than the basics and hopped a flight to Cancun. 
Solo mi. 
This was the first time I'd ever taken a trip truly solo and maybe I'm addicted now because of it. 
Turns out, solo vacations are kind of my jam. Especially the kind of vacation where I don't have to leave the resort to find something to do or new places to eat, the kind with a Zen spa experience I'll never forget, and has a Pilates studio built into the most top of the line hotel gym I've ever seen! The Hyatt Zilara Cancun was a one-stop shop in all the best ways! 
Best parts? All-inclusive and no kids allowed. A true break from reality and most welcome indeed! 
I was invited on this trip to check out the health and wellness facilities of the Hyatt Zilara Cancun. There was yoga in a gazebo on the beach, incredible gym facilities and a Stott Pilates room, where I ended up taking multiple classes from knowledgeable and professional trainers and staff. 
It felt like a luxury to have these kinds of amenities at my disposal and I took FULL advantage! 
And then there was the Zen Spa with hydrotherapy pools, sauna treatments, and an incredible hot stone massage I'm not sure I'm ready to talk about yet because getting to do something like that feels almost spiritual, you feel me? 
My regular life revolves around my work, my laptop, my minivan, my kids' sports schedules, homework, laundry and everything else I can cram into my 24 hour day, so it's not like spas are places I frequent on the regular. You can understand why Zen is exactly the word I'd use to describe the chance to sit and give my well-loved and well-used mind and body some extra TLC. 
Sleep, sun, sweat, swim, eat, repeat. 
Heaven.
4 days of that and I went home a happy, happy girl. Relaxed, refreshed, sun-kissed, and full of room service guac and chips. 
I can confirm, it does not get much better than that.
So let's talk logistics:
The airport in Cancun was modern and welcoming, my shuttle was easy to find, a quick 20-minute ride later and we rolled up to the Hyatt Zilara Cancun conveniently located next to a large upscale shopping mall with tons of activities and attractions and things to see and do. 
My first impression? 
Hello, gorgeous! 
The staff was friendly and attentive, the concierge handed me a chilled towel soaked in something eucalyptus and citrus and totally magical to freshen up with while I checked in. 
The Hyatt Zilara Cancun is an open concept with a large great room you enter into from the lobby decorated with plush sofas and sitting areas leading out to the gorgeous pools and cabanas. With 6 different dining options, 5 different bars, and an on-site coffee shop, I was 100% good to go. 
My room was large and rustic with a giant dual head shower and one of the most comfortable hotel beds I've ever slept in. 10 POINTS FOR GRYFFINDOR! 
Add in the gorgeous pool areas with cabana lounge areas and whatever beverage your fickle heart desires. I'm not sure why I ever came home okay? Geez. 
We have to talk about the sand though because I'm not sure I've ever experienced anything like it. Soft and pillowy around my toes, it was the exact opposite of the kelpy/seaweed strewn Southern California beaches I'm most used to. 
 A little "me time" was exactly what I needed, and at this point in the year (Hi, it's freaking JANUARY IN UTAH), I'm more than ready to go back. Give me the sun, the yoga, the pilates and the fluffy fluffy sand. 
Hyatt Zilara Cancun,  round two? 
Who's with me?! I'm dying to get back!