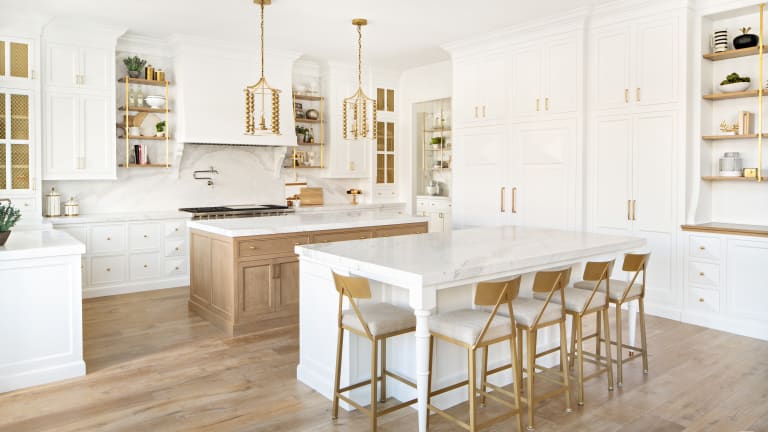 5 Favorite Cabinet Paint Colors From a Luxury Cabinet Designer
Painting your cabinets is always a good option. Starting with the right paint color is equally crucial.
In every woman's life there comes a time when she has to paint her cabinets. Whether you're moving into a new home or simply wanting to give your current home a little bit of a makeover, painting your cabinets is always a good option. Starting with the right paint color is equally crucial. And if you're looking for some inspiration, look no further than here. We've gathered 5 of our favorite cabinet paint colors from one of our favorite luxury cabinet designers, and we think you'll love them just as much as we do! So without further ado, let's get started!
Wondering who this designer is selecting the paint color for your cabinets? Christopher Scott specializes in fully custom inset cabinetry and works with clients to design a space that creatively and beautifully makes it feel like home. Every project is closely monitored to make sure that any perfectionist would approve of the fit and finish. Keep reading to learn more about Christopher's favorites.
Christopher Scott's Favorite Cabinet Paint Colors
White
I will always be a big fan of white cabinet paint. White is timeless and traditional and it's the color that has the least probability of you feeling remorse about it in the future. It's open, cheery, and bright. Wonder which white to use? Swiss Coffee or Simply White by Benjamin Moore is always my go-to pick for white paint colors.
Black
Black cabinets can feel both glamorous and moody. Black cabinets in the kitchen can make a space feel formal and classy especially since the darkness of the cabinets accentuates the hardware. Before deciding that black is the color for you, look at your aesthetics and what your surrounding decor is. Wondering what black to use? Wondering what shade of black? Onyx by Benjamin Moore is always a hit.
Gray
Gray is often thought of as a dull color, but I disagree. The color gray allows you to bring some subtle personality into your home. There are so many varieties out there. Try Blue Gray, Cement Gray, Cobblestone Path, Down Pipe, or my absolute favorite Stormy Monday, to get your project started off right!
Green
Green for the win! The colors we surround ourselves with daily do tend to affect the way that we feel. Green has long been associated with peace and security as well as an overall feeling of being refreshed. In this fast-paced and tech heavy world, these are feelings that we really want in our homes and that are the most important. Look for pastel, gray-greens or muted green to use in your home. Try Green Blue for a paint shade that will tie your project together.
Blue
Blue is a fantastic color to use because depending on the shade of blue chosen, it can be light and airy or dark and moody. Try using it for a bedroom, bathroom or the kitchen. Blue can have an incredible effect if they fit your space and your personality. If you're considering blue, be sure to try Hague Blue.
How To Choose The Right Cabinet Paint Color For Your Home
Get out your paintbrush! But if you are still wondering what the right cabinet paint color is for your home, keep reading to be inspired.
Find Inspiration
Shop around for a color that you love the very best and consider what you want your end result to be. If you want a darker look, you will need to coordinate your colors. A slightly warm backsplash will have you preferring warmer colors and neutrals. Darker and neutral cabinets will portray a cooler neutral.
Determine Light
Natural lighting is the best! It plays an integral part in how the paint colors in your home look. If your room is facing North, the windows are more likely to let in soft light and offer a warmer look.
Should Colors Match?
Cabinets do not need to match each other, whether in style or color. However, it is important especially if the cabinets are close together to make sure that the style and color are complementary.
Want More Inspiration?
Time to pack your Pinterest board with ideas and inspiration. You get more ideas in the portfolio section on Christopher Scott Cabinetry.com or his Instagram and Pinterest accounts.