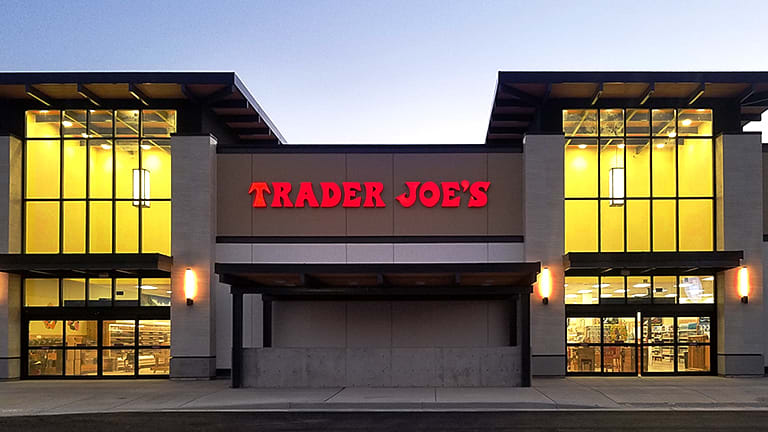 10 Trader Joe's Beauty Favorites Under $10
These winners have saved me piles of cash.
Sure, you know Trader Joe's has all of your favorite snacks and organic foods...but did you know that Trader Joe's beauty products are fantastic AND are fantastically priced?!
To prove it, I'm sharing ten of my favorite Trader Joe's beauty products that you can grab for under $10. Five of which are under $5.
I've been trying to crack the code on my hair and beauty budget for years. Some items are worth the investment, but some items can deliver glorious results for a BARGAIN!
Friends, I am here to tell you that the Trader Joe's items below are all solid performers that have saved me piles of cash.

I'd include a photo of myself to prove it but I've not had my haircut in almost 6 months and my eyebrows might also be considered bangs now? So just take my word for it, these are GREAT. 
Let's do this...
Trader Joe's Microdermabrasion Scrub $4.99
If you only get ONE THING from this list, make it this one. And stock up. Fill your cart until people stare. It's that good. Exfoliating scrubs can be tricky. I've tried a lot of them and they seem to fit into one of two categories:
Sandpaper.
Get yourself a second mortgage to afford it.
Those are not categories I am interested in when it comes to skincare. So, imagine my delight when I found this little tube of magic. It's gentle and makes my skin feel so soft and helps keep my skin clear. Just add the tiniest smidge to your regular cleanser and voila!
Trader Joe's All-In-One Facial Cleanser $5.99
Speaking of cleanser, stock up on this too. It's hearty enough to remove makeup and sunscreen, but gentle enough for sensitive skin and for kiddos. It gets my oily skin nice and clean, without over-drying it which means I can use this year-round.
Trader Joe's Ultra Hydrating Gel Moisturizer $8.99
This is the biggest splurge on the list but it's WORTH IT. It hydrates without being greasy and if you've got oily skin, you will be AMAZED at how non-greasy your skin remains when you use this. I've seen it dubbed a La Mer dupe, but it will be a cold day before I fork out La Mer prices, so I guess we'll have to take the internet's word on that.
Trader Joe's Enrich Moisturizing Face Lotion SPF 15 $3.99
This is my summer go-to daytime moisturizer because it includes SPF without irritating my skin and causing breakouts. Summer is usually a time I just have to suck it up and deal with breakouts because I am an aggressive sunscreen user, but this does such a great job of protecting my skin during day-to-day activities. It's fragrance-free too, so feel free to force it upon the men in your life.
Trader Joe's Oil-Free Antioxidant Facial Moisturizer $5.99
Here's the jack of all trades face lotion. Oil-free, fragrance-free, perfect for everyone in your household. This is my night-time moisturizer in the summertime and my daytime moisturizer in winter. I've been using this for YEARS.
Trader Joe's Vitamin E Oil Blend $3.99
Got scars? Got kiddos with scrapes? ME TOO. After the wound has healed (no more scabs, no more need to fight infection) I massage this oil onto the scar tissue to help it heal and reduce the appearance. I had thyroid surgery a few years ago and my giraffe neck meant that my incision was right in the middle of my neck so you bet I was super proactive about taking care of that scar.
Trader Joe's Body Butter $4.99
If you relish a rich body cream, don't be fooled into thinking that has to be expensive! Trader Joe's Body Butter is luxurious without being greasy and they offer it in seasonal scents like Pumpkin Spice, Warm Vanilla, Coconut, and Cucumber Avocado.
Trader Joe's All For One Shampoo + Conditioner + Body Wash $7.99
My daughter and I are too picky about our hair to truly use this "all in one" product, but I love an all in one product like this for little kiddos and for my son. The scent is fresh and citrusy and I use it happily as a body wash.
Trader Joe's Tea Tree Tingle Body Wash $3.99
Did you see Spiderman Far From Home, when Aunt May refers to Spiderman's "Peter Tingle"? I die. I think of it and giggle whenever I use this body wash, so maybe you too are interested in this comedic shower experience? Even if you don't have my highbrow sense of humor, you'll enjoy the pick-me-up from tea tree, eucalyptus, and peppermint scents.
Trader Joe's Ultra Moisturizing Hand Cream $4.99
In the wintertime, my hands crack so badly from the dry air. It's so bad that people often give me new lotions that they come across to see it it helps. This was the hand cream that won. I stock up on it in the fall and my Mom fills my stocking with it at Christmastime. These days, the frequent use of hand sanitizer has led me to have really dry hands, so I use this hand cream...constantly.
Trader Joe'sGrapefruit + Lemon Hand Sanitizer Spray $1.99
Bonus item. If you have to sanitize, at least enjoy a delicious scent.
Hop in the car and get yourself to Trader Joe's ASAP to stock up. What you save in beauty product cost can be applied to buying Trader Joe's Dark Chocolate Peanut Butter Cups and Gluten-Free Joe-Joe's.

And SURE...the holidays are still months away, but save this list of our Favorite Holiday Items from Trader Joe's and this one for when it's time to get knee-deep in Pumpkin Spice.