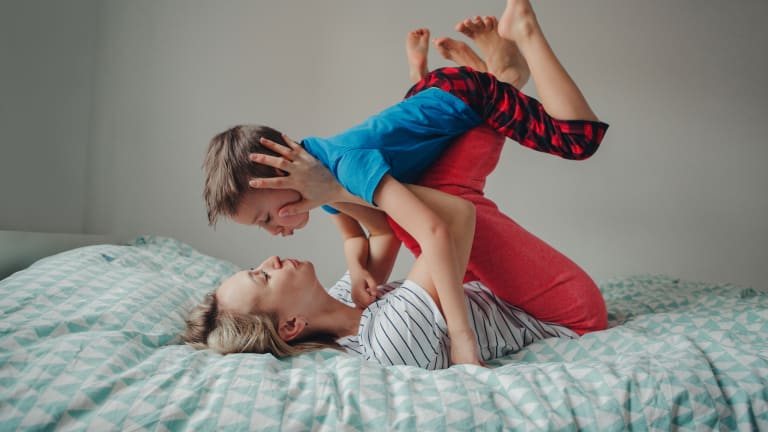 Q Sciences Q Boost Spray Review
Get the energy you want instead of the jitters you hate.
Think about what holds you back from getting fit, losing weight, chasing your kids around the playground, tackling that big project, or just being able to enjoy, you know, an entire episode of your favorite Netflix show after you get the kids to bed before you pass out of sheer exhaustion.
Right. ENERGY.
Sure. You can find that in a cup of coffee or in a canned energy drink or in *shudder* one of those energy "shots" they keep on the gas station counter—but that energy is not only fleeting, but carries some very questionable side effects.
Listen—I've had to, on occasion, ask myself if my stomach lining can take one more cup of coffee. And friends, if you have to ask yourself that question, you have a problem.
But life is jam-packed with to-do's. Finding a dependable, portable, and natural source of energy is crucial for keeping up the mom life.
So that's why we gave Q Boost Spray a try.
Pros: Q Boost vitamin spray acts as a natural metabolism booster as well as an incredible energy supplement. Q Boost doubles down as a Vitamin B5 and Vitamin B6 supplement, appetite suppressant as well as an antioxidant (amino acid supplement). This oral spray makes the delivery of natural energy and metabolism boosting vitamins instant, simple, and effective.
Cons: It was nearly impossible for us to find something we didn't like about Q Sciences Q Boost energy spray. This product is truly an innovative way to deliver immediate energy. If there was one drawback, it might be that we found ourselves spraying a little bit more than the suggested use sprays of 6 to 8 times. Other than that…this is a solid energy product.
Verdict: Q Boost energy spray is going to become your vitamin best friend. You're going to take liquid energy everywhere you go. The reason is because Q Boost delivers on its promise to do what it says it's going to do: increase energy, increase metabolism, and help you recover from exercise all while being extremely convenient to take. You will not find another natural metabolic support spray on the market as effective as Q Boost. All natural and organic.
Overall Performance of Q Boost:
Energy. That critical and often elusive tool we all seek. And we will go to great lengths to find it: in a can, in a pill, and small bottles where we literally ingest liquid energy like a shot. And a lot of them work. But where many of these products fail is where Q Boost succeeds. Q Boost is convenient, it's simple, and it's not just energy. This product will increase your metabolism, provide a powerful vitamin combination that acts as an appetite suppressant (dietary supplement) and a muscle recovery supplement (helps you recover quicker from exercise). You will notice results right away and more importantly you get the energy not the jitters. Q Sciences has an assortment of different vitamin sprays for different uses; Q Boost has been a fun product to test and review.
Because of Q Boost energy spray's dynamic purposes, we brainstormed the possible uses of Q Boost: natural metabolism booster, appetite suppressant, coenzyme Q10 supplement, Vitamin B6 supplement, muscle recovery, antioxidant supplement, Vitamin B5 supplement, weight management, dietary supplement, amino acid spray, carnitine energy supplement, weight loss booster, appetite control and many more. You might be wondering, 'How can one vitamin spray do all of this? And is that many vitamins safe to take?' This is the magic behind Q Sciences; they're able to provide a unique blend of premium ingredients for users to take naturally…and safe. Best part about Q Boost energy and vitamin spray: no negative side effects. You get the energy, not the jitters.
MORE: Q96 Review: Because Your Mind Matters
What does Q Boost Spray do?
Q Boost energy spray is essentially a natural metabolic support spray. Their blend of energy and natural metabolism booster vitamins are the perfect combo for optimal energy, muscle recovery, and appetite suppressant. The energy vitamins in Q Boost energy spray are immediately absorbed for rapid results! Aside from containing the best energy vitamins, Q Boost is one of the strongest appetite suppressant and antioxidant supplements on the market that we've tested.
Users are essentially getting a multivitamin spray with this product. Q Boost provides Vitamin B supplements and one of the best BCAA amino acids. This might seem like a plug (and it is because we love this product), but combining Q Boost with Q96 will give you a powerful multivitamin energy boost combo. This is one thing we've noticed with Q Sciences products and vitamins: if you can find the right combos for your body, you'll be amazed at the results. We've combined Q96 with just about every supplement they offer, but we found an incredible tandem with Q Boost and Q96.
The key benefits of Q Boost energy and vitamin spray:
Naturally increases the metabolism
Suppresses appetite (and not just for an hour…it's for a while)
Helps the body recover quickly from exercise
Other benefits of Q Boost: users get additional nutritional support from vitamins not usually featured in vitamin supplements, Q Boost is formulated with the highest quality natural ingredients, and this product delivers maximum absorption and effectiveness. There are more benefits, but we found this metabolism booster's ability to optimally offer these is what really makes Q Boost a homerun in terms of your daily vitamin regimen.
MORE: Q Amino Acids Review: Essentials for Energy and Endurance
What is Q Boost Made Of?
At the core of Q Boost energy spray is its two main active ingredients: Garcinia Cambogia and coenzyme Q10. These two along with three other important ingredients do more than just boost your energy; you'll notice your appetite being curbed, a quicker recovery from exercise, and a natural feeling of having a healthier metabolism.
Below is a brief explanation of the main ingredients in Q Boost:
Coenzyme Q10 
CoQ10 acts as an antioxidant, which protects cells from damage which in turn plays an integral role in your metabolism and exercise recovery.
Garcinia Cambogia Extract
This yellow fruit contains hydroxycitric acid (HCA) that blocks fats and sugar all while suppressing your appetite.
Vitamin B6 
Regulates the production of thyroid hormones which plays a role in maintaining a healthy metabolism. Vitamin B6 doubles down when combined with these other nutrients to efficiently metabolize food into energy thus burning excess fat.
Vitamin B5
Aids in breaking down proteins, fats, and carbs from the food we consume. Therefore, our bodies can use the food for energy and rebuild tissue, muscles, and organs. This vitamin is crucial in weight management.
L-Carnitine
Considered to be an important component for weight loss, this amino acid is critical for energy and an active metabolism. It transports fatty acids from your blood into the cell for maximum energy production.
Check out Q Boost's Product page on Amazon for a comprehensive list of all the ingredients. All ingredients are all natural and safe.
How Do I Take Q Boost?
The suggested use of Q Boost energy and vitamin spray per the manufacturer is to take 15 minutes before meals. Shake gently and spray 6 to 8 times directly into the mouth. This is a sublingual spray with a natural spearmint flavor. Yes, it does leave your breath fresh (another added benefit) and best of all…no bad aftertaste. You'll want to follow these guidelines to ensure maximum results right away. Q Boost energy spray's effectiveness is only as efficient as the users' diligence in taking the suggested use from the manufacturer. As stated in other reviews, one thing about Q Sciences products (whether it be Q Boost, Q96, Q Amino Acids, Q Max, or any other supplement they offer) is they're designed to be taken together. If you're taking Q Boost as an energy supplement and want to stack it with Q Amino Acids or Q Vitalize Women, you're not going to get the typical side effects users experience when taking multiple vitamin products from different manufacturers. Q Sciences ability to design products to be taken together is just phenomenal.
Help/Support:
Q Sciences has a website and their contact information isn't buried beneath web pages. They are totally okay with communication. There are multiple ways to contact them (phone, email, and contact form) and we've found the best way is to pick up the phone and give them a call. If you don't get a customer service rep right away, leave a message. Customer support is great. If you have a problem, they're going to help you find a solution.
Warranties:
Another added benefit of purchasing products from Q Sciences is their guarantee. According to their Amazon listing, you can purchase Q Boost energy spray and metabolism booster risk-free for 30 days with a money back guarantee. The listing also states if you are unsatisfied for any reason with the product, send it back for a full refund. You read that right: Full. Refund. This is what you want from a nutritional supplement company. Q Sciences stands behind their product and they back that up with a money back guarantee.
Q Boost Spray Summary:
When it comes to Q Sciences Q Boost energy spray and vitamin supplement, you couldn't ask for a better metabolism booster and appetite suppressant. You are going to get the energy you want without the jitters, which is why we highly endorse and recommend it. Most energy supplements are going to give you that queasy, uneasy, and shaky feeling. Not with Q Boost. Q Boost gives you energy the natural way and the way you feel is proof of its organic properties.
As with all of Q Sciences products, Q Boost has the scientific research to back it and like many other Q Sciences' products, this one works. And to add extra comfort, Q Sciences has amazing customer support you won't find from another vitamin company. This should be the nutraceutical standard users expect from any vitamin supplement, not just Q Boost. This weight management and amino acid spray is a vitamin supplement we'd highly recommend to those looking for results and looking to feel better. We love Q Boost energy spray and its promise to deliver energy and suppress the appetite. This metabolism booster is one you'll want to include in your daily regimen of vitamins and supplements.
BUY NOW: Q Boost Energy Spray and Natural Metabolism Booster
Disclaimer
TodaysMama.com is intended to be used for educational and information purposes only. TodaysMama.com and its Editors do not advocate nutritional supplementation over proper medical advice or treatment and this sentiment will never be expressed through pages hosted under TodaysMama.com. If using any pharmaceuticals or drugs given to you by a doctor or received with a prescription, you must consult with the doctor in question or an equally qualified Health Care Professional prior to using any nutritional supplementation. If undergoing medical therapies, then consult with your respective Therapist or Health Care Professional about possible interactions between your Treatment, any Pharmaceuticals or Drugs being given, and possible nutritional supplements or practices hosted on TodaysMama.com.
TodaysMama.com does not assume liability for any actions undertaken after visiting these pages, and does not assume liability if one misuses supplements. TodaysMama.com and its Editors do not ensure that unforeseen side effects will not occur even at the proper dosages, and thereby does not assume liability for any side effects from supplements or practices hosted under the domain of TodaysMama.com.