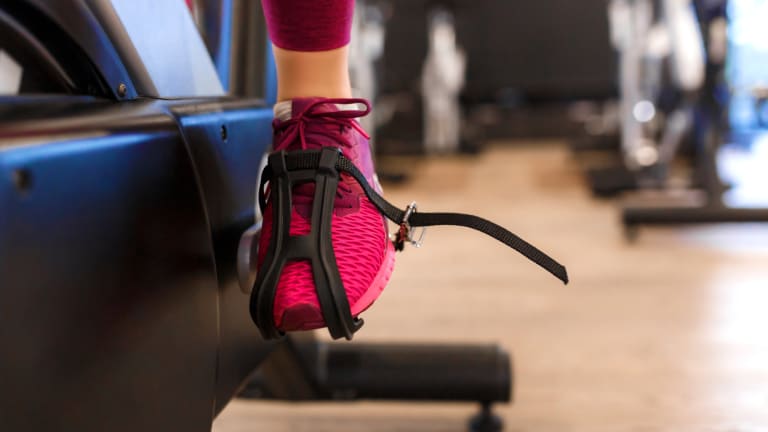 Proform Bike vs. Peloton Bike Review
If you're looking for the best stationary bike for your home gym look no further. We've done all the homework and picked a winner!
You can hear a little more about the Peloton vs. Proform bikes on episode 34 of the Today's Mama Podcast!
What is the best exercise bike? 
I've heard so much about the Peloton bike and program on social media, via influencers, and advertising that it was the first bike I went to check out. I had to compare it with something -- and I learned A LOT that totally changed my mind about what product I would choose. 
Peloton vs. Proform Side by Side Comparison
Side by Side Comparison
Peloton
ProForm Studio Bike Pro

Total Cost of Ownership Year 1

$2668
($2,200 + $468 membership)

$1,699
($1,699 + 1 year free membership)

Touchscreen

22" HD Display
w/o HDMI port

10" HD Display
with HDMI port

Delivery

Included in home delivery + setup

Free shipping to curb
or
Optional white glove setup (+$250)

Workouts

On-Demand Trainerless Outdoor Workouts

On-Demand Interactive Trainer-Guided Global Workouts
Terrain-Matching Technology   

Live and On-Demand Studio Workouts

On-Demand Studio Workouts
Trainer-Controlled Incline, Decline, and Resistance

On-Demand Cross-Training Workouts

On-Demand Cross-Training Workouts

Screen / Display

No Horizontal Display Rotation
Tilting Display

360° Horizontal Rotating Display
Tilting Display

No HDMI Television Connectivity

HDMI Port Connects to Your Big Screen TV

Drive System

Belt Drive with Interia-Enhanced Flywheel

Belt Drive with Inertia-Enhanced Flywheel

Manual Magnetic Resistance System
Manual Resistance Knob

Digital Magnetic Resistance System
26 Levels of Automatic Digital Resistance

Membership

$39/Month Membership for 12 Months ($468) in addition to basic package price ($2,245)
Membership auto-renews monthly for fee, cancel at any time. Not contingent for purchase, but required for advertised experience.

1-Year iFit® Coach Membership Included ($396 Value)
Membership auto-renews annually for fee, cancel at any time                                                                                                         

Incline Decline

No Incline Decline

20% Incline and 20% Decline Capability

Fan

No Fan

CoolAire Fan

Audio

Built In Speakers

Built In Speakers
Audio Input

Warranty

5-Year Frame Warranty

Lifetime Frame Warranty

1-Year Parts Warranty

3-Year Parts Warranty

1-Year Labor Warranty

1-Year Labor Warranty

Heart Rate / EKG

EKG Bluetooth Ready

EKG Bluetooth Ready

Weight Capacity

305 Lb User Capacity

350 Lb. User Capacity

Seat Adjustment

Vertical and Horizontal

Vertical and Horizontal

Non-Slip, Multi-Position Handlebars

Vertical Adjustability

Vertical Adjustability

Saddle

Ergonomic Padded

Ergonomic Padded

Water Bottle Holder

Dual Water Bottle Holders

Single Water Bottle Holder

Transportation

Front-Mounted Transport Wheels

Front-Mounted Transport Wheels

Adjustable Leveling Feet

Adjustable Leveling Feet

Weights

No Dumbbells Included

Two 3 Lb. Dumbbells Included

Pedals

LOOK Delta Compatible

Toe Clips and Straps
Optional Clip-Ins
Interchangeable
Our Pick
The Proform Bike WINS. 
Across the board we found a better price along with better features, warranties, and extras with the Proform bike. 
At that point, it was time to take the Proform bike for a spin! 
Review of Proform Bike
In love with this bike! This review is not coming from a hard core cyclist. I own a road bike and love to ride it. I don't get out as often as I'd like to (and frankly don't like riding around town with traffic). 
I was really looking for a great workout bike to get me through the Utah winters. I also work from home and often find it hard to "hit the gym".  I needed something in my house that would not only provide a great workout but also the variety of rides, faces, and options that come with the iFit program to keep me engaged and motivated. 
I'm incredibly happy with this bike. Here are some of the reasons why:
The Proform Bike
The bike itself is incredibly quiet. It's beautifully designed. The screen graphics are incredible. The Proform TDF is intuitively designed and has all the little details covered from the touch screen to the addition of the fan, the weights, and the additional space for your phone or tablet. 
iFit Program
I don't think I can possibly run out of workouts and there are workouts for just about every fitness level, mood, and terrain you are looking for. I love the multi user functionality so that family members (or whomever else uses the bike) can have their own profile to track their rides separately. 
Proform iFit Rides
I started riding coming off an ankle injury and the wintertime! I was a bit out of shape to start. My favorite rides so far:
Studio Rides: These rides are great and I love that they'll often end with not only a cool down but a quick strength training series. I was surprised how sore I was (in a good way) through my back and arms just from one of the cool down sessions!
Moab Beginner Series: I not only love the rides but I also really like the trainer Nicole. I didn't think I'd be motivated by a "virtual" instructor but she's great and gets inside my head in a great way!
Yoga: The iFit program even has a yoga series which is really great for a cool down or just a quick stretch session.

Visual Quality: So many of the rides are breathtaking. If you can't be there in real life these rides have got to be the next best thing.
Room to Improve
Fan: The bike itself is SO quiet but the fan is LOUD. Not a deal breaker, but I'd love a quieter fan. The fan noise can compete with the audio at times. 
Streetview Workouts: This is probably just me - but when I have done the Street View / Google Maps rides the video is choppy enough that it makes me nauseous. (Keep in mind I'm a 40-year-old woman. I now understand why my mom quit going on roller coasters). I tend to stay away from those and stick to the studio workout rides or the on location rides with high quality video.
Cages vs. Clips: Not necessarily a critique of the bike, but doing uphill in the cages is a bit awkward. On my to do list: BUY Clip-Ins
Hard to Adjust:  One of the things I love about the iFit account is that you have different profiles for each family member / user. Everyone can track their rides and workouts separately. It's streamline and so easy to use. HOWEVER, changing the position of the seat for each person is a pain. I don't want anyone to touch the bike because I want my seat settings to stick right where they are (ready for ME). 
Frequently Asked Questions
Hey internet friends! New to exercise bikes / spinning / stationary riding? We've gotchu. 
Here are some of the basics:
How does a stationary bike help your body? 
Home Workout: The first thing that is great about a stationary bike is that it can live in your home. In the long run that saves you on gym memberships. It also saves you a whole lot of time. 
Cardio: Riding a stationary bike can provide a great cardio workout - especially when you are using a bike like the Proform TDF Bike and the iFit program. The rides are built to give you a great workout and that includes getting your heart rate up. 
Easy on Joints: Stationary bikes are low impact on your joints. Just make sure the bike is set appropriately for your body. You definitely want your legs in the right position so you don't cause undue wear and tear on your knees. 
Muscles Targeted; Riding a stationary bike can target lots of different muscles including glutes, hip flexors, quadriceps, calves, and hamstrings. Some of the additional workouts included in the iFit program will target muscles in the abdomen and arms to balance the workouts. 
Great for all Ages: Stationary bikes are great for most ages and easily scale and adjust to most abilities and ages.  
Is spinning a good way to lose weight?
Riding a stationary bike can be great for weight loss. As with any workout it depends on the duration and intensity of your workout, but cycling can be a great way to burn calories and work up a sweat. 
How long should you ride an exercise bike?
Increasing your workouts from 30 to 60 minutes is ideal. According to Harvard Health, a 155 pound person will burn about 520 calories per hour of bicycling at a moderate pace. The stationary bike is not the most effective cardio activity to burn calories, so longer workouts are more ideal.
The important thing is to START. If all you can do is 10 minutes start there. Increase your workouts to 15 minutes, 20 minutes and so on. With the Proform bike you can start with beginner series or "easy" rides and studio workouts. Track your progress over time and continue to push yourself to get more from your workouts. 
Peloton Roast!
Bonus: If you missed it, Twitter served up a highly entertaining roast of "The Peloton Lifestyle". You can read the whole thing HERE!
My favorite: 
More on TodaysMama.com
Podcast Episode: Hacking Our Health: Food, Vitamins, Fitness and Voodoo