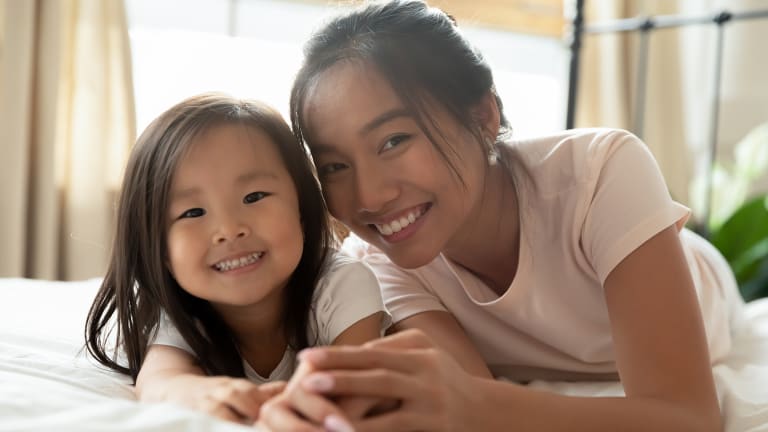 Mommy Math
Here's where it gets complicated: of the 100 hours, I'd like at least 14 (that's two hours a day) to go towards quality time with the kids. Two hours a day. That's not much, is it? Today I'm off by a lot.
I should have majored in math. Because adding and subtracting is all I do anymore.
Starting from 168, the number of hours in a week, I subtract 56 for the minimum hours of sleep I need (eight a night) to function properly without drinking ungodly quantities of caffeine. Of the remaining 112 hours, in theory I get 12 hours free without the kids (seven hours of preschool; five of babysitting). In reality, subtract two more for the inevitable green snot and viruses to hit our house come fall and winter, and the exams, colds and other excuses forthcoming from the sitter, who (if my averages are right) should last about four months.
Of those 10 hours, four and a half go to tutoring the midshipmen at the Naval Academy. That leaves five and a half hours to write a bi-weekly column, pitch article ideas to magazines, follow up on the pitches from last week, make important business calls (What's wrong with the piece?), and do book reviews, doctor's appointments, phone calls that require total concentration (What can I deduct this year on my return? What do you think we should do about mom?), therapy, long e-mails (This is my idea for a book) and homework from the writing class I'm taking.
During the 100 hours I have with the kids, this is what needs to get done: kids' homework (a bag of items that start with C, photos for What's Special About Me day, something for show and tell), kids' doctors' visits (pediatrician, allergist, ophthalmologist), a ten-page application for college—I mean kindergarten, an 18-page questionnaire for an appointment with a behavioral specialist (Did you take any medications during pregnancy? When did he learn to crawl?), volunteer work for the school; caretaking of aging parents, shots for the dogs, community service, grocery shopping, get my nails cut, laundry, running and/or walking 25 miles a week; easy business calls (I read your book. Loved it.), personal e-mails (Let's get together!), personal phone calls (Is spanking bad?), stupid phone calls (When can I take my car in?), reading the newspaper, brainstorming for future articles, meals, dishes, haircuts (forget the highlights), sex (skip the foreplay), and shower (shoot for five a week).
Here's where it gets complicated: of the 100 hours, I'd like at least 14 (that's two hours a day) to go towards quality time with the kids. No scanning newspaper headlines, scribbling notes, or checking voicemails; this is one-on-two time, when the three of us are playing hide-and-seek, making ugly cupcakes or staring at the box of a 500-piece puzzle.
Two hours a day. That's not much, is it?
Today I'm off by a lot. I'd decided to walk my kids around the picturesque grounds of the Naval Academy because 1) I need to meet my exercise quota for the week and 2) at the house a restless David was trying to strangle Katherine with the string of the red balloon he got last night at Chevy's Mexican restaurant. (It was kids' night.)
As we approach the sailing center, David begins his list of questions:
Mom, why aren't the sailboats in the water? he asks, looking at the lasers faced upright on a floating platform next to the wide dock we're on. Why are they stacked like that?
I think for a minute, trying to conjure a plausible explanation. This kid won't let you off the hook. He'll bust you for not paying attention.
So they don't get dirty, I finally say.
Why would they get dirty?
Because the water is dirty.
Why is the water dirty?
Because of pollution.
Oh.
Phew. I'd thought I'd have to launch into a dissertation about global warming and the earths eco-system.
The blonde heads follow the sailboats in the Severn River, and I'm thinking that this should count towards my two hours (even though I'm exercising and they aren't facing me). But I really need to return my mom's phone call, or else I risk some serious attitude from her the next time we speak.
A moral dilemma. A math problem. Do I rob my kids of their two hours yet again, or do I incite my mother's wrath? An even harder question: Is it better for them to have the full attention of a babysitter or the half-attention of their mother?
I can't say.
It doesn't have to be so hard, an older friend said to me one night over dinner, as I stood up to rock and soothe a screaming one-year-old while her brother threw his French fries (with ketchup) across the table.
Do you see why I'm stressed out? I asked her, a rhetorical question for which I didn't want an answer.
With a little bit of organization, things could be easier, she chided me. The sermon on the right way to parent followed.
Listening, I arrived at this conclusion: she doesn't remember. Her youngest was 38 years old.
Of course, the math of motherhood was different back then. Timesheets didn't include hours of Tumble Tots, Kindermusic, and Mommy and Me ballet classes. Playgroups weren't sororities, where parents and kids get voted out every week. The term quality time wasn't used. Expectations, in general, were lower.
Today the math just doesn't add up. Not if you're serious about giving the kids at least two hours of cookie-baking time. Something has got to give, and that something is usually the mom.
—Therese
This article was originally published in America, January 15, 2007, and is reprinted with the permission of America Press, Inc., americamagazine.org.