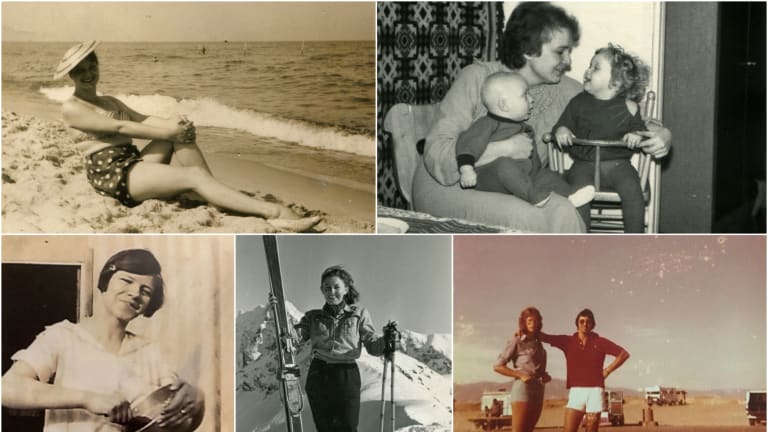 Know Your #MomGenes Giveaway! ($5,000 in cash up for grabs!) CONTEST CLOSED
Mom! This giveaway is for you!
This contest is now closed. Thank you to everyone that shared their wonderful photos and participated in the contest! Winners have been contacted by email and are listed below. 
This is a sponsored post on behalf of Myriad Oncology. We've partnered with Myriad Genetics for years because we wholeheartedly believe in the value of helping spread the word about how to fight hereditary cancer. All of the opinions and photos are my own and there's an EPIC Visa Gift card giveaway at the end of the post. Happy Reading!
ENTER TO WIN
Here's how to enter to win:
We'll randomly select our winners on Monday, May 18th.
LOOK AT THOSE JEANS!
Everyone in my family loves to pour over old photos.
And now as a nearly 41-year old, I'm discovering how "old" my own photos seem to my kids! (Spoiler Alert: very old.)
Recently my mom undertook a big project—organizing and scanning a huge collection of photos from my grandparent's house. As someone who took the same joy in digging through old photos as my own kids do now, I didn't expect there to be so many surprises in the stacks of photos she shared with me. But, LO AND BEHOLD THESE 70'S CUTOFF JEANS.
This gave a whole new meaning to the phrase "Mom Jeans"...
Do those two look like trouble-makers, or what? Imagine the surprise of my kiddos when I told them that those two are their Grandma and Grandpa.
Suddenly my kids understood where I got my dark, straight hair (thanks Dad!) and my height (thanks Mom!) —but those are just things you can see on the surface—and we inherit so much more from our family.
Our sense of humor, our holiday cookie recipe, and our health risks.
Our genes aren't only responsible for our hair color, the shape of our nose, and how tall we are. Our genes can carry a mutation that puts us and our family members at risk for hereditary cancers.
KNOW YOUR GENES
People with hereditary cancers are more likely to have relatives with the same type or a related type of cancer, and they often develop cancer at an earlier than average age.
If you have a family member who had cancer under the age of 50 —even a cousin or other third-degree relative—there is a chance that a gene mutation may be present in your family. If so, this may not only increase your personal risk, it means the risk could be passed along to the next generation. Which is why it's so important to KNOW YOUR GENES!
But Myriad Oncology's Hereditary Cancer Quiz helps you to assess whether you might be a good candidate for testing. Myriad's Patient Education Program allows you to virtually speak with a board-certified genetic counselor to have your questions answered about Myriad genetic tests prior to being tested. 
MOM GENES GIVEAWAY
We think this is so important that we wanted to help spread the word and to honor our Moms for Mother's Day for all of the wonderful things we've inherited from them—with a giveaway, so you can update your own mom jeans, or splurge on whatever you need during this crazy time.
We're giving away $5,000 in Visa gift cards!
One grand prize winner will win a $2,000 Visa gift card.
Six winners will tie for second place and will each receive a $500 Visa gift card. 
WOO!
ENTER TO WIN and earn extra entries by completing all of the steps at the very beginning of this post!
INTERESTED IN HEREDITARY CANCER TESTING?
Click here to determine whether you might be a good candidate for testing and to schedule an online genetic counseling session with a genetic expert to learn about your genetic testing options.
Myriad Oncology is a division of Myriad Genetics, Inc., a world leader in hereditary cancer testing with over 25 years of experience and over 3 million patients tested. Myriad Oncology focuses on providing answers for patients diagnosed with cancer or individuals who may have an inherited risk of developing cancer, based on personal and family medical history.
Follow Myriad Oncology on Instagram, Facebook, Twitter, and YouTube for information about hereditary cancer and how you can get tested and speak with a genetic counselor while practicing safe social distancing.
This is a sponsored post written by me on behalf of Myriad Oncology.