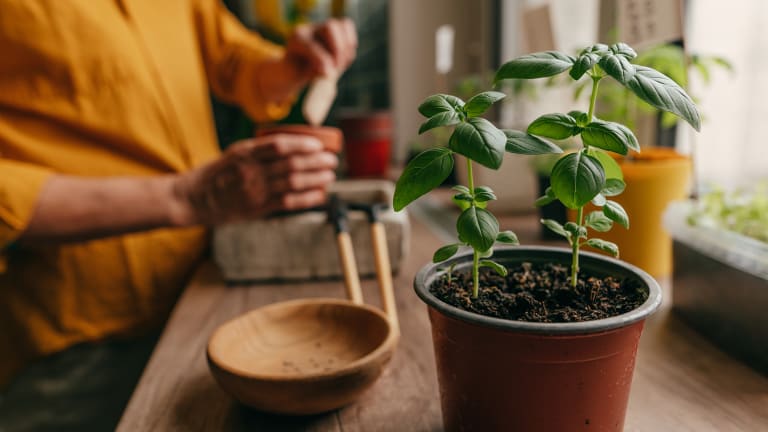 How To Successfully Plant And Care For Your Herb Garden
We discuss the basics of starting an herb garden. PLUS: Get tips on how to plant and care for your herb garden so that you can enjoy homegrown herbs all year round!
Are you thinking of planting an herb garden but not sure where to begin? Maybe you've tried before in the past and failed miserably. Can we let you in on a little secret? We've been there too! We want to give you some tips on how to plant and care for your herb garden so that you can enjoy homegrown herbs all year round! Whether you have a sunny spot in your backyard or just enough room on your windowsill, there's a perfect herb for you.
The Basics Of Planting An Herb Garden
If you're thinking of planting an herb garden, there are a few things you'll need to know first. Luckily, it's not as difficult as it might seem! But…there are some critical steps and principles of herb garden basics you need to be aware of.
Watering Plan
It's important to water your herb garden regularly but it's equally as important to ensure that you have great drainage. Without proper drainage, your wet roots may eventually rot. Wet roots can also open the door to a weakened and diseased plant. It's also important to research the specific needs of your herbs. Lavender, thyme, oregano, and rosemary are known for being drought tolerant, so water accordingly.
Trim And Harvest
Time to use those herbs! When you don't harvest your herbs, they quickly grow out of control and seed quickly. So it's a good idea to prune them. The general rule is to cut back your herbs by roughly ⅔ at the end of the season.
Sunshine
Get those herbs out of the shade! Sun is one of the essential elements for herb success. By finding a spot for your herbs to get six hours of sun a day, you will be rewarded with herbs that have an intensified fragrance and flavor.
Fantastic Soil
If you are using decent quality soil, you should not need additional fertilizer. Herbs that are grown without fertilizer generally have a more intense flavor and smell. The only exception to this rule is herbs that are specifically grown for flowers.
Which Herbs Are Good For Beginners And Why
Ready to start planting? Here are five of the best herbs to plant for beginning herb gardens.
Basil
Who loves pesto? Simple to grow from a seed, basil is a popular herb. The more you harvest it, the more it will grow! Plant this herb in a spot with great drainage and a good amount of sun.
Chives
Chives thrive in both pots and in the garden. The gorgeous pink flowers are edible and with their similar to an onion flavor, they are an incredible garnish for salads.
Mint
Mint is an herb known for its robust growth. Several varieties of mint are available and it grows well in moist and shady places. Chop it up and add it to salads and drinks! This one is great for a container, as it can quickly overtake a garden space. 
Parsley
Parsley can be flat leafed or curly, whatever your preference, and it's easy to grow from seed or seedlings. Try a semi-shady location with well-watered soil. It's an excellent color garnish.
RELATED: Where To Buy Local Seeds For Your Garden
Lemon Balm
Grow your lemon balm in slightly moist soil. With regular watering, lemon balm will become established and more tolerant of a potential drought. It's considered a calming herb and is well known for easing indigestion pain and discomfort.
Cilantro
This popular herb that really makes the rice stand out at Chipotle is actually a member of the parsley family. Plant cilantro in cool weather. It does best with full sun but can also thrive in afternoon shade. Fertilize every four to five harvests.
How To Care For Your Herb Garden During The Year
For many people, herb gardens are a cherished part of the home. They provide a source of fresh herbs for cooking, and they can be a beautiful addition to any outdoor space. If you're lucky enough to have an herb garden, it's important to care for it throughout the year. Here are some tips for keeping your herb garden healthy and flourishing:
Planting
Step one! Decide what herbs you will get the most use out of. Research what herbs will work the best for your climate. Once you know what you will be planting, pick a location in your yard and prepare the area for planting. Dig your planting holes and add plants to the soil.
Watering
In order to avoid evaporation and allow for the roots to soak, try watering between 6-10 in the morning and once per week. During a drought or extreme heat, bump up the watering to twice a week.
Fertilization
Plant your herbs in healthy soil to start that is filled with organic matter. You won't need to fertilize often, but instead use an organic complete, slow-release fertilizer that contains equal amounts of macronutrients.
TRENDING: Perfect Gifts For The Landscape Lover
Pruning
Spring is the ideal season to prune and trim your herb garden. If for some reason you miss the spring, you can prune once the herbs are done flowering. Remove any additional flowers and cut the stems no more than a third of the actual plant. If you cut another ⅓ next spring, your herbs will be in even better shape.
What To Do With Your Herbs Once They're Harvested
You've planted and watered and harvested. Now what!?
There are an abundance of things to do with your herbs. Did you know that you can freeze them for future use? Freezing is actually ideal for the most delicate of herbs. Additionally you can chop them, dry them, drink them, or use them to infuse scrubs, oils or butters with flavor.
Need Help With Your Garden? Call The Pros
Big Rock Landscaping can help you find the answers to all of your herb garden questions. They have a passion for creating the perfect outdoor space for families, whether that be expansive lawns and landscaping spaces or an abundant garden full of gorgeous herbs.
The team at Big Rock Landscaping is committed to providing an unparalleled level of customer service and professionalism as they design and create beautiful and livable spaces in a natural outdoor environment.
Whatever your vision, Big Rock Landscaping offers the best landscaping services. We have the best artistic tools, professional resources, and design expertise as well as installation and maintenance services in both commercial and residential areas along the Wasatch Front. Our professional, artistic eye and attention to detail can help with every stage of the landscaping process. From the initial design concepts to the demolition and construction, Big Rock Landscaping works tirelessly to develop and maintain your perfect landscape.
Contact Big Rock Landscaping today to bring your outdoor dreams to reality.