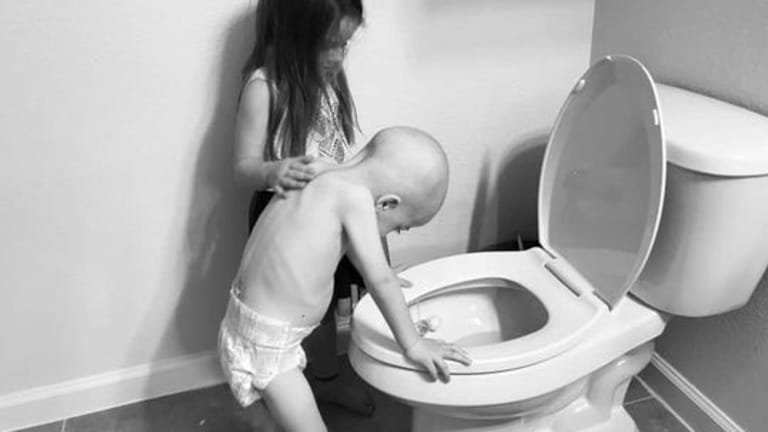 Childhood Cancer Through the Eyes of a 5-Year-Old Sister
It's not pretty. But it certainly is beautiful.
September is Childhood Cancer Awareness Month, and just in the last few weeks I've heard heartbreaking story after heartbreaking story that leaves me feeling sad and helpless.
But then I see a story like this, and I feel like there are these tiny silver linings surrounding these tragic occurrences of childhood cancer—and they're called siblings.
Can you even imagine being a happy, energetic 5-year-old girl who adores playing with your best friend and brother who is just over a year younger than you? Splash pads and trampoline parks and school—all together, and a total blast.
Until one day...not so much anymore.
Because now your little brother is so sick he can barely stand on his own. He's lost a third of his body weight. And he needs to rush to the toilet to throw up when he's finally worked up enough energy to play with you for a bit.
That's the life of sweet, sweet Aubrey, whose dear brother Beckett was diagnosed with acute lymphoblastic leukemia last year.
And what has she done with this confusing, frightening, and unearned trial?
Stood right by her brother, through it all.
We often hear that kids afflicted with cancer are true heroes. I absolutely agree.
But if we're here to hand out capes to kids who are conquering more than we can possibly understand as adults, I'm going to give them to these sick kids' brothers and sisters, too.
Because childhood cancer sucks for everyone.
The picture is NOT a pretty one. But the story sure can be beautiful.
Read more about Beckett and Aubrey's story below: