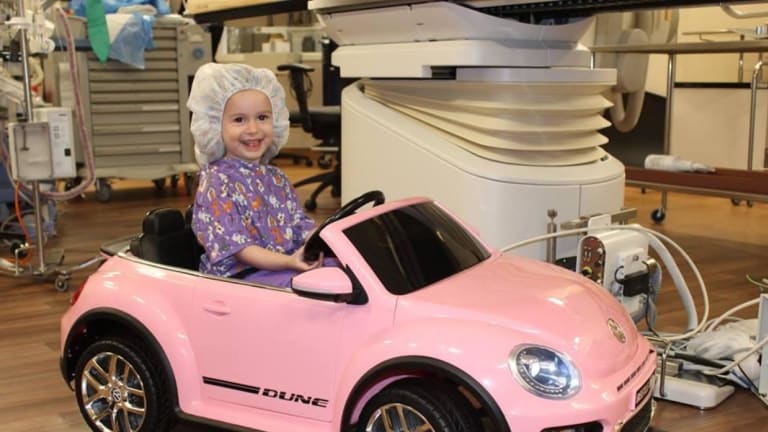 California Hospital is Melting Surgery Fears One Drive at a Time
I'll take the black Mercedes, please and thank you.
Isn't anticipation anxiety just the very worst? Waiting for something to happen leaves too much opportunity for stress, fear, and imagining all the unknowns. What we all need is a little distraction.
Enter Doctors Medical Center in Modesto, California—a hospital that's trying its best to do away with all that anxiety—at least for their littlest surgery patients.
The surgery unit has two fully-loaded mini cars for children, ages 2-7, to ride into surgery in style. So instead of the panic of being pulled from parents and entering a room full of scrub-clad strangers, they're rocking to the music of their choice in a sweet pink VW or black Mercedes, just their size. They've even got working headlights, seatbelts, and horns, to make sure the tiny drivers (and surrounding hospital staff) make it to surgery safely.
"When the children find out they can go into the operating room riding in a cool little car, they light up, and in most cases, their fears melt away. In addition, when parents see their children put at ease, it puts them at ease as well." -Kimberly Martinez, RN
It was Kimberly's idea to get the cars for the children to lessen trauma and make the surgery experience a little easier on everyone involved.
Medical staff can seriously make or break an already difficult experience, so a big shout out to these pros who are going above and beyond to ease the pain, even if just for a few minutes.