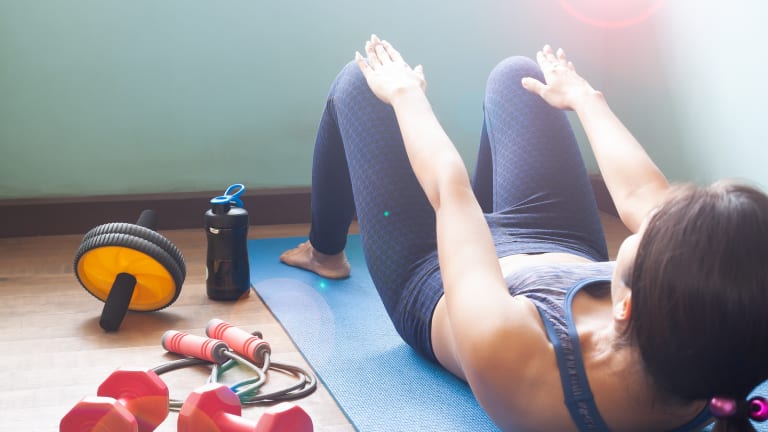 Best Home Workouts for Moms (+ Our Favorite Fitness Equipment for Home)
Raise your hand if you are a mom and you are crunched for time but still want to maintain a shred of fitness! I've put together a list of the equipment and at home workout hacks to help you squeeze some reps in.
You can hear more about our best health hacks, food, vitamins, workout equipment and voo doo doctors on episodes 33 & 34 on the Today's Mama Podcast!
Best Home Workouts For Moms
Every year I say I'm going to make it to yoga, pilates, spin class, you name it -- I'd like to make it to that class. And every year I'm good . . . for like a couple of weeks. 
Here's the thing. As moms, there's a lot that you have to calculate to fit that workout in. 
Child Care: Nuff said. Sometimes it's just plain hard to get away. 
Budget: Those classes and gym memberships add up AND then you throw child care on top of that! 
Time: Not only do I need to plan for the hour or so that I'll be at the gym, but then I've got to add up travel time, and getting ready. Yep, I said it. Going to the gym or to a studio requires GETTING READY. Rounding up your gear, filling up the water bottles, maybe even brushing your teeth, and quite possibly showering post workout. 
Me: I'm my own worst enemy. I have the best of intentions -- but I'm easily distracted. I work from home, there's always something pulling at me -- whether it's kids, or some to do list. 
I think motherhood leaves us all asking:
How do busy moms exercise?
How do stay at home moms exercise?
How do working moms exercise? 
How do single moms exercise? 
How do I exercise with my baby? 
Well -- no matter what stage of the game you're in -- it's tricky to fit it all in. 
 There's just one way to radically change your behavior: radically change your environment.

- Dr. B.J. Fogg, Director of Stanford Persuasive Lab
I've put together a list of my favorite workout hacks and products to help you change your home environment so you can build healthier habits without having to buy a gym membership or get a babysitter. 
Best Home Workouts and Fitness Equipment for Busy Moms
Move those workouts HOME! Don't get me wrong, I'm still game to go to yoga or pilates when I can swing it to get some face to face time with my besties -- because that's important too (but going to lunch with your besties is also cool).
So here's the stuff you can fit in while your kids are napping, when you find an extra 15 minutes or a whole hour or just here and there. That's the magic of stashing this stuff around the house! (Now drop and give me 20!)
Free Weights for Women
For the first time in my life I'm in the habit of making my bed every day. I know, I know, I'm a grown woman . . . but I've always hated that task. I've officially grown up and embraced it. Yay me! As soon as I'm done making my bed I grab two 10-pound weights from under my bed and set them on top of my comforter. I pass by that spot tens of times a day and inevitably I'll pause a couple of times and throw in some reps. I'm not looking for highly sculpted guns -- I just need my kids to quit referring to my arms as "so soft and silky". (cringe face)
You can find a basic weight set most anywhere. And you don't need a whole set to start. Pick a couple of weights and start there. Might I recommend a set of 5 pounders and a set of 10 pounders? 
Stationary Bike
I did a lot of homework on this one. Biking is one of my favorite workouts, but there are so many things that get in the way for me. Busy streets, weather, bad air (it's a real problem where I live), and then there's the time commitment. 
What I love about these stationary bikes on steroids is that you have access to so many different rides and trainers. If you can't hit the gym or the streets these bikes are such a great option!
You can read my full review of the Proform bike along with a comparison to Peloton HERE or just go and grab one for yourself HERE! 
Yoga App
You know when your shavasana just isn't long enough? When you wish you were actually just at your house so you could go directly to bed. Well -- problem solved. Here's the best yoga app we've found: Gaiam Yoga Studio
You can use this app from your phone, your tablet, or even through Apple TV (my favorite way). There are so many options (you can even do hip hop yoga -- you do you).  I love the convenience of these classes and the amount of time it saves me going back and forth the the gym / yoga studio.
Here's a sample:
Resistance Bands
These are super inexpensive and really great for your at home workouts. 
I went through a couple of sets of bands. The first set I had rolled up constantly and that was a giant pain. The second set smelled so heavily of latex I felt like I couldn't wash the smell off my hands or out of my house. 
3rd times the charm! These are the winners! They are just wide enough and thick enough so they don't roll up and there's no nasty smell. 
You can grab them HERE.
Jump Rope
Head to the garage, your driveway, or the backyard and you can get a great cardio workout (and feel like a kid again). 
I like to use a weighted jump rope. You can see lots of options HERE. 
Exercise Ball
Great for stretching - but I also like to balance on my exercise ball while working at my desk or watching a show with my family. You've got about a billion options HERE. 
Yoga Wheel
Consider this a more laser focused version of a foam roller. 
Here's how it works:
I typically roll my back out before I go to bed. My back pops like I'm at the chiropractor and it really does help with tension. 
Warning: I have tipped over on the big one - and that hurts. You definitely want to be careful when you are using these. You can grab a set HERE!
We also have a foam roller (my husband prefers this over the yoga wheel). Here's the one that we have:
You
Your body does some pretty cool things . . . like walk and run. You can also do pushups, sit ups, lunges, and a billion other cool things with JUST YOU. 
I've mentioned I work from home. I try to take most of my calls while I walk. If I'm out of calls to make I listen to podcasts while I walk. I end with some lunges in my front yard. If I'm really feeling crazy I might do some sit ups too. 
What's Your Favorite Home Workout? 
What do you do at home to workout? Leave us a comment and share your ideas and favorite products!