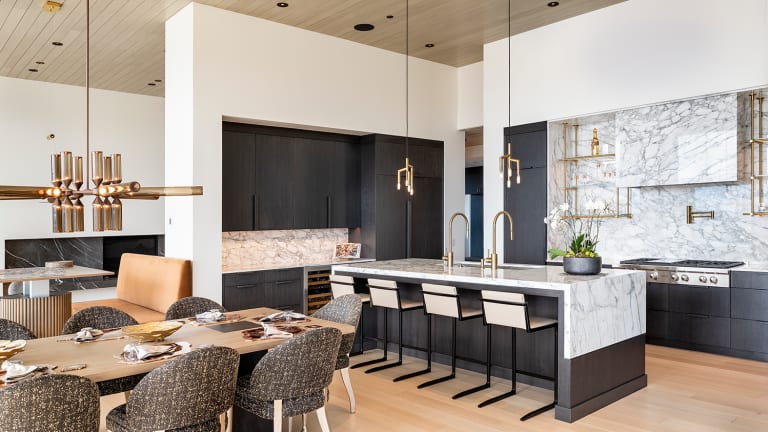 7 Stunning Mountain Modern Interior Design Ideas To Inspire
Is it finally time to start that remodel or get started on building your dream home? If this sounds just about right, you're likely scouring the internet for interior design ideas that will make your space feel perfectly curated for you.
After so much time spent at the "home office" during the pandemic, it's no wonder that many of us have interior design on the brain. Who knew that staring at the same four walls could really get the creative juices going? Perhaps you're looking to redecorate a room or an area in your home, or maybe you're just starting out and need some inspiration. We asked our friends at Germania Construction, a Park City custom home builder, to weigh in on the matter. And we're excited to share some of their favorite "mountain modern" interior design tips. Whatever your situation may be, be prepared, because these stunning interior design ideas will leave you wanting to grab a paintbrush, tear out a wall, or hire an interior designer to make it happen without delay!
7 Interior Design Ideas For The Modern Homeowner
While Germania Construction doesn't have the corner on interior design tips, we have found that they certainly know their way around a well-designed interior.
Add Finishing Touches
After all the hard work is done, the fun begins, and it's found in the details. This is where you can really express your personality and elevate a home from "nice enough" to stunning. It all comes down to the personalization of the details like good trim work, unique kitchen hardware, rugs, cushions, plants and paintings. Even the colors on the spines of the books in your bookshelf can create a design accent that creates warmth and personality.
This common room is playful, yet chic. The green chairs bring in a pop of lively color, while the chairs add texture and interest.
Three Colors Are Better Than Two
A well designed room is not just about the furnishings. Color theory plays a huge role in making the interior design of your home seem effortlessly curated. In this beautiful kitchen, a moody black, creamy white, and natural brown wood tones create an atmosphere that is warm and inviting, yet classy. The marbling in the countertops and the tweed armchairs add variations on the same color theme, while adding interesting texture to an understated color scheme. Add some shiny gold fixtures and lighting, and this room goes from warm and inviting to classy and chic.
Go Bold With Colors
Don't be afraid to make a bold statement with rich colors. This is one inexpensive way to make a huge impact on a traditional space. Decide if you are someone who likes patterns or solids, traditional or contemporary lines. Get a hold of a color wheel, or even take a walk outside to see what mother nature puts together, to get a sense of what colors compliment one another. For instance, pink and red works wonderfully when paired with green, as does orange and yellows with gray.
In this living room, the basic color scheme of dark brown stone and stained wood contrasts nicely with the creamy, white walls and black windows. Against this accommodating backdrop, contrasting pillows in solid colors bring a splash of color to brighten the room with its cheery display of reds and greens.
This modern living room takes a bold step into the dark with a velvety green that grounds the room and contrasts nicely with the saddle brown leather chairs and pictures surrounded on all sides by bright white oversized matting and edged by delicate black frames. Notice how the colorful pictures lend a playful quality to the room which is also echoed in the pattern of the rug.
Make It Personal
Your home is where you spend the majority of your time, so it's important that the space reflects who you are. One easy and fun way to do this is with art. Paintings and fun prints can add a depth and unique quality to your home, as well as bold colors that you can love without committing to it as part of your overall color scheme. Not to mention that great art is a fantastic conversation starter!
Mix And Match Materials
Notice how this kitchen combines the uneven texture of a solid rock wall, smooth wood cabinet faces, and polished stone countertops to create interest. You'll also notice that the variegated fabric on the bar stools contrasts nicely with the leather dining room chairs, while the lighting over the island and dining room table lends a sophisticated mid-century modern twist to an otherwise traditional design theme.
Maximize Your View
Imagine these bedrooms with tiny windows. They just wouldn't have the same elegance, even if all the furnishings were the same. This is what great natural light and big windows can do for your spaces. We recommend always going bigger than you might think, and floor to ceiling windows is a great way to add drama and luxury to any standard bedroom design.
Know Your Space
Most interior designers recommend that even smallish rooms should have at least one large statement piece, be it a dresser, headboard, or stand-alone tub. The balance of large and small pieces in a room will create an appealing living space. In this modern bathroom, the stand-alone tub takes center stage, being perfectly framed in the center of a wall that includes floor to ceiling windows.
Best Places To Find Interior Design Ideas
If you're looking for ways to refine you design ideas, consider these design inspiration goldmines:
Pinterest
If you've had any kind of online presence in the last decade, culling through Pinterest images to help create a mood board or pin a design style that you connect with, is a sure fire way to solidify what you like and don't like. The bonus here is that you can connect with like-minded individuals and find lots of inspirational images in a short amount of time. This process, however, is very time consuming, and don't blame us if you sit down with the intent to browse for 30 minutes on your lunch break, only to suddenly find yourself with half your day gone.
Instagram
This little social media site is a quick and dirty study in how quickly the student becomes the master. Easy to use and with loads of potential, Instagram can "read" your mind so to speak, and will keep serving up the exact thing you are looking for. While this can lead to a bit of group think, it can be a valuable sorting tool. There are many home design companies with Instagram sites, and Germania Construction and one of our favorite cabinet companies, Christopher Scott Cabinetry and Design, are no exception. If you like the design philosophy of a certain home design company, chances are good that they have an Instagram account highlighting some of their favorite tips and tricks.
Custom Home Builder And Architecture Websites
Custom home builders and design sites, like Germania and Houzz, often have portfolios of their past work or highlight design ideas on company blogs that will strike a chord with the aspiring designer. Taking the time to become familiar with the content on these sites can lead to a wealth of design inspiration and out-of-the-box thinking.
Magazines
Call us old school, but magazines still got it when it comes to lush photography overflowing with saturated colors. They have a way of making their designs jump off the page, and rightly so, as many of them have great interior design ideas for the modern homeowner. Many high-end design companies still produce quality magazines that showcase their interior design philosophy.
Furniture Brand Blogs
While blogs may have fallen out of fashion in favor of the more accessible social media sites, blogs still claim a corner of the interior design market. Look for blogs promoted by furniture brands that speak to you. For example, big names like Studio Magee and Germania Construction have blogs. What better way to showcase a dining room table or modular sofa, than to show it off in a perfectly designed interior space?
Interior Design Tips For Your Home–One Last Thing!
If there is one final piece of advice we could impart, it would be this: sometimes a personal style has no name! It's okay to mix a combination of two or more design styles or aesthetics. In fact, this oftentimes makes your home more memorable to visitors and welcoming to you. If you're not sure where you lean on the design style spectrum, take this interior design quiz to help you solidify what design elements you are drawn to.
No need to feel trapped by a particular design trend or style just because you identify with it. Design can feel overwhelming to a majority of people simply due to the pressure that you have to "get it right." Great designers and artists break, what some consider to be, hard and fast design rules all the time! The trick is to realize when breaking the rule will serve you better than adhering to it. This is where a professional designer can bring a lot of expertise to the table and make a big impact. They can view your home with a fresh eye, and can transform your 2D interior design ideas into 3D living space in pretty short order.
Looking For More Inspiration?
We can't recommend Germania Construction highly enough if you like luxury interior design. This is a company with solid expertise when it comes to capitalizing on the intersection between interior design and construction. They do both well. And as such, they top the list as one of the premiere custom home builders in Park City.
Hop on over to their website and take a lovely stroll through their portfolio, or access their blog where they share their favorite interior design ideas on tendy topics like fireplaces and kitchen. Or you can visit their Instagram for a little eye popping inspiration. When it comes to luxury home building in that perfect mountain place, you can't go wrong with Germania Construction.