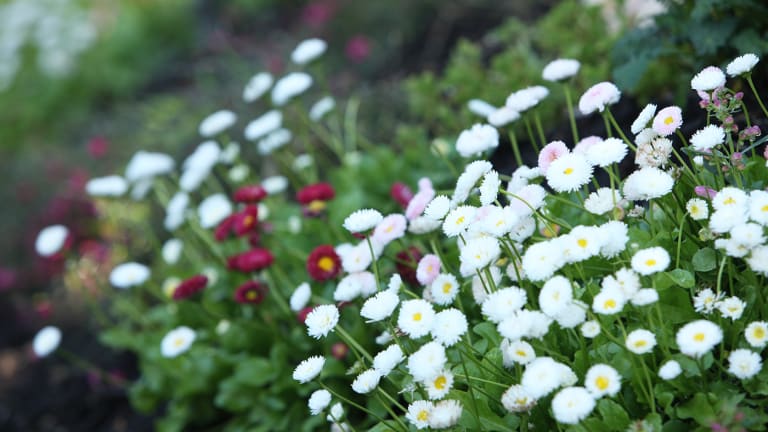 5 Spring Garden Hacks From A Professional Landscaper
Looking to create a beautiful spring garden, but not sure where to start? Or are you a seasoned pro looking to up your garden game?
As winter slowly starts to release its icy grip and the weather begins to warm up, many of us start to anticipate the blessed arrival of springtime. And if you're one of the lucky ones with a garden, you know this is the time of year is when you need to start gearing up for planting season! Whether you're a gardening expert or a novice green thumb, we've got five spring garden hacks from a professional landscaper that will help make your spring garden bloom beautifully this year. Keep reading for tips on everything from soil preparation to selecting the perfect plants and flowers for your spring garden!
Spring Gardening 101
If you're a garden-growing newbie or just looking for how to up your spring garden game this year, you're in the right place. (Digitally speaking, of course. Because the first thing we're going to tell you to do is walk outside.) There is no better place to start than in your actual garden itself!
First, do a walkthrough. Look for signs of damage that may need repairing (both in live and inanimate parts of the landscape). Make notes of things you didn't love last year that you'd like to improve on this year (more color, more variety, less ivy crawling up the side of the house, etc.). Think of how your garden can best serve your household (adding a fire pit, cleaning up a favorite but rickety bench, etc.). And make sure you've got the tools to get the job done—or at the very least, the phone number of your favorite landscaping company—at the ready.
Done that? Now it's time to graduate to next-level spring garden hacks so your garden can truly reflect what you want it to be, and maybe even inspire a little neighborhood envy.
5 Hacks For Your Spring Garden
Armed with these five easy spring garden tips and tricks, you're about to create an outdoor space you may never want to leave. You can make your spring garden better than ever by planting at the right time, starting with the right ingredients, planting rearrangeable landscaping, giving your lawn a facelift, and tapping into your truly green thumb by utilizing what you've already got in your kitchen. Read on to find out how!
Spring Garden Hack 1: Wait Until The Time Is Right
I know patience is the last thing you want to hear about right now, but even the most anxious spring-lovers out there need to wait to really get to work in the garden until the time is right.
It's imperative that you wait until a few things have taken place. First, even your best spring garden ideas may not be able to survive those last hard frosts of late winter and early spring. Planting before the temperature has warmed up and is consistently high enough could be the downfall of all the beauty you had planned to enjoy. Plus, even if the temperature has increased, it takes time for the soil to really thaw out enough to transform into a hospitable growing environment for your plants and flowers—especially young plant babies and seedlings. They need a relatively loose soil structure for little roots to thrive, so if the ground is still compacted or overly wet, wait a bit longer. You'll thank yourself soon enough.
Last but not least, try not to jump the gun on your garden checklist before you've gathered all the proper tools and equipment, making sure each tool is clean, sharp, and ready to work hard for you. That way, once you start, you'll have a clear path to the finish line and be able to enjoy working and lounging in your garden that much sooner.
TRENDING: Xeriscaping Ideas For Your Home
Spring Garden Hack 2: Start With The Right Ingredients
This is one of the most exciting parts of how to get a beautiful garden! And the best part is that it's completely up for interpretation . . . kind of.
First off, everyone has to start with the right ingredients—meaning healthy soil, proper plants for your region and yard environment, and the means to care for it all properly. That means that once you've checked your hardiness zones and narrowed down your plant wishlist accordingly, you've got the freedom to make your garden entirely unique to you.
A few examples of how to create a beautiful spring garden that works for you and your family? You betcha.
Want privacy in the backyard but don't want to change out the fence? Plant dense shrubs that can provide the beauty and seclusion you're craving. Try anything from boxwood, holly, lilacs, and mountain laurels, depending on your style. And bonus, some of them will still look incredible over winter.
Are you more of a flower-lover looking to provide a safe haven for bees and butterflies? Make sure to plant a mix of local wildflowers or try something new with butterfly bush, sunflowers, lavender, alstroemeria, coneflower, and sweet alyssum—all of which will attract your fluttering friends while adding beautiful pops of color to your spring garden.
And one of the best spring garden hacks for bird watchers? Create a little oasis for frequent flyers by providing a small, decorative bath, some delicious seed, and plenty of shrubbery and trees in which to build a nest or simply whistle a tune.
Spring Garden Hack 3: Plant Rearrangeable Landscaping
Okay, this is one of our absolute favorite spring garden hacks—plant rearrangeable landscaping! Wondering what that could even mean?
Well, if you've ever planted a lovely rosebush or a whole row of daffodils only to realize that they're not receiving the kind of light they need, or you simply wish you'd put something on the east side of the walk instead of the west—wish no further. Planting your plants in doubled-up pots buried to their necks in the ground makes for super simple revisions, experimentation, and ultimate customizability, even as plants grow and mature. All you have to do is switch out the inner pot containing your plant and give your spring garden an updated and colorful new look in just a few seconds. You now have the advantage of adding in new plants you find and love, but without the hassle of digging up established root systems in order to do so. Or, heaven forbid, digging up something you thought you were over but realize your landscaping would be totally lost without.
DISCOVER: Landscape Planning: 5 Tips To Remember
Spring Garden Hack 4: Give Your Lawn A Facelift
Another spring garden hack? Don't ignore the grass!
Now that you've got the florals and shrubbery in your spring garden just so, it's probably time to give a little attention to the lawn. It's likely that you've started mowing already, which is good—so long as the grass and ground aren't too wet and the temperature is consistently up enough to have starting perking up your blades. Just keep in mind that frequent spring mowing (about once every five days) is a good idea to help the lawn grow in thick and lush.
You'll also want to pay attention to your edging. Crisp, clean lines along the flower beds and walkways go a long way in garden aesthetics, so make sure to trim them up with an edger (or a 2x6 and a sharp tool will work in a pinch) and pull any weeds that tend to grow along those lines.
While you're at work on the lawn, feel free to reseed any bare or thin patches and give it a once over with the right fertilizer for your soil type for ultimate year-long lawn health.
Spring Garden Hack 5: Utilize Kitchen Supplies
Say what, now? Aren't you out in the garden, so you don't have to be indoors anymore this year? If you're anything like us, absolutely. But even those moments spent inside the house can be beneficial to your spring garden. These simple garden hacks all take advantage of things in the kitchen you may have tossed before realizing they could take your landscaping to the next level.
You know the water you always used to pour down the drain after boiling eggs or veggies? Next time, save it, cool it, and use it to water your garden for a nutritious (and natural!) fertilizer boost.
Another nourishing spring garden hack from the kitchen? Dip plant cuttings that you really want to take on new life in a cooled mixture of water (2 boiling cups) and honey (just a tablespoon will do). Bonus—honey also has antifungal qualities to fight off the yuck as your plant babies take root.
Epsom salts are another fantastic garden booster. Full of magnesium, epsom salt can help with germination and healthy growth throughout the life of your garden plants.
Need to ward off yucky diseases in the garden this spring? Try sprinkling cinnamon in the soil to help prevent fungus from overtaking otherwise healthy plant roots and even repel some garden pests.
And if you've got weeds overtaking the place, try naturally ridding your garden of the invasion by spraying vinegar directly on the weeds (avoiding your own lovely plants and lawn as best you can, of course).
One more spring garden hack from the kitchen? Go ahead and smash up your eggshells and mix them into the soil to balance out acidity and up the calcium ante, or simply spread course eggshell bits around the base of your plants to ward off pesky plant-eaters.
Should You Hire A Landscaper Pro For Your Spring Landscaping?
For some, prepping a spring garden is an ultimate joy. For others, it's overwhelming, time-consuming, back-breaking, or simply feels like you don't have what it takes to get it done right. And that's okay—not everyone was meant to become a gardening expert! But hiring the right landscapers to create the space you want may just make you an expert after all.
From planning and designing to installation and maintenance, Big Rock Landscaping has the expertise you can only dream of. And they've got a clear-cut, partnership process that makes you feel like you're an integral part of creating your ultimate dream garden because—hey, you are! Check out their landscaping services and portfolio to find out more about Big Rock and what they could offer your garden or landscaping this spring.