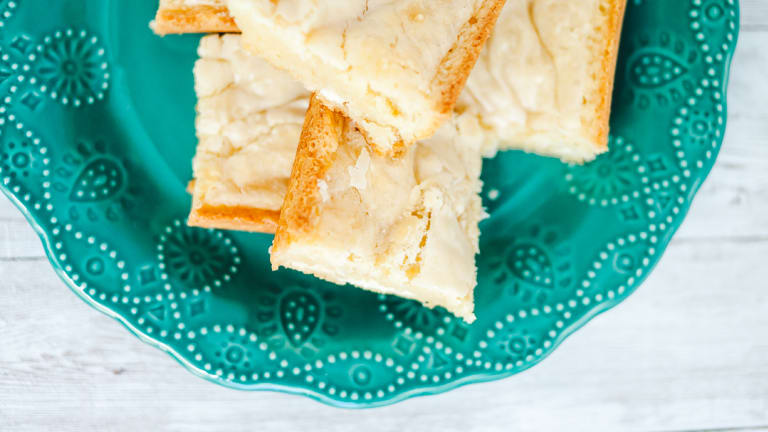 White Chocolate Brownies
These will knock your socks off!
Brownies are show stoppers across the board. There is always something magical about a batch of delicious brownies baking in the oven. A true classic with almost every food audience. However, if you really want to wow your hungry people, blow their minds with a batch of white chocolate brownies. And if you are extra motivated, bake a batch of white chocolate brownies, AND a batch of regular brownies, for a checkerboard style presentation sure to knock their socks off. 
Click here to check out this white chocolate brownie recipe from Cooks.com.  This recipe contains glorious white chocolate, but for me, the secret success ingredient is almond extract which truly, truly makes everything better.  Try it for yourself!
I heart dessert…
White Chocolate Brownies Recipe
White Chocolate Brownie INGREDIENTS
2 (5 oz. each) bars of white chocolate
¼ cup butter
1/2 cup sugar
⅛ teaspoon salt
2 eggs
1 teaspoon vanilla extract
¼ teaspoon almond extract
1 cup flour
¼ teaspoon baking powder
Glaze Ingredients
1 oz. semisweet chocolate chips
1 teaspoon shortening
White Chocolate Brownie DIRECTIONS
Grease a nine-inch baking pan.
In a saucepan over low heat, combine and melt the butter and one bar of the white chocolate, stirring until well-blended.
In a large bowl, combine sugar, salt, and eggs and beat at the highest speed on the mixer for about four minutes.
Reduce the speed to low and add the melted candy bar mixture and extracts.
Sift together flour and baking powder and stir into the candy mixture just until combined.
Break up the other candy bar and stir in.
Bake in a preheated 350-degree oven for 25-30 minutes.
Melt the glaze ingredients together and drizzle over cooled brownies.
This recipe makes 32 brownies.
WANT MORE? 18 Amazing Homemade Brownies Recipes
Where Do I Get The Best White Chocolate?
When looking for a high-quality white chocolate, the most important factor is the choice of milk solids and other ingredients. White chocolate has a much smoother texture than other types of chocolate due to the cocoa solids being stripped out during the creating process. Look for high-quality white chocolate online or at your local grocery store.
Toppings For White Chocolate Brownies
Jazz up your white chocolate brownies by adding a variety of special toppings. You can add a decorative chocolate drizzle or chocolate chips when you pull the brownies out of the oven. Try regular chocolate chips, white chocolate chips, or even peanut butter chocolate chips. You can also add frosting to your brownies or crushed pieces of peppermint or broken cookie pieces. You could also borrow the caramel frosting from our recipe for Double Chocolate Brownies with Caramel Frosting. 
White Chocolate Brownie Variations
There are many different white chocolate brownie variations out there. Put a spin on your recipe by trying white chocolate peppermint brownies, or white chocolate chai brownies, You can also try white chocolate raspberry brownies or white chocolate red velvet brownies.
Another "variation" on the brownie? Easy Brownie Bowl Sundaes! 
Can You Get White Cocoa Powder?
While it is possible to find sweet white cocoa powder for hot chocolate and other beverages, white chocolate is different from normal chocolate. It's not possible to make a straight cocoa powder from it since white chocolate is white and doesn't contain the cocoa solids that are found in regular chocolate.