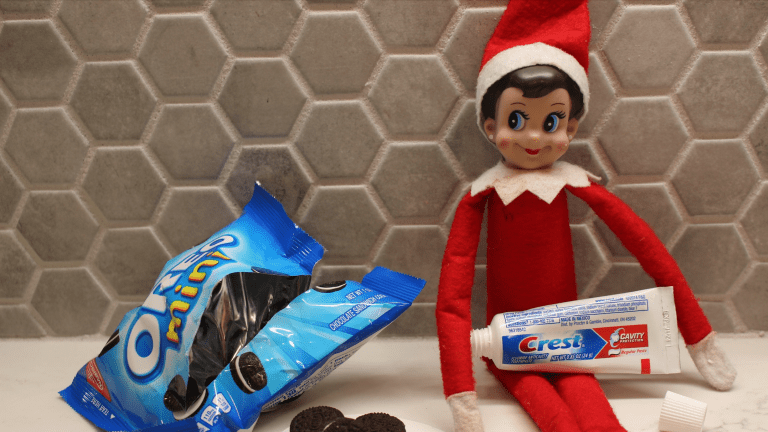 Save Your Holiday With Elf Kits
Do you wonder where to put your elf every night? Does it sometimes stay in the same place for two nights in a row? We've got the solution!
The holidays are upon us! 
If the thought of moving your family elf around every night is giving you a holiday chill, we have the solution! 
I've definitely woken up in a panic at 3am over our family elf. And 4am, and 6am. Sometimes you're tired at night and the elf might forget to move. Or I'm aimlessly wandering around my house at 11pm trying to think of something more creative to do with our elf besides stick her in a bookshelf. Or the medicine cabinet. Or the fruit bowl. 
There are only so many hiding spots to hit!
Take the stress out of your holiday with an Elf Kit! Elf kits are ready to go and designed to make your holiday season magical. If you're tired of trying to come up with a creative and fun idea for your elf, this is the perfect kit for your family!
All elf kits will be delivered in a discreet box to your doorstep by December 1.
Two kits are available.  24 day kits are $100 each for a month of fun! 12 day kits are available for a shorter elf visit for $65 each. Each kit contains a photo of the elf scene as well as instructions for the set-up and a December calendar to follow.
Your elf kit will come with a welcome letter and a good-bye note before they part for the season.
Please note that this is for the kit only, and the elf is not included.
Send payment via Venmo and orders will be filled according to the order that they were received. Payments will be confirmed!
Place your order quickly as all 24 day orders must be received by November 25 in order to be delivered by December 1, and all 12 day orders must be received by December 7 to be delivered by December 13.
Venmo: @Shannon-Nelson-50
Happy holiday season!