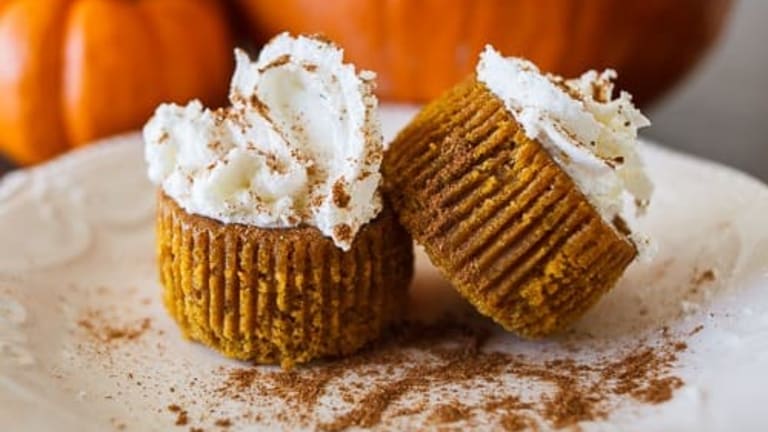 Pumpkin Pie Cupcakes
If you're a pumpkin pie lover and just can't get enough of the filling…this cupcake is for you.
It's moist, creamy pumpkin pie goodness and so easy to make. No worrying about crust, conveniently packaged in individual wrappers—these are perfect for any holiday party you're attending this autumn.
Pumpkin Pie Cupcakes Recipe
Pumpkin Pie Cupcakes INGREDIENTS:
15 oz Pumpkin Puree
3/4 cup Sugar
2 large Eggs
1 tsp Vanilla
3/4 cup Evaporated Milk
2/3 cup Flour
2 tsp Pumpkin Pie Spice
1/4 tsp Salt
1/2 tsp baking soda
1/2 tsp baking powder
Whipped Cream
Pumpkin Pie Cupcakes INSTRUCTIONS:
Line 12-muffin tin with cupcake liners.
Preheat oven to 350° F.
Whisk together pumpkin puree, sugar, eggs, vanilla and evaporated milk until well combined.
Whisk in remaining dry ingredients until batter is smooth.
Fill muffin cups to 3/4 full (about 1/3 cup batter each).
Bake for 20 minutes and allow to cool in pan for 20 minutes.
Remove from pan and refrigerate for 30 minutes before serving.
Garnish with whipped cream and pumpkin pie spice and enjoy!
Voila—Enjoy your pumpkin pie cupcake goodness! Unless of course, you're looking for a little more insight into what makes these babies so so good. In that case, read on!
DISCOVER: The Best Pumpkin Muffin Recipe Ever!
Are Pumpkin Pie Mix and Pumpkin Puree the Same Thing?
No! Pre-made pumpkin pie filling or mix and pumpkin puree are not the same thing. Pumpkin pie mix already has sweeteners and spices added to it, whereas pure pumpkin puree is exactly what it sounds like.
For this recipe, you're going to want stick with pure pumpkin puree in order to get the flavors just right!
DISCOVER: The BEST Chocolate Chip Cake Mix Cookies!
What Does Evaporated Milk Do for Pumpkin Pie Cupcakes?
Adding evaporated milk to these pumpkin pie cupcakes does a few things.
One, evaporated milk works as a thickener in the cupcake batter. As the cupcakes bake, the heat from the oven sucks moisture from the pumpkin puree and can create a yucky, separated mess. UNLESS you add a thickener. It's the evaporated milk that keeps all the ingredients bound into one magical, pumpkin-y whole.
Second, adding evaporated milk (as opposed to sweetened condensed milk) keeps the pumpkin pie cupcakes a little lighter, fluffier, and not sickly sweet.
So there you have it—fall dessert perfection in the form of these yummy pumpkin pie cupcakes. We're more than willing to bet they become a yearly tradition at your house, too!