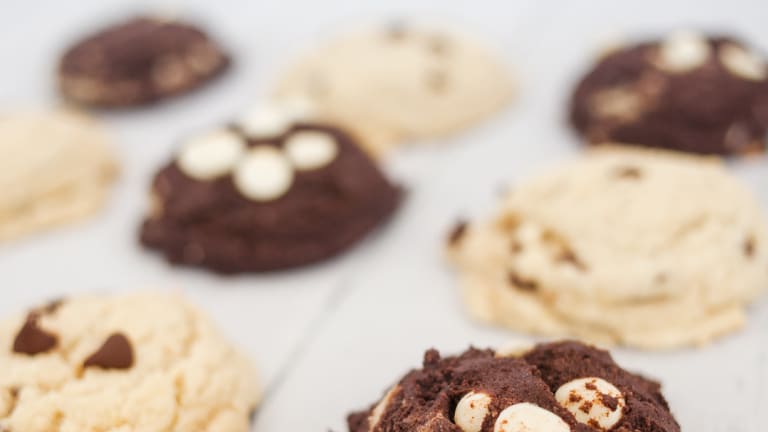 The Mama's Guide To Cake Mix Cookies Recipes
Cake mix cookies allow anyone to make delicious cookies in half the time with half the ingredients and half the effort. Impossible? No. Amazing? We thought so, too.
But the life gets BUSY, so cake mix cookies to the rescue! Most of these cake mix cookies come together with just THREE INGREDIENTS.
If there are more, it's simply because we got so excited at the prospect of including one candy or chocolate chip variety, that we went buck wild and included, oh I don't know, TWO.
All of our cake mix cookie recipes are delicious and cook up in a flash. And they are so easy that these all make a great recipe for little kids to help out with.
Want to whip up an after school treat, need something for a potluck, want to do a little weekend baking with the kiddos (without it being a big messy commitment?) Look no further.
I'm not sure I could pick a favorite….they are all so delicious! But my kids could. Because Funfetti cake mix cookies will win EVERY TIME. Nothing better than surprising a kiddo after school with a funfetti cookie, amirite?!
Click through for the full recipe for each of these easy cake mix cookie recipes and go stock up on cake mixes the next time they are on sale! You won't be sorry.
Red Velvet Chocolate Chip Cake Mix Cookies
In my book nothing says "I Love You" like baked goods. Count red velvet cake mix cookies as part of that "I Love You" baking magic. Keep your flowers and your jewelry. If you want to fast-track your way to my heart, come bearing carbs. Preferably chocolately carbs. This recipe for Double Chocolate Red Velvet Lazy Cookie Cake will delight your eyes and your belly. Mostly your belly. Bonus points for being super easy and super quick. THIS is the recipe to turn over to your cooking-loving kiddo.
Red Velvet Cake Mix Whoopie Pie Cookies with Cream Cheese Filling
Is there anything more luxurious than red velvet cake? These mini red velvet whoopie pies are little bites of happiness. They are creamy, velvety and the sweetest little cookie. These red velvet cake mix whoopie pie cookies with cream cheese frosting are perfect for a tea party, Valentine's day or just a quiet night of indulgence at home.
Reese's Peanut Butter Eggs Cookies
Our obsession with Easter candy continues—and now we've found a way to make Reese's Peanut Butter Cookies by combining the glorious ease of a cake mix cookie with the traffic-stopping deliciousness of Reese's Peanut Butter Eggs. You know how Reese's peanut butter cups deliver the magic balance of chocolate and peanut butter? These Cake Mix Reese's Peanut Butter Cookies are the perfect cookie-slash-brownie embodiment of that candy treat.
A candy treat that we're more than a little obsessed with.
TRENDING: Cake Mix Lazy Cake 21 Ways!
Cake Mix Cadbury Mini Egg Cookies Recipe
When I'm cruising through the grocery store and I see Cadbury Mini Eggs for the first time on the shelves, it's like a record scratch. When I saw them, I thought, WE MUST make Cake Mix Cadbury Mini Egg Cookies! As impossible as it may seem to improve upon the crispy shelled magic of a Cadbury Mini Egg, I found that adding them to a cake mix cookie was a buttery, delicious way of prolonging my enjoyment of this seasonal treat. Because, if motivated (or left unsupervised,) I can power through an entire bag of Cadbury Mini Eggs in under a day, but would consider wolfing down a whole batch of cookies pretty challenging.
Challenging, not impossible.
Cadbury Mini Egg Cake Mix Cookies — White Chocolate Version!
Cadbury Mini Eggs have hit store shelves! THIS IS NOT A DRILL. It's time to make the most of those chocolatey jewels and whip up Cadbury Mini Egg Chocolate Cookies. We were first inspired to create a blonde and buttery version of this cookie with regular milk chocolate Cadbury Mini Eggs which you can find here, but never one to be creatively limited in the kitchen, I saw fit to toss a few bags of the WHITE chocolate Cadbury Mini Eggs into my basket to see if my suspicions were true…that a chocolate cake mix cookie and a white chocolate egg could come together for sweet Easter bliss. I WAS RIGHT!
Cadbury Mini Egg Chocolate Cookies have made all of my dreams come true.
Easy Lemon Cookies from Cake Mix
Are you ready for something with a little ZING?! How about these easy-as-pie lemon cookies from cake mix? And because we're hopelessly devoted to chocolate in all of it's glorious iterations, we've added creamy white chocolate chips to the mix. Of course lemon fans will tell you that this bright flavor is welcome all year round, but Spring seems to be a really fantastic time to break out of the heavy flavors of winter baking.
Funfetti Cake Mix Cookies—Just 3 Ingredients
Having kids in the kitchen is fun and they ask adorable questions and pride themselves on their stellar egg cracking skills. They are ready to tackle some solo projects. These Funfetti Cake Mix Cookies are just the ticket – THREE INGREDIENTS and some low-level stirring skills and you'll be enjoying a cookie that can't help but make you smile.
Come on! FUNFETTI. The most joyous cake mix ever invented.
Funfetti Cake Mix Cookie Sandwiches
These are yummy cookies that kids and adults will both love! I like the fun festive sprinkles. They taste better and are less messy…not to mention they are already in individual serving sizes.
Red White and Blue Cake Mix Cookie Bars
If you're feeling patriotic, these red, white and blue cake mix cookie bars are for you! They are the perfect treat for a Fourth of July barbecue, Memorial Day Picnic or a kids baking project for a lazy summer day. I've been dying to try the blue velvet cake mix and I was not disappointed—it's light vanilla flavor pairs perfectly with the classic red velvet richness. These red, white and blue cake mix cookie bars are just the best. Like all of our cake mix cookies, these come together so easily and only require a few things!
S'mores Chocolate Cake Mix Cookies
I love s'mores. They are one of the best parts of camping for me—the gooey marshmallow with a crispy outside, the simpleness of graham crackers and of course, chocolate. These chocolate cake mix cookies embody all that I love about s'mores and add on the perk of being a delicious cookie!! The best part about these S'mores Chocolate Cake Mix Cookies? You can totally make them with a yellow cake too if you're not feeling chocolate that day (I don't understand how that could happen, but if it does we've got you covered!)
Chocolate Turtle Devils Food Cake Mix Cookies
These chocolate turtle devils food cake mix cookies are just what you need as you send your kiddos off to school! Curling up with a few of these, a glass of milk and all the TV you're not allowed to watch while they're home is what mom dreams are made of. They are so decadent for how easy it is to make them.
Pumpkin Chocolate Chip Cake Mix Cookies
In college my roommate made these amazing pumpkin chocolate chip cake mix cookies. I had never had something so perfectly pumpkiny—this was back before you could find absolutely everything pumpkin spice and it blew my mind! They have been a favorite ever since and a staple at our house every fall. And I've recreated it!
Easy Chocolate Peppermint Cake Mix Cookies
Through the fall I love pumpkin and as soon as Thanksgiving is over, it's time for peppermint. These easy chocolate peppermint cake mix cookies are quick to make and sure to be a hit at your next holiday party! The addition of cream cheese to the batter adds a buttery flavor and makes them soft and fluffy-my favorite kind of cookie.
TRENDING: Recipe For Carrot Cake Sandwich Cookies!
Gluten Free Cake Mix Cookies
There are the things we love. Then there are the things we write about. Cake mix cookies and gluten-free baking fit into both categories and we are committed to seeking out the best gluten-free recipes and trying them. When we began experimenting with gluten free cake mix cookies, we were thrilled at the results. Combining cake mix cookies and gluten-free baking is tricky. The tips and tweaks in this recipe will yield the best gluten free cake mix cookies!
Strawberry Cheesecake Cake Mix Cookies
Only 6 ingredients and 5 simple steps to this unique strawberry cheesecake mix pudding cookies recipe. Impeccable cream cheese cake mix cookies in half the time. For every flavor of cake mix, there's a fun flavor of cookie! This unique recipe perfectly captures the yummy flavor of strawberry cake mix and cheesecake pudding. These soft and chewy cake mix cookies with pudding mix are amazing for Valentine's Day, birthday parties, or anytime you feel like you need pink cookies in your life!
Carrot Cake Mix Cookies With Cream Cheese Frosting
Create the ultimate carrot cake cookies from cake mix with 4 ingredients and in 4 simple steps! Plus: We discovered and tested 9 egg and oil substitutes. These carrot cake mix cookies are so simple to make. I love a good carrot cake, and these cookies capture the warm spiciness that I crave! Topping them off with cream cheese frosting perfectly complements this yummy cookie. They are just too easy to make with only 4 ingredients!
Carrot Cake Mix Cookie Sandwiches
If you're a big fan of carrot cake with the delicious cream cheese frosting than I think you'll love these cookies! They are soft, chewy and have a delicious, creamy middle. I DARE you to just eat one!
Chocolate Crinkle Cookies With Cake Mix
This busy mom created the best tasting chocolate crinkle cookies with cake mix in 30 minutes with half the ingredients and steps as normal crinkle cookies. These chocolate crinkle cookies made with cake mix are the perfect treat to drop off to your neighbors, bring to a holiday party, or eat all alone when your kids are in bed.
Lazy Cookie Cake Mix Recipe 21 Ways
There's a reason it's called Lazy Cookie Cake. We've discovered 21 incredible ways to make cake mix cookies even easier! We're sharing the recipe PLUS 20 great ideas to mix it up from our Facebook fans. Enjoy!
Chocolate Chip Cake Mix Cookie Pizza With Fun Toppings
How to create the best chocolate chip cookie pizza for kids in less than 30 minutes! Plus: Our mega list of the best kid-tested cookie toppings for cookie pizza!
Amazing Gingerbread Cake Mix Cookies
How to get the best tasting gingerbread cake mix cookies with only 4 ingredients! Plus...the gingerbread cookie topping hack that will blow your mind! This is one of our favorite recipes for the holidays and a fun twist on a holiday tradition. The gingerbread cookie is unique, eclectic, flavorful, and definitely a dynamic icon of the Christmas season. It stands to reason why it is one of the most popular cookies during the season.
Cranberry Orange Cake Mix Cookie
Our Cranberry Orange Cake Mix Cookies are fast and easy enough to be an everyday cookie, and fancy enough for your next party. Citrusy orange, the zing of dried cranberries, and just enough glaze on top to bring the whole thing together.
Holiday Chocolate Peppermint Cake Mix Cookies
Our Holiday Chocolate Peppermint Cake Mix Cookies have only five ingredients, including the decorations! They are so easy to bake and decorate with kids, but they look fancy enough to hand out as gifts. The perfect holiday cookie!
Easy 5 Ingredient Eggnog Cake Mix Cookies With Eggnog Frosting
How to create the ultimate eggnog cake mix cookies in five ingredients or less! You won't believe how easy eggnog cookies are to make! Eggnog is usually an ingredient reserved for the holidays. The moment the flavor hits your lips, it immediately brings you into the festive mood.