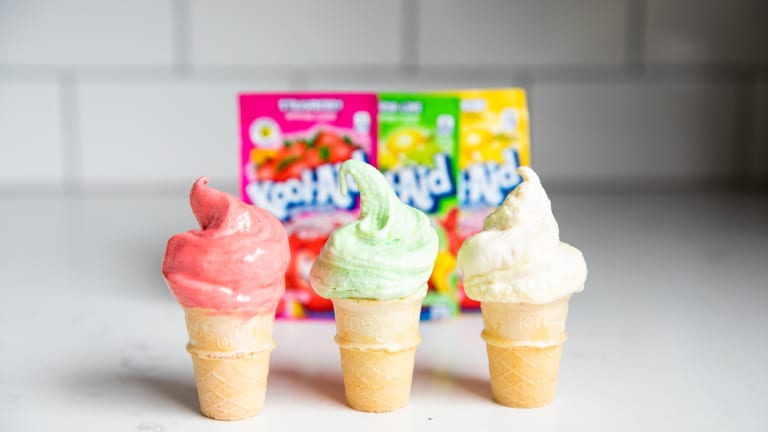 Kool-Aid Ice Cream: Be Partakers of the Divine Dessert
This is the dessert to end all 5-star desserts. And all it takes is a scoop of vanilla and all the cherry Kool-Aid you've got.
Listen—my family is known for a lot of things. Being 10 minutes late to everything (it's called Baxter Standard Time). The best homemade bread on the face of the planet. Having the confidence to DIY pretty much anything even if we probably shouldn't. And Kool-Aid ice cream.
Kool-Aid ice cream is the stuff of legends untold and it's time the world knew about the mouth-puckering magnificence they've been missing out on for millennia. Or at least since Kool-Aid and ice cream were invented.
Alright, truth be told, no one in my family actually remembers which one of us came up with this weirdo concoction, so maybe legendary is a bit of an oversell, storywise. But as for the flavor extravaganza you're about to experience, there's nothing I can say that would sell it hard enough. But I'm sure going to try.
Let's start with the basics. All you need is grocery store-brand vanilla ice cream and a packet of Kool-Aid. Flavor is up to you, of course, but let me give you some gentle nudging: CHERRY. Cherry is the answer for all times and all seasons with this delicious ice cream treat. And if you feel you absolutely must veer off the straight and narrow—black cherry will do. Okay, okay. Really, you're allowed a personal preference. Not everyone's path is the same after all. But after literal decades and dozens of family member connoisseurs, we're all telling you: Go with cherry.
Okay, ingredients in hand, make sure you also have a semi-deep bowl and sturdy spoon ready. Many a weakling spoon is left drawer-bound come Kool-Aid ice cream time at our house. We know better, so we do better. I advise the same to all partakers of this divinely sweet (or rather sour) gift.
Next steps? Scoop some ice cream into your bowl and pour a generous amount of Kool-Aid powder straight from the packet on top. And I don't mean a gentle sprinkle. Baptize the stuff! You'll become accustomed over time and with plenty of practice (which you won't regret) to just how much of the powder you'll need to accomplish the perfect pucker. But as for me and my house, we will serve up at least 2/3 of a packet on a half-full bowl of ice cream for a good time.
Now, here's where an additional piece of the plan of happiness comes in. It's not a commandment, per se, but time and experience have proven that having a mom mix the Kool-Aid into the ice cream for you will ALWAYS result in heightened flavor sensations. It's just a fact, so if your mom has been bugging you to come and visit, here's your moment to make it all worthwhile. Upon arrival, hand her the bowl and ask her to vigorously stir until all traces of vanilla are gone and you're left with a red-stained bowl of creamy, cherry Kool-Aid glory. If you chat her up during the process, she'll hardly notice the effort as she is distracted by your displays of love and concern for her. Win-win.
And now, partake. Close your eyes maybe, if it feels right. Enjoy the smooth, cool refreshment. And then give yourself over to the tantalizing tartness until—before you know it—it's time to lick the bowl clean. We always do.
I leave you with one caveat as I proffer this sacred dessert into your hearts and homes—if you don't like it, you're the crazy one. Not me. Not us. This IS the dessert to end all 5-star desserts. I know it. God knows it. And I cannot deny it.
Now go forth, and do as I have commanded.