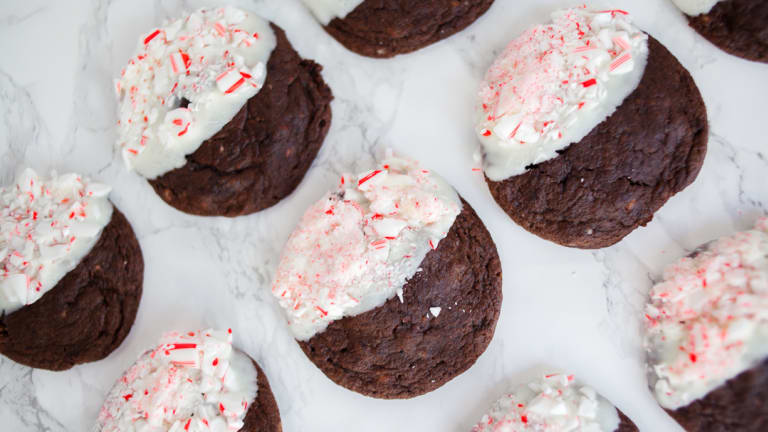 Holiday Chocolate Peppermint Cake Mix Cookies
Just 5 ingredients stand between you and spreading Christmas cheer!
Looking for something super festive and super easy? Our Holiday Chocolate Peppermint Cake Mix Cookies only have five ingredients and are the perfect Christmas cookie to bake with kids. Bonus points for looking fancy enough to hand out as gifts!
DO I HAVE YOUR ATTENTION?
Holiday baking season is upon us!
And you will be hard pressed to find anyone more delighted that I am about that fact. I am 100% that woman in the grocery store with a heaping grocery cart full of butter, chocolate chips, candy canes, and sprinkles. Oh, don't even get me started on the sprinkles. And the colored sugar. And the festive cookie boxes and bags.
See. DELIGHTED!
I love to bake with my kids anytime, but there is something magical about doing it with a glowing Christmas tree in the corner and while belting out "All I want for Christmas is YOOOOOOUUUUUUUUUUUU!" in a way that will no doubt start to embarrass my kids in the next year or two.
But I have also learned some hard holiday baking lessons.
I have absolutely tried a too-hard-for-us recipe and been woefully disappointed. I have also bought the wrong peppermint extract—think toothpaste rather than candy canes. Yeah. It was bad.
So during the busy holiday season? I'm committed to the joy of simple cake mix cookies—because with just a few ingredients we can fit in a quick baking session anytime. This recipe also made our list on our guide to Christmas recipes. 
These Holiday Chocolate Peppermint Cake Mix Cookies include my very favorite holiday flavor combination—rich chocolate and cool peppermint!
Nothing says MERRY CHRISTMAS in your mouth like a candy cane.
But I'm a grown up so I prefer to enjoy my candy cane in a more refined way. Crushed on top of a cookie!
Holiday Chocolate Peppermint Cake Mix Cookies
INGREDIENTS
1 Box of Devil's Food Cake Mix
1 Egg
8 Tablespoons Butter (Melted)
1 Cup White Chocolate Melts
10 Candy Canes
DIRECTIONS
Preheat oven to 350°.
Mix cake mix, egg and butter.
Using a small cookie scoop, scoop cookies onto a parchment lined baking sheet.
Bake for 9-12 minutes.
DECORATE (the best part!)
Allow cookies to cool completely.
Crush candy canes in a plastic bag using a rolling pin.
Melt white chocolate following package directions.
Dip each cookie halfway into the white chocolate and sprinkle with candy cane pieces.
Place dipped cookies on wax paper to allow the white chocolate to dry.
These are delicious!
Want to mix it up a bit?
Holiday Chocolate Peppermint Cake Mix Cookie Variations
If you have to make cookies for a crowd, or you want your neighbor gift cookie plates to have a little bit of variety, you can get creative with this recipe. Here are a few options:
Double down on the chocolate and use milk chocolate candy melts, instead of white.
Skip the candy cane pieces and use red and green sprinkles or sugar.
Add chocolate chips to the cookie batter. You can never have too many.
Use a Yellow Cake Mix instead of Devil's Food for a sugar cookie taste.
How To Gift Wrap Your Holiday Chocolate Peppermint Cake Mix Cookies
These cookies are perfect for gift-giving and you can get creative with how you package up your neighbor gifts to add a little extra touch of holiday spirit. Here are a few options:
Fill up these craft paper takeout boxes and add festive ribbon.
Use a hole punch to thread a gift tag though these craft paper bakery bags.
These foil containers come with holiday themed lid covers. Just add ribbon and a gift tag!
Fill festive cellophane bags and tie with a ribbon. These can be found in the seasonal aisle at your friendly neighborhood grocery store.
If you want to give a bigger gift to friends and family, stack cookies on a nice plate or platter and wrap in cellophane gift wrap with a bow.
Bigger still? Find the perfect cookie jar for your recipient and fill it with our Holiday Chocolate Peppermint Cake Mix Cookies!
Want more Christmas Cake Mix Cookie ideas?
Try our Santa approved, Crinkle Cookies from Cake Mix.
Now that Cadbury makes red, green, and white holiday Cadbury Mini Eggs, you can use this recipe with GREAT SUCCESS. 
Maybe you're not ready to give up your pumpkin spice just yet? Our Pumpkin Chocolate Chip Cake Mix Cookies are just the ticket. 
Devil's Food Cake Mix Cookie Variations
That old, dependable standby, Devil's Food cake mix is the foundation of our Holiday Chocolate Peppermint Cake Mix Cookies, but you can do so much with this recipe! So the next time cake mix is on sale, stock up and try adding these options to your cookie batter:
Chocolate chips
White chocolate chips
Half chocolate and half white chocolate chips
M&M's (plain, caramel, or seasonal varieties)
Peanut butter chips
Chopped chocolate candies (Snickers, Milk Way, Twix)
Nuts!
You can also decorate Devil's Food Cake Mix Cookies by melting chocolate candy melts, placing the warm mixture in a plastic bag, snip off the end and use it like a piping bag to drizzle a pattern on the cookies. If you want to be as extra as possible, add sprinkles.
How to Make Cookies from Cake Mix
Has all of this got your creative juices flowing? Not to mention your stomach growling? You might be wondering, "If I can do all of this with a simple box of Devil's Food, what else am I missing out on?!" The truth is, you can use any box of cake mix to whip up a batch of fantastic simple cake mix cookies. The ingredient list is short and the instructions are easy.
Mix the following:
1 Box of Cake Mix
1 Egg
8 Tablespoons Butter (Melted)
2 Cups of...anything you want. Chocolate chips never disappoint.
Bake at 350° for 9-12 minutes on a cookie sheet.
We've had great success using Red Velvet, Yellow Cake, Funfetti, Spice Cake, Lemon, and Strawberry. They always turn out great and they always taste delicious!
You can also check out our HUGE list of Cake Mix Cookies recipes here.