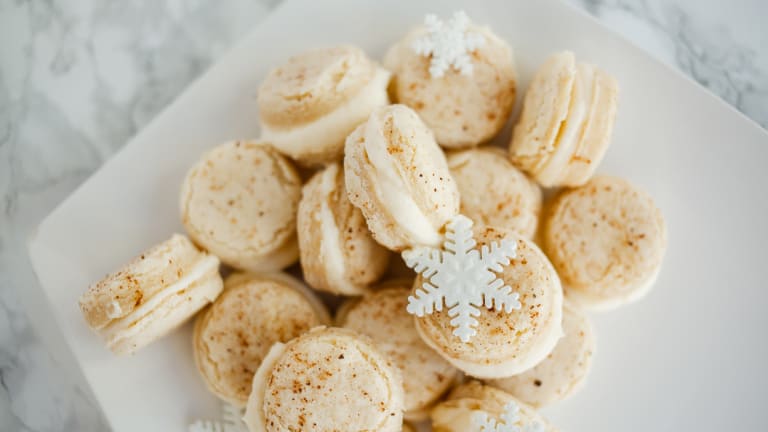 Easy 5 Ingredient Eggnog Cake Mix Cookies With Eggnog Frosting
How to create the ultimate eggnog cake mix cookies in five ingredients or less! You won't believe how easy eggnog cookies are to make!
Eggnog is usually an ingredient reserved for the holidays. The moment the flavor hits your lips, it immediately brings you into the festive mood. That's the magic behind eggnog. It is a branded-taste. So naturally, we want to find new, creative, yet flavorful ways to feature this ingredient into the foods and desserts we love.
Most eggnog cookie recipes lack in flavor. In fact, many of the sentiments in comment sections on the web for eggnog cookies echo this. We've listened to those uttering this concern and have created an eggnog cookie recipe that doubles down on ensuring every bite is packed with the rich, decadent flavor of eggnog.
The eggnog cookie frosting in this recipe has the perfect balance of the sweet and savory elements of that holiday flavor and augments the cookie perfectly. This was one of our worries adding a frosting to an already sweet-enough cookie: 'Is this eggnog frosting going to make the cookie too rich? To eggnog-y?' Well…we think we nailed this recipe. The cookies are incredibly soft and melt in your mouth. The creamy eggnog frosting pairs well with the eggnog cookie. It's wonderfully tasty and tastes of Christmas. This recipe also made our list on our guide to Christmas recipes. 
Eggnog Cake Mix Cookie Recipe:
For the Eggnog Cookies:
1 box French vanilla or white cake mix
1 egg yolk
5 Tbsp melted butter
2-3 Tbsp eggnog
1/2-1 tsp ground nutmeg
For the Eggnog Frosting:
1/4 cup butter, softened (but not melted)
1/2 tsp vanilla
1 Tbsp eggnog
1 tsp corn syrup
1 cup powdered sugar
Eggnog Cake Mix Cookie Instructions
1. Preheat oven to 350°.
2. Mix cake mix, egg yolk, butter, eggnog and nutmeg until just incorporated.
3. Pour entire batter out on a parchment lined cookie sheet and smooth with greased hands to 1/4" thick.
4. Sprinkle additional nutmeg on top for color.
5. Bake at 350° for 9-12 minutes.
6. Allow to cool but not completely before using a shot glass (or other small cookie cutter) to cut out round cookies.
Eggnog Cookie Frosting Instructions
Allow the cookies to cool completely and then begin frosting. In a bowl beat the butter, vanilla, eggnog, corn syrup and powdered sugar until thick and creamy. If the frosting is too thin, add powdered sugar. If the frosting is too thick, add more eggnog. Scoop frosting into a gallon sized freezer Ziploc bag, snip off the corner and frost the cookies, matching tops with bottoms as you go.
Enjoy this rich and decadent treat! It's a party favorite!
What Pairs Well With Eggnog Cookies?
For the record, these eggnog cake mix cookies can stand alone as an amazing dessert morsel. But on occasion we want to cleanse the palate with a drink and don't want that drink flavor to compete or even worse, ruin, what we just snacked on. Below are some of the best drinks to pair with eggnog cake mix cookies:
Coffee (chilled is even better)
Milk
Eggnog Latte
Vanilla Egg Cream
Drunken Apple Cider
What Else Can You Do With Eggnog?
So you like eggnog? Or you have leftover eggnog and you don't want to drink it but you don't want it to go bad. And you don't want to waste it either. So what are you to do? In some of the dishes below, simply adding a tablespoon or two to any standard recipe will do the trick. Below are some of our favorites ideas for spicing it up with eggnog…
Eggnog French toast
Eggnog Cupcakes
Eggnog Cheesecake
Eggnog Sugar Cookies
Eggnog Cinnamon Rolls
Eggnog Coffee Cake
Eggnog Sour Cream Pound Cake
Ultimate Guide To The Web's Best Cake Mix Cookie Recipes
Do you have a problem with baking cookies? Well, lots of people do. Can we talk frankly about it for a minute? What's going to happen if your cookie problem continues? What if you can't help it and it continues to be a thorn in your side?
Now, that's pretty bleak. But, I want to ask you something else. What would happen if we got this handled? What would your life be like if you could make the most delicious cookies with half the ingredients half the time and half the effort? What would your life be like if you didn't hesitate or feel anxious every time that recipe rested on the counter-top staring back at you? What would your life be like if you stopped worrying if your neighbors liked your cookies and instead knew they loved them?
So, all you need to do is check out our monster recipe list of the best cake mix cookie recipes you can find on the web. We got you covered.