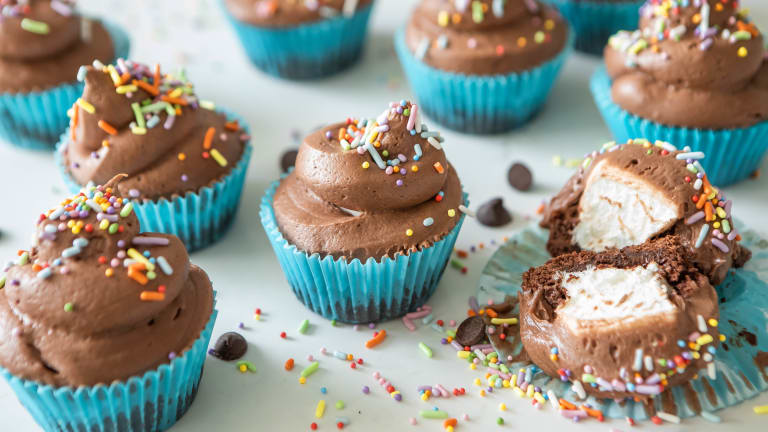 Chocolate Marshmallow Cupcakes
July is officially Marshmallow Season at our house.
We toast them, roast them and occasionally throw them in a summer marshmallow fight.  And then I grab a new bag just to make these bites of heaven – Chocolate Marshmallow Cupcakes!
Start with the Best Chocolate Cupcake recipe EVER, let the cupcakes cool for 3-5 minutes and scoop out a small hole using a melon baller.  Share the scooped bites with your kids.
Insert a fresh, medium-sized marshmallow and wait. This is the HARDEST PART!  The heat from the cupcake will melt the marshmallow enough that it is almost even with the top of the cake.
When cooled, smother cupcake with a lovely butter cream frosting.  Maybe a Salted Caramel Butter Cream, a Peanut Butter Butter Cream Frosting or a Classic Chocolate Buttercream with graham cracker crumbs on top for a Smores Cupcake?
When winter hits, I adjust this recipe by adding mint flavoring to the frosting and sprinkling with crushed candy canes for Peppermint Chocolate Marshmallow Cupcakes.
Check out our easy step-by-step recipe that will teach you just how simple it is to make this mouth-watering chocolate and marshmallow magic! View our full recipe here!
What's your favorite cupcake flavor combo?
More Dessert Recipes from Today's Mama!
Best Chocolate Cupcake Recipe
Pumpkin Pie Cupcakes
Snickerdoodle Cupcakes
Best Chocolate Chip Cookie Recipe