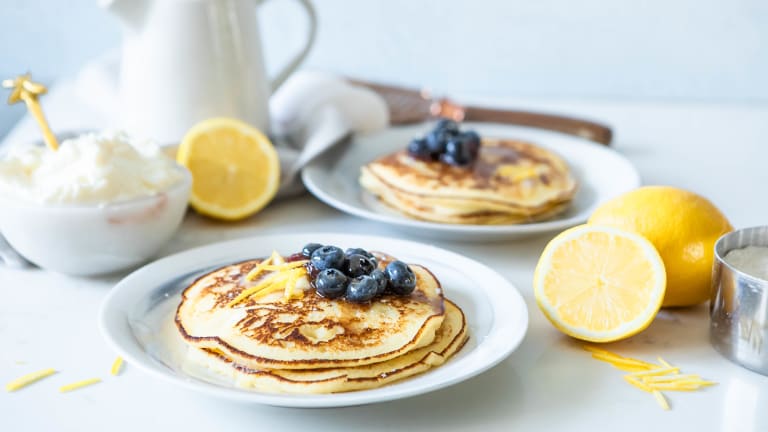 Best Lemon Ricotta Pancakes
The best lemon ricotta pancakes have crispy edges and a light texture that is really delicious. Prep pancakes the night before, or freeze for later! Even your pickiest eaters will be asking when you're making these pancakes again.
I'm always looking for hot breakfasts that I can mostly prepare the night before (I'm not the most awake person in the morning.) I always feel guilty that I'm not more vigilant about feeding my kids hot breakfast since my dad always cooked us hot breakfasts–that usually means I feel guilty every school day. An easy pancake breakfast is a big win for any mama. These lemon ricotta pancakes are easy enough to prep before you go to bed, and come together really quickly in the morning.
These are the best lemon ricotta pancakes because they have crispy edges and a light texture that is really delicious. My pickiest eater loved them (I told him they were lemon pancakes, no need to have a fight over what ricotta is or why he was going to eat it anyway.)
Best Lemon Ricotta Pancakes
4 large eggs, separated
1 cup ricotta
1/3 cup lemon yogurt (I used Greek yogurt)
3 Tablespoons sugar
1/2 teaspoon salt
Zest of one lemon
1 Tablespoon of lemon juice
2/3 cup flour
1/4 cup melted butter
Lemon Ricotta Pancake Recipe Instructions
Separate eggs: put yolks in a large bowl and whites into a small container. Cover whites and set them near your mixer. Whisk melted butter into yolks, then add yogurt, ricotta, sugar, zest, juice, salt, and then the flour. Cover and refrigerate until morning*.
Heat your griddle to medium-high heat. Take yolk mixture out of fridge. Whip egg whites with a dash of salt to stiff peaks (since you've left your egg whites out at room temperature they will whip up really fast.) Fold a little whites into the yolks to lighten them, then fold in the rest. Do this gently: this recipe doesn't have another leavener, so the whites will be all the lift they'll get.
Using an ice cream scoop pour individual pancakes, spreading them out with the back of the scoop. Flip when the bubbles on the top are just set, and place onto a platter in a warm (200 degrees) oven until you're ready to serve.
*You CAN make the pancakes the whole way through if you're not prepping the night before, just keep going instead of refrigerating the batter.
Can Ricotta Pancakes Be Frozen?
Absolutely! Most pancakes can be frozen. After you have made a batch of pancakes, let them cool completely.  After cooled, layer pancakes between sheets of waxed paper and place them in a freezer-safe container such as a plastic container or freezer baggie.  Frozen pancakes will last in your freezer for up to 2 months.
When you're ready to enjoy the best lemon ricotta pancakes again, simply defrost in the fridge overnight, or reheat a large batch in the oven. Place in a single layer on your baking sheet at 350 degrees for 10 minutes or until warm.
Favorite Lemon Ricotta Pancake Toppings
We are all familiar with the tried and true pancake topping maple syrup. Maple syrup will taste great with your lemon ricotta pancakes. But if you would like to dive right into heaven, I suggest trying the following pancake toppings.
Your favorite fruit jam
Your favorite fruit syrup (strawberry syrup is heaven!)
Fresh berries such as blueberries, strawberries, or raspberries.
This easy pancake recipe can be added to your breakfast rotation. Making the night before or freezing after makes having a healthy pancake for breakfast easy and yummy without much effort.
Other Easy Breakfast Ideas from Today's Mama...
Cinnamon Streusel Pancakes
Pancake Sausage Stacks
Snickerdoodle French Toast
Homemade Whole Wheat Pancake Mix