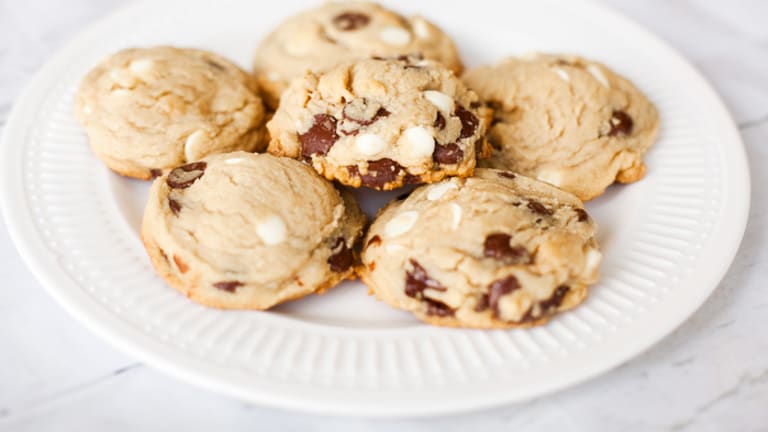 Best Chocolate Chip Cookie Recipe
Bro. For reals the best chocolate chip cookie recipe ever. I dare you to defy me.
They are good. And by good, I mean people assault me when I bring them to parties and they are gone within minutes. I know, everyone has a chocolate chip cookie recipe. But let me tell you how I made mine THE BEST chocolate chip cookie recipe. Ever.
This recipe came about somehow, somewhere in the 90's off of the back of a bulk package of generic chocolate chips somewhere and has progressed with some tweeks over the years. 
I've included a lot of superfluous information in here because over the years I've noticed it matters AND when I share this recipe with people they want to know exactly how I make them. Please leave any questions in the comments. I've gotchu!  
Best Chocolate Chip Cookie Recipe from the Kitchen of Rachael Herrscher
Preheat:
Preheat oven to 375 degrees (I do 350 if I'm using a convection oven)
In small mixing bowl set aside:
2 1/3 Cup All Purpose Flour
1/2 Tsp. Salt
1 Tsp. Baking Soda
In large mixing bowl cream together:
1 Cup Butter (IMPORTANT: Butter should be room temperature!)
3/4 Cup Brown Sugar (packed)
1/2 Cup Granulated Sugar
Add + Mix:
2 Tsp. Vanilla (I use the Costco / Kirkland brand of vanilla)
1 Egg
(if you want to know how truly nerdy I am, I put the egg in first and then add the vanilla to the egg whites because in my heart I feel the vanilla is going to be mixed in more evenly)
Add dry ingredients (small mixing bowl):
Mix (But don't over mix, this is key. I usually mix until the cookie dough is pulling from the sides of the bowl and then stop. If I over mix my dough I notice my cookies come out a little flat)
Note: I dump about 1/3 of the flour mix in at a time and mix. 
Add:
2 cups baking chips of choice
I use: Ghirardelli 60% Cacao Bittersweet Chocolate Chips and Ghirardelli Classic White Chips 
You can usually find the best price on these chips at Walmart. I add them to my grocery pick-up order. If you haven't tried grocery pickup yet, you haven't lived. 
I usually throw in one cup dark chocolate chips and one cup white chocolate chips. You can change this up as you go. I've used Heath toffee bits before and even did a batch with milk chocolate chips once to appease someone (I hate milk chocolate chips). But the cookies were still good. 
Best Chocolate Chip Cookie Baking Instructions:
Roll heaping tablespoons of dough onto your baking sheets. Bake for 8-10 minutes (I like my cookies slightly underdone so I stick with 8-9 minutes)
Note: Every oven is different. You may have to make some adjustments based on your oven and where you live. I live at a higher altitude. 
Yield: Approximately 3 dozen cookies (or 2 1/2 dozen if your family is like mine and can't keep their hands out of the dough)
Enjoy!
More on TodaysMama
The Best-est Chocolate Chip Cookies (I disagree though)