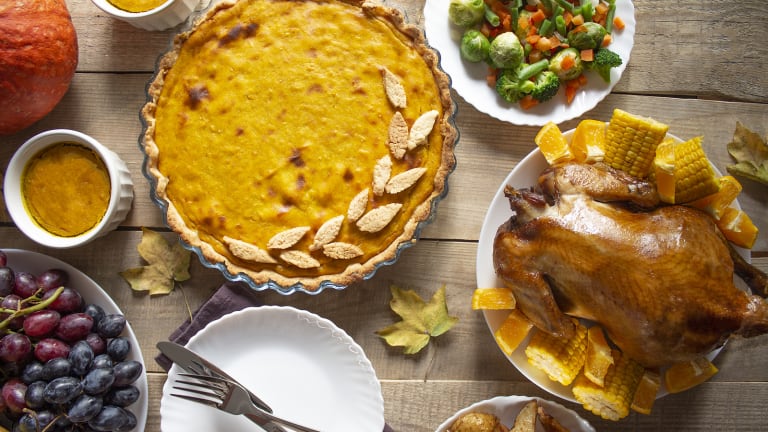 8 Things to Buy VS Make for Thanksgiving
The theme of this holiday season for me is to simplify.
I am pregnant, I am tired and I just want to try and enjoy my family for the holidays instead of drive myself crazy trying to pinterest this thanksgiving. I often put so much pressure on myself to overdo the holidays, and after years of trial and error I feel like I've found a sweet spot for putting together a great Thanksgiving dinner. You see, Grandma Costco makes many delicious dishes-dishes that I shouldn't even try to compete with, right? Here's my list of things to make vs things to buy. I'm not even suggesting that you follow this completely, but consider what you could let go of and give yourself, and your oven, a rest!
1.Turkey: Buy
Our local BBQ place smokes the most amazing turkey. After trying it one year, we were hooked. It's like having a whole bird of smoked turkey leg from Disneyland. I actually enjoy making turkey-but it doesn't top this, and having the space in my oven on Thanksgiving day pushes this over the edge of being the best thing ever. Consider outsourcing your turkey.
2.Pumpkin Pie: Buy
​Costco makes the most delicious giant pumpkin pie for $5.99. You just buy it, bring it home, and eat it. Done. No rolling crust, no wrapping crust in tinfoil so it doesn't burn while you cook the pumpkin for 2 hours and no spilling runny pumpkin pie filling all over your kitchen. For the price and size ingredients cost almost exactly the same. Grandma Costco is making my pumpkin pie this year.
3.Mashed Potatoes: Make
​Mashed Potatoes are just too easy and too cheap not to make homemade! A bag of potatoes is only a few dollars and I love my mashed potatoes with the skins on so it's not even very labor intensive. We cut them up, boil them, drain them and mash with sour cream, butter, garlic and salt/pepper. Too easy to not make at home!
4.Rolls: Make
I'm actually on the fence about rolls. The reason I have them as a "make" item is because no one makes homemade baked goods anymore and if we stop making them once a year at Thanksgiving we will lose the art! And my grandma's rolls recipe is the best. If you have a favorite bakery that makes the best rolls in the world, I understand why this would quickly be on the "buy" list. Baking is labor intensive and messy!
5.Cranberry Sauce: Make
I recently found out how easy it is to make cranberry sauce and I'm hooked! You can make it a week ahead (bonus), most recipes make lots (send a homemade jar home with your guests as a favor), and it is SO YUMMY homemade! Worth making!
6.Stuffing: Buy
I hate stuffing. I am not the right person to ask about this because in my opinion it's all gross so why not buy stove top and call it a day?
7.Gravy: Buy
There are 2 reasons I advocate for buying gravy: first, I'm not making turkey so I have no drippings to work with and second, I hate trying to strain piping hot drippings, seperate fat and then worry about beating out the lumps. It's a lot of work for something that can so easily be purchased for a small price.
8.Relish Tray/Veggie Tray: Make if you have kids, Buy if you don't
If you have children, this is the perfect Thanksgiving day job for them. Cutting and arranging a veggie plate and relish tray is the highlight of my girls day and I love that they have a way to contribute to the meal. If you don't have kids and don't want to be bothered-this is such an easy buy!
What are your favorite Thanksgiving Day dishes and do you make them or buy them?