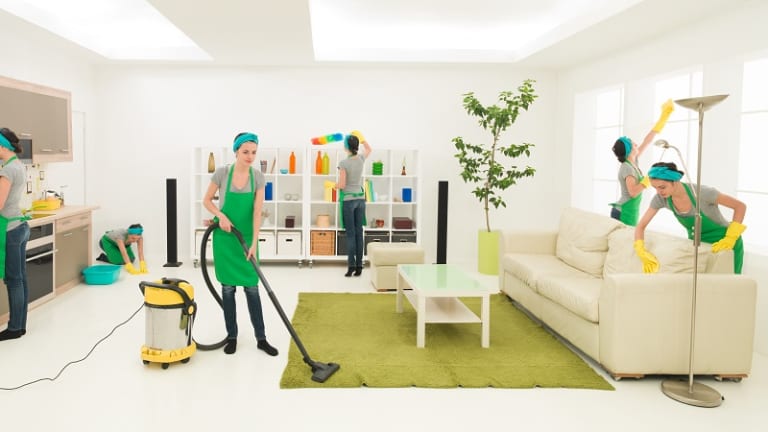 Cleaning With ADHD: 5 Tips To Make Chores Easier
In raising a son with ADHD, and recently realizing that I struggle with ADD (where my H-less ADD friends at?), I have come to learn a few tips to help make cleaning easy. Okay, easy may be stretching it. Let's just say these tips will help make cleaning easier.
I feel pretty confident when I say most of us feel that cleaning the house is not the most enjoyable task. When we are doing something, like chores, that isn't our favorite, it's so easy to get distracted and procrastinate. Now imagine trying to do those same boring household chores, but also having ADHD. Those of us who struggle with ADD or ADHD are struggling on an entirely new level.
In raising a son with ADHD, and recently realizing that I struggle with ADD myself (where my H-less ADD friends at?), I have come to learn a few tips to help make cleaning easy. Okay, easy may be stretching it. Let's just say these tips will help make cleaning easier.
5 Tips For Cleaning With ADHD
The key to remember when cleaning with ADHD, or even trying to clean when easily overwhelmed or distracted, is that it will take work to create new habits. Some of these habits may be really hard. But if household chores are creating anxiety or stress for you, then these easy household cleaning tips are worth a shot.
Cleaning Tip 1: Get Rid Of Duplicate Dishes
When you have 30 plates, it seems like a really great plan. With a family of 6, that means we can eat all three meals before anyone runs out of plates. But that also means I always have a minimum of 18 plates to wash per day. AT MINIMUM. And it lets me procrastinate the dreaded chore just a little longer.
Scale back your dishes to cover exactly what you would need for 1 meal. If you are a family of 4 then have 4 plates, 4 bowls, 4 cups, 4 spoons, 4 knives, 4 forks and that is it. That means that no one can procrastinate dishes. It also means that when you need to do dishes, everything fits in 1 load. Your pile of dishes will be smaller and not as overwhelming.
Cleaning Tip 2: Turn On The Music!
Music makes everything seem more fun. One thing that makes cleaning with ADHD really hard is starting to clean one room, but getting distracted and moving to another chore before the first one is finished. Turn on music, but keep it at a standard volume in the room where your chores are. If you find yourself wandering around the house and the music is too quiet, then you need to go back to the room where you can comfortably hear the music. Keep this going until your chore is done.
Cleaning Tip 3: Cut Back On Laundry
You may have ADHD if… your house is filled with piles of laundry. Okay, okay. Maybe this isn't always the case, but laundry is definitely a struggle for our ADHD friends. You may be really good at getting all the clothes washed, but dried, folded, AND put away is basically like trying to climb Mt. Everest.
This laundry cleaning tip may be a big struggle for some of us, but I promise it will make laundry chores easier.
Get. Rid. Of. Clothes.
ADHD struggle when there's too many stimuli and too many choices. Be realistic about what you wear every day. Box up any item of clothes you do not love or have not worn in over a month. If that leaves you only 7 shirts, so be it! Give it a try and see how much easier doing laundry will be. And notice that I said to box up your extra clothes--no need to give those away just yet. Give this cleaning tip a try by simply boxing up clothes you don't want in your laundry rotation to see how it works.
Cleaning Tip 4: Set A Timer
I envy my husband who can continue to clean the kitchen until it is done. Seems silly, but my ADHD friends get it. He cleans it to the point of sparkling counters, windows washed, floor mopped, every single dish is done and yummy scented candles burning. That feels like such an impossible chore to me. Especially when I have procrastinated my household cleaning for much too long.
One great way to combat this is to set a timer. Decide how much time you have, or how much time you can truly focus for, and clean for only that amount of time. Don't create expectations beyond what you are capable of. Can you power clean for 15 minutes? Start there. You can even use this cleaning tip multiple times per day. Just keep at it until your household chore is done.
Cleaning Tip 5: Create A Cleaning Checklist Or Chore Chart
Chore charts are not just for kids. Sometimes our ADHD minds need a little bit of prompting. A chore chart, or detailed cleaning list, is a great way to keep track of what needs to be done. If you choose to use a simple checklist, then start at the top and cross off as you go. You not only track your progress but you have a great list of what still needs to be done. You can even go as far as creating a cleaning schedule around the checklist so each day has specific tasks to accomplish.
There are a lot of online sources for cleaning checklists or chore charts. Most of them will have a minimal fee attached to them. Here are a few that I like* :
* Note that if there is any cost associated with these cleaning checklists, myself or Today's Mama, are not receiving compensation. I am simply recommending these checklists and chore charts to help.
Cleaning the house isn't always easy, but it can be made easier with these 5 cleaning tips. If you struggle with ADHD or just need some extra help getting household chores done, try these 5 tips for cleaning right now. Really put the effort in and I know you'll start to see improvement. Chores are a necessary evil (in my book) but are a lot easier to do when I stay on top of the cleaning and take care of chores a little bit at a time. You got this!
More on ADHD And Cleaning From TodaysMama.com…
Parenting ADHD: 6 Things I Wish I Had Known
70% Of ADHD Could Be A Sleep Disorder
Chores for Teenagers: 5 Ways I Took My Sanity (And My Saturday) Back!