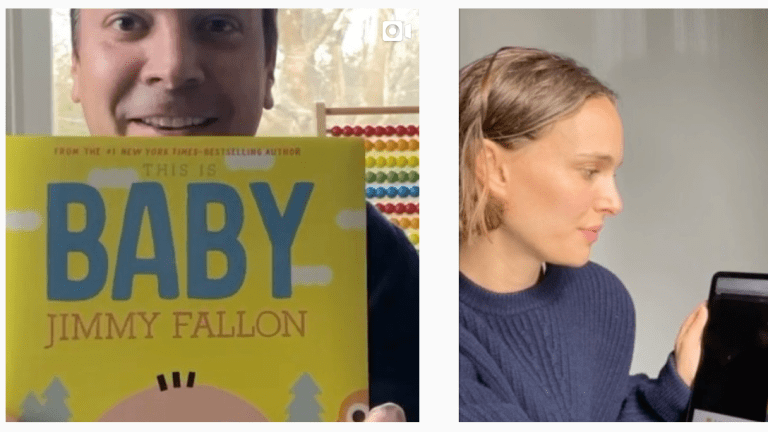 Big List of Authors and Celebrities Hosting Virtual Storytime During Quarantine
The library may be closed, but there's a whole new world of books opening up!
We are firm believers that it takes a village to raise our kiddos, and it's become even more apparent now than ever. And hey, why not let someone else take over story time once in a while? Even better if it's your kid's favorite author or someone they recognize from a beloved movie!
While we're all working to #stayhome, #staysafe, and #staysane, check out some of these awesome authors, celebrities, and other great village members doing their part to brighten some otherwise strange days for our kids. 
Children's Authors Hosting Online Storytime (and Art Classes)
He's also reading one of his books every day on IG Live (so catch them before they expire!) starting today and going until it's safe to go out again.
#StayAtHomeStoryTime
Be sure to check out this hashtag on Instagram! You can find new authors adding storytime sessions all of the time. 
Oliver Jeffers
Every day at 2pm EST Oliver reads one of his stories live on Instagram. If you happen to miss it, each day's story is available for 24 hours on Instagram Live. He usually reads through the story twice, once straight through, and once with his commentary. He is our very favorite and we are counting down the days until he does "The Day the Crayons Quit"! 
Mac Barnett
He's doing his on IG Live (which means they expire after 24 hours) and they'll be every afternoon. He has something like 30 books, so it'll take him a while to get through them all!
>> Read Along With Mac Barnett Here <<
Molly Idle
My girls are huge fans of Molly Idle and I'm delighted she's doing storytime on IGTV (so they won't expire!) I'm especially excited to see her do some wordless books!
>> Check Out Molly Idle Here <<
Ben Clanton
The author/illustrator of Narwhal and Jelly is doing two FB Live events this week including a drawing lesson.
>> Explore Books With Ben Clanton Here <<
Mo Willems
Mo just might be the hero of quarantine and social distancing for kids everywhere. He's consistent with doodling sessions every day, he'll touch on anxiety and dealing with feelings every so often, and he's got such a calm presence in general. I'm telling you - he's therapeutic! 
My daughter said, "I have better days when I doodle with Mo Willems".  If you don't know who Mo is, he's the author and illustrator of the famous Pigeon books as well as the Gerald and Piggy series (and so much more).  You can catch his lunchtime doodling classes on the Kennedy Center website. 
My house is filling with doodles and art!
>> Follow Along With Mo Willems Here <<
Chris Van Dusen 
I would say The Circus Ship is in the top 10 picture books at our house so I was DELIGHTED to see that he's reading one of his books every day on IGTV.
>> Read Along With Chris Van Dusen Here <<
Sarah Jane Wright
One of our very favorites and a local friend! Sarah is a brilliant designer and illustrator and her character Lola Dutch is one of my very favorites! Every day she sends out drawing videos and an art activity. You can sign up for her email and get them delivered right to your inbox. They are amazing! 
>> Learn More With Sarah Here <<
Jeff Norton
Jeff Norton, author of the novel Alienated (fitting right?), is reading a chapter of his book online every day.
Find a whole host of other authors reading their books here and here!
>> Check Out Jeff Norton Here <<
#OperationStorytime
Catch up on this hashtag on Twitter and Instagram. There are so many authors and illustrators sharing their stories through virtual storytime. You can even catch some chapter books! 
Celebrities Hosting Online Storytime
Josh Gad
The voice of Olaf reading your kids a story each night? How could you refuse??
>> Follow Josh Gad Here <<
Betty White, Chrissy Metz, and Oprah
62 clips of recent and older binge-worthy kids books read by these awesome women.
>> Learn More With These Women Here <<
LeVar Burton
Reading Rainbow host LeVar Burton has found a few authors giving him permission to read their stories and books online. What a throwback treat!
>> Find the story Here <<
Christopher Walken
This rendition of Where the Wild Things Are has been a bit embellished by clearly creative Christopher Walken and may be best for after the kids are put to bed!
>> Parents, watch the story unfold Here <<
Patrick Stewart
Sir Patrick Stewart is bringing a daily dose of the Bard with one sonnet a day via Twitter.
>> Follow Patrick Stewart Here <<
Storyline Online
This website is a goldmine!
David Harbour, Sarah Silverman, Rami Malek, Betty White, Lily Tomlin, and other celebrities and authors host storytime. Storyline has an extensive library that will keep you busy for the rest of your time social distancing! (hopefully)
#SaveWithStories
Follow #SaveWithStories on Instagram to have a huge variety of popular celebs (from Weird Al to Brittany Snow) read to your littles each day.
>> Follow Along With #SaveWithStories Here <<
Other Great Online Storytime & Book Resources
Check out Brightly Storytime with your littles for a 5-10 minutes picture book read aloud each day at 11am.
Audible has also made hundreds of kids audiobooks free during the quarantine, and BONUS, it's screen-free. (They've got adult books, too!)
Time for Kids has also opened up their digital library for free for the rest of the school year.
Check out Scholastic's online Bookfest where kids can engage in everything from costume to trivia contests with their favorite authors and other kids around the world.
Lots of libraries, like the Brooklyn Public Library, have also set up virtual storytimes in lieu of meeting together during the quarantine. Check with your local library, too!